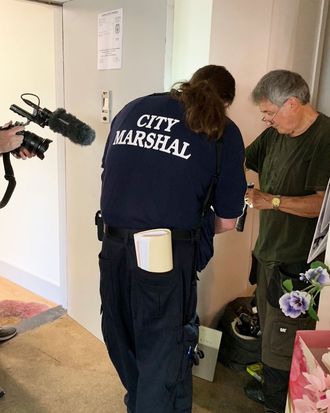 Photo: Courtesy of Heidi Russell
Heidi Russell, the West Village co-op owner who was kept out of her apartment for three years by a woman she said was living there with her teenage daughter without paying rent, is finally back in her home. Dubbed the "West Village grifter" by local residents, Katherine Gladstone, whose legal name is Katherine Klein, first moved into the apartment owned by Russell and her partner Valentina Bajada as an off-book Airbnb guest in 2019.
As I reported last year, Russell says Gladstone only paid rent once in her over three years of living in the second bedroom of the 860-square-foot, second-floor walk-up. Shortly after moving in, Russell says Gladstone began moving her belongings into their shared living room. Our previous reporting revealed that Gladstone had a history of moving into Airbnb apartments and other homes and disputing payment, as well as a pending criminal case filed by an ex-girlfriend. Gladstone has been charged with grand larceny, forgery, and stalking. One parent who said Gladstone stayed in her home said she "got her out of my life as quickly as possible."
When Russell decided to cut Gladstone's stay short in order to give a family member the room, Gladstone refused, kicking off an incredibly protracted legal and personal battle. Russell accused Gladstone of harassing her inside the apartment, and Gladstone accused Russell of stealing from her. Gladstone eventually agreed to a stipulation to vacate in March 2020, but the COVID-19 pandemic eviction moratorium instituted halted all eviction proceedings. Gladstone eventually filed an Emergency Rental Assistance Program application in 2022 that further delayed the eviction.
Gladstone's ERAP application was ultimately denied, and on August 5 Judge Evon M. Asforis ordered the eviction to move forward. According to Matt Porges, one of Russell's attorneys, Gladstone filed three separate appeals, one of which was denied on August 24, the night before marshals carried out the eviction.
Gladstone subsequently filed an attempt to restore possession and block Russell from removing her items from the apartment, but it was denied on August 29, effectively cutting off her last legal recourse. Gladstone was out of the apartment for good. Where she, her daughter, and her dog would go next was unclear. (The New York Post, the first outlet to write about Russell's story in summer 2020, reports that Asforis told Gladstone in a hearing in which she appeared virtually, "You have to go to a shelter if you have nowhere else to go.")
In a statement sent to Curbed, Russell said that it felt like her ordeal "would never end." "Now the cleanup and cleanse to move forward," she wrote.
This article has been corrected to reflect the total time Gladstone lived in Russell's apartment and the timing of her ERAP application.