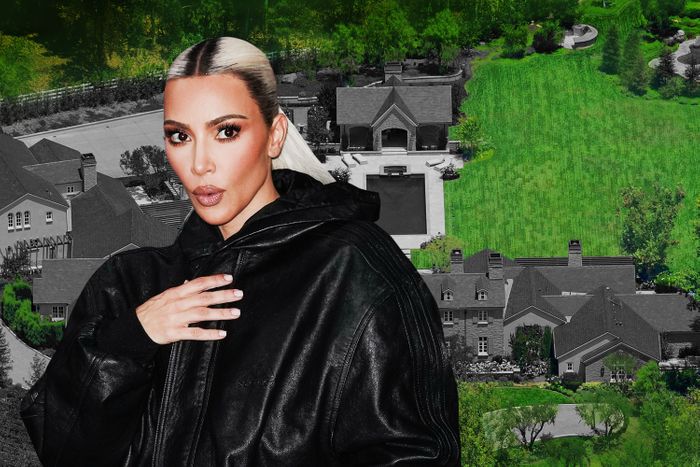 An idea that could save celebrities a few thousand gallons.
Photo-Illustration: Curbed. Photos: Getty Images; SplashNews
After a few abnormally wet years, California is back in its forever drought with reservoirs dipping to historic lows across the state — just in time for the worst wildfires to start. Some of the driest districts are now literally out of water and are borrowing from other districts just to make it through the summer. Everyone is being asked to make sacrifices, but not everyone has a ten-acre estate in Calabasas with their own personal vineyard and an extremely rare grenache varietal to grow, okay? It's time for this year's celebrity drought-shaming season to officially begin.
The Los Angeles Times is tracking the worst water guzzlers of the wealthy Las Virgenes Municipal Water District, which supplies the gated communities and hilltop estates on the far western edge of L.A. It's just a short drive down the 101 freeway but a world away from the rest of the county's residents when it comes to water consumption. In June, just for comparison, customers of the city of L.A.'s Department of Water and Power used an average of 71.7 gallons a month, while Las Virgenes customers used an average of 170 gallons. That's actually a major improvement over June 2021 when Las Virgenes customers used an astonishing 261 gallons per month!
But this year, 2,000 Las Virgenes homeowners received notices that they had exceeded their water allotments by more than 150 percent at least four times since last year. The list includes a lot of celebrities: Sylvester Stallone (he apparently has 500 very thirsty trees), former NBA player Dwyane Wade and actor Gabrielle Union (they blamed a leaky pool), and Kim Kardashian, whose Hidden Hills home exceeded its June budget by 232,000 gallons.
Looking at Kardashian's extensively documented home, we can easily see where she might cut a few thousand gallons. The house itself is surrounded by lush tropical plants that need to be kept fairly wet. There's a big pool that she probably (hopefully?) isn't refilling every month. Up on a hillside, there's a "huge fruit and vegetable garden" the size of a small farm. But the main culprit is likely the expansive, conspicuously green lawn, which, to be honest, clashes with the estate's cream-on-beige vibe. It's really calling for a super-minimalist xeriscape in the form of crushed travertine marble. Maybe a few succulents. Maybe.
If she really wants to keep the lawn, Kardashian should take a cue from her friend the billionaire developer and mayoral candidate Rick Caruso, who has famously sworn he will never swap out the lawns at his malls with artificial turf. When water gets scarce, he simply paints the grass green.
You'd think a Kardashian would be all over this idea of using an airbrush to buff away blemishes; it's like the essential makeup routine in a drought. A spray un-tan.
Kardashian may have to act fast, though: The Las Virgenes water district is threatening to install flow restrictors that will reduce sprinklers to a trickle at the homes of the worst offenders. But unfortunately, that won't stop celebrities in their quest to keep their yards moist; they'll just pay thousands of dollars to truck in more water. And when the fires do come, they'll hire private firefighters to ensure their properties will, once again, emerge unscathed.