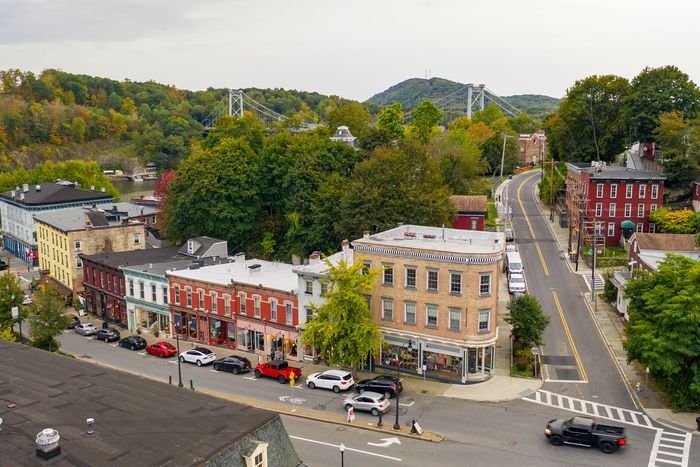 Photo: Chris Boswell/Getty Images/iStockphoto
In the year after the pandemic began, average home prices in Kingston's Ulster County soared 30 percent — the second-fastest rate in the nation. Kingston, like other cities in the Hudson Valley during the pandemic, has battled a national housing crisis and the trend of wealthier New York City residents moving upstate, pricing out locals. The city itself passed Good Cause Eviction legislation that guaranteed lease renewals for tenants and protected them against excessive rent hikes days before the statewide eviction moratorium was set to expire in January.
Late last week, Kingston's common council took another step to protect renters by declaring a housing emergency under the Emergency Tenant Protection Act, which regulates rent increases, and voting to become the first municipality upstate to adopt rent stabilization. Now, some 1,200 eligible rental units in Kingston will only be able to increase their rent by a percentage set by a nine-member rent-guidelines board.
The concept of rent stabilization may be familiar to many in New York City and its suburbs, but it wasn't until the Housing Stability and Tenant Protection Act was passed in 2019 that the ability to opt into ETPA was expanded to the rest of the state north of Westchester, Nassau, and Rockland County. Now, any municipality with a rental-vacancy rate of less than 5 percent can declare a housing emergency and adopt rent stabilization for buildings built before 1974 with six or more units. Kingston, which has a 1.57 percent vacancy rate, is the first to have done so in the past three years.
Rent control has been the subject of a prolonged battle in Kingston; in 2020, when the city seemed to be among the first poised to adopt rent-stabilization, it contracted a study that found a vacancy rate of 6.7 percent, above the ETPA requirement. At the time, tenant activists claimed that developers had manipulated the study by evicting tenants, leading to artificially inflated vacancy rates. "Our community of housing advocates has noted actions such as widespread evictions and noncompliance throughout this process," Patrick DeLeon of Citizen Action told the Daily Freeman. Automated phone calls to residents at the time incorrectly claimed that if rent stabilization was enacted, property taxes would increase. "The fact that it was hard here really showcases how hard it is overall — these are progressive cities with progressive mayors and progressive councils, and people still get scared," Cea Weaver, a campaign coordinator with Housing Justice for All, said.
The enactment of rent control measures in Kingston will likely set the stage for other cities upstate to follow suit. "I think it helps dispel this false divide of housing affordability supposedly only being a New York City issue," said Jonathan Bix, executive director of For the Many, a Hudson Valley–based organizing group. "I don't think that ETPA is seriously moving around here at the moment, but we hope to change that in places like Newburgh and Poughkeepsie that would really benefit." Weaver pointed to bigger cities with more housing stock of six units or above, such as Buffalo or Rochester, that might be even better candidates for expanding rent stabilization. (Around 20 percent of apartments in Kingston will be protected by ETPA, according to the Kingston Tenants Union.)
Meanwhile, cities across the Hudson Valley have also taken steps to regulate short-term vacation rentals, and a number besides Kingston have passed their own version of Good Cause Eviction laws to help keep tenants in their home. But the city-by-city push of Good Cause Eviction faced a major blow last month when a judge nullified Albany's bill, reaffirming the need for statewide legislation.
Kingston's latest move is unfortunately one small exception to the housing crisis growing across the country; as rents in many cities spike by more than 30 percent, organizations like the National Low Income Housing Coalition have come out for federal rent control as an anti-price-gouging measure.
"Ultimately we need much bigger forms of rent control," Bix said. "And smaller municipalities upstate have only so much money, so I don't think they seriously have the ability to build out public housing, which is ultimately the kind of thing we need to address the housing crisis."