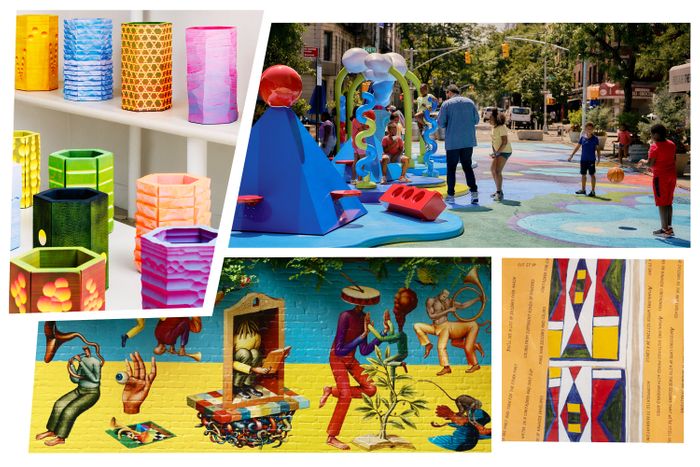 Photo: Nicholas Knight/Courtesy of Public Art Fund NY, Mike Vitelli, Sean Davidson, Courtesy of LEGO
The objects, designers, news, and events worth knowing about.
Wendy Red Star's Citywide Exhibition for Public Art Fund
Through her self-portraits, paintings, and sculpture, Wendy Red Star, an Apsáalooke (Crow) artist who grew up on a reservation in Montana, reclaims the imagery and narratives surrounding Native American culture. For "Wendy Red Star: Travels Pretty," the latest in Public Art Fund's series of always-excellent exhibitions on bus shelters, she focuses on the parfleche, a carrying container typically made by women from rawhide and adorned with geometric symbols. The parfleche's construction, patterns, and colors were passed down through generations, creating distinct visual identities for the tribes, and were quite common to see before colonization, but now exist mostly in museum collections. Red Star made 12 paintings based on parfleche designs and annotated them with facts about the containers' use and design, like how a diamond motif represents a sand lizard and was drawn as a protective symbol for the carrier. The artwork appears on 100 bus shelters across the city (plus 200 more in Boston and Chicago) and represents Red Star's ambition to return these patterns to the public realm. Through November 20.
"Flash Set" by Jamie Wolfond at Matter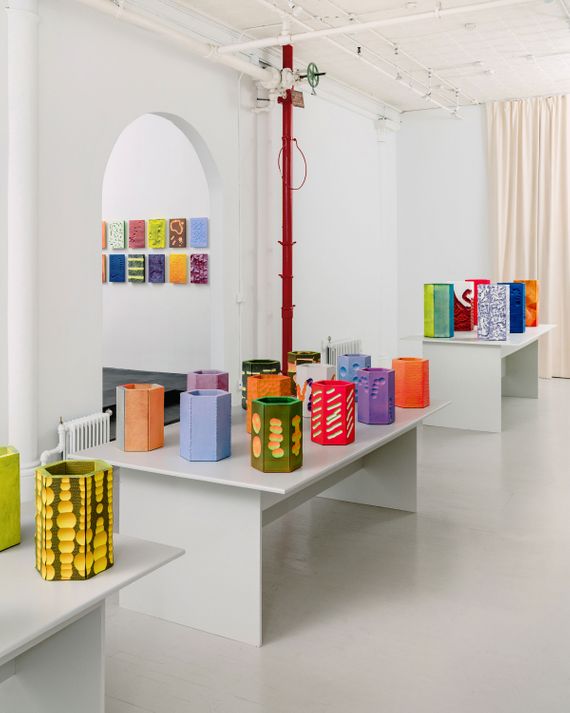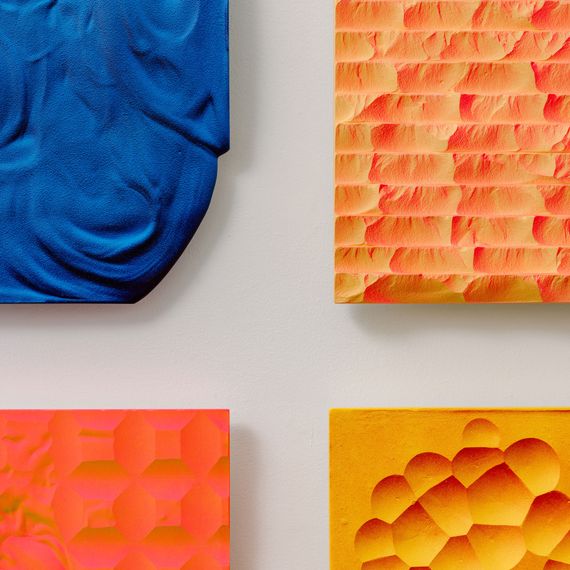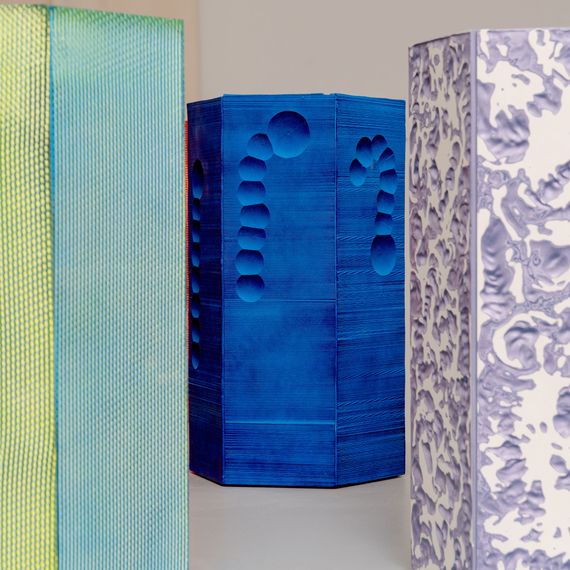 Toronto-based designer Jamie Wolfond has filled Soho design gallery Matter with Day-Glo sculptures. Inspired by lichen growing on rocks, Wolfond and his team created 100 objects with textured surfaces to reflect light, shadow, and color. The hexagonal vessels of varying heights were made out of soft mineral gypsum, then chiseled, sanded, drilled, and spray-painted to create abstract patterns and different textures (there are also gypsum-created canvases hung on the walls). The series, which emerged more improvisationally than the studio's furniture and lighting, is as much fun to view as it looks like it was to make.
A Squishy Chair by Floyd
The Detroit-based furniture company Floyd, which started out selling removable metal legs that could turn any flat surface into a table, has redesigned the humble beanbag chair. Most are filled with environmentally unfriendly plastic beads, which inevitably squeeze their way through the seams. Floyd filled its Squishy chair with foam offcuts from their sofas and sectionals. Plus, the chair's washable twill cover, which comes in four colors, is woven from recycled fibers — a circular approach to manufacturing that makes its supply chain more sustainable and improves on a furniture archetype. Available for $695 from floydhome.com.
A Mural in Little Ukraine by WAONE
The Ukrainian artist WAONE has painted surreal murals on walls all over the world — in Morocco, Martinique, India, and Romania — and his latest is in the East Village, which is home to Little Ukraine. Located on East 5th Street and Cooper Square, on a wall surrounding the Standard's garden, the 48-foot-long piece titled From Legend to Discovery is intended to symbolize solidarity and resilience, and references symbols — like a woman holding a serpent, which represents rebirth, and a book with an alpha and omega, Greek letters that stand for God — that the artist associates with the spirit of Ukraine. Through the end of the year.
The "Fly Away Isles" Playscape in Harlem by LEGO and Hebru Brantley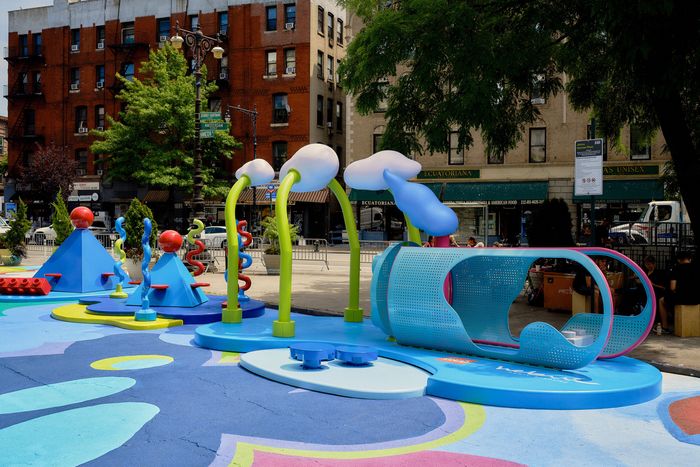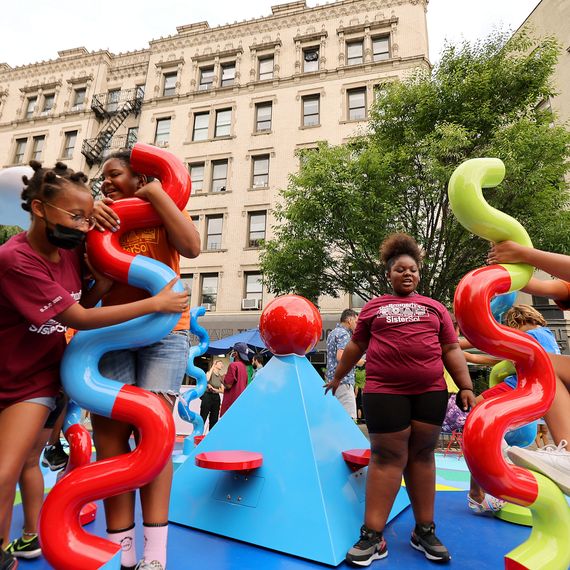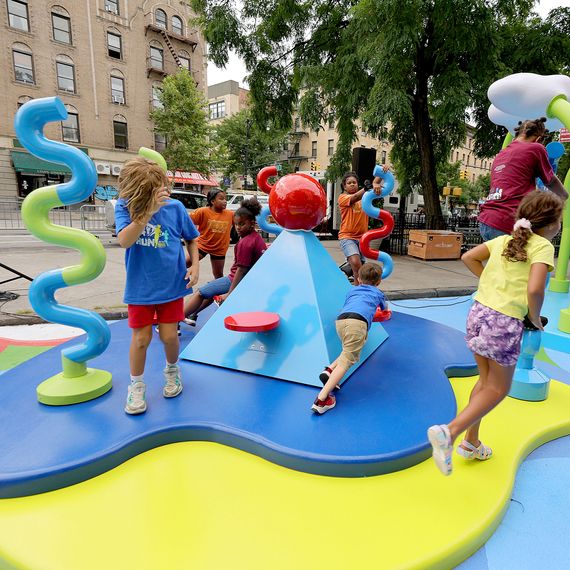 A new Harlem playscape, located in a pedestrian plaza on 143rd Street and Amsterdam Avenue, shows what's possible when we think of streets as social spaces and give them the investment they deserve. Called "Fly Away Isles," it features squiggly climbing structures, a bright blue pyramid with seating, and giant LEGO bricks on top of a pastel asphalt mural by the Chicago-based artist Hebru Brantley. In a series of workshops, LEGO collaborated with Brotherhood Sister Sol, an organization that works with Black and Latinx youth, on the playground's design. The kids built ideas for the playscape using LEGO bricks, which the 90-year-old toy company then translated into the final product. The project was created in partnership with the Department of Transportation's exceptional public-art program, which uses murals to calm traffic — artwork has been shown to slow traffic by 20 percent since drivers tend to slow down when they see something unexpected — and make our streets friendlier to people.
A Refreshed Navy Chair by Emeco and Afternoon Light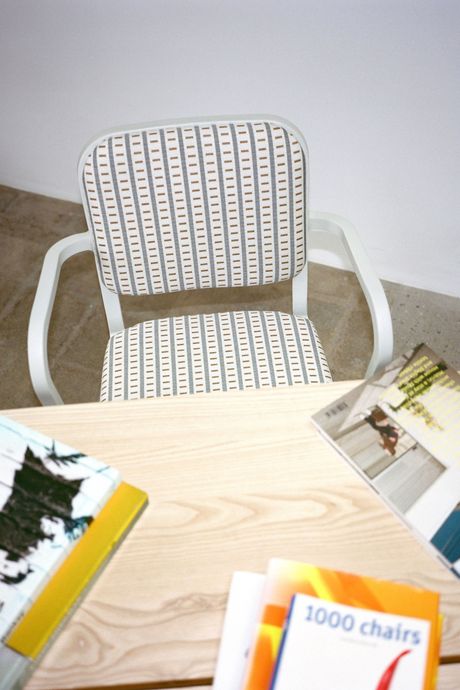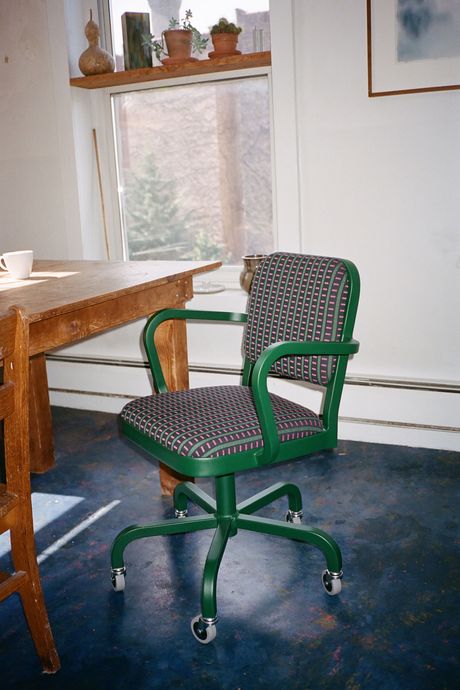 Bosses are begging for a return to the office, but working from home doesn't seem to be disappearing anytime soon. Neither does the quest for a task chair that's as easy on your butt as it is on your eyes. There's a new contender from Emeco (whose iconic Navy side chair found recent fame as a Westworld interrogation seat) and the online retailer Afternoon Light: a special-edition Navy swivel chair that comes in a white or emerald-green frame and is upholstered with Alexander Girard–designed fabric. It's more stylish than some of the more technical-looking options out there, but still lets you roll around, recline, and turn. $1,895 from afternoonlight.com.