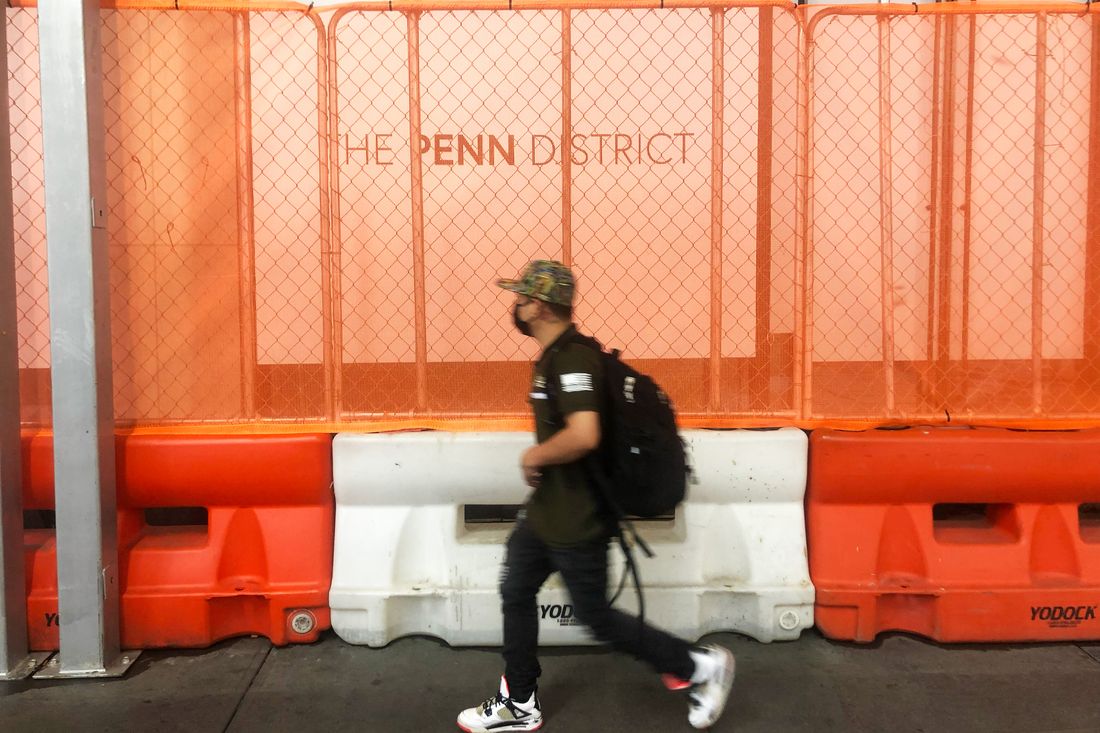 In the past few weeks, Governor Kathy Hochul's $7 billion plan to redevelop Penn Station and a surrounding swath of midtown has cleared several major hurdles, winning the approval of the Empire State Development Corporation and the Public Authorities Control Board, which (notably) nixed Amazon's plans for Long Island City (they were pulled when it became clear they wouldn't pass). The plan controversially links improvements to the transit hub with a large-scale redevelopment of the surrounding neighborhood and clears the way for the construction of ten new super-tall towers. The towers would theoretically help finance station upgrades (there are concerns that the towers' revenue will fall short) and streetscape improvements, but not the rail infrastructure itself (that's a separate $13 billion plan). It would also provide an estimated $1.2 billion in tax breaks to developers, chief among them Vornado, which owns the majority of sites the new towers would rise on. Steven Roth, Vornado's chief executive, has called the redevelopment of the area the "promised land" and "our big kahuna."
In state reports, the redevelopment of the surrounding neighborhood has been characterized not just as a financing scheme, but as a moral imperative to remake a blighted and underperforming district. The neighborhood, they imply, is like Penn Station itself, a widely despised and outmoded hub that Hochul (like many of her constituents) has called a "hellhole." But the area around Penn Station is, like so many promised lands before it, not some blank slate just awaiting the attention of developers and Pritzker-winning architects, but a vibrant jumble of businesses and residents, many of whom have been there for decades. For the people who live and work there, it's a place where the real estate and rents support the kind of diverse uses and communities that a redeveloped neighborhood, with its corporate office towers, never will.
West 30th Street between Seventh and Eighth Avenues (and the areas immediately to the east and west) is slated for the most dramatic changes. Three of the eight super-tall sites are there, and it's also being considered for a new train hall and tracks, part of the separate $13 billion plan that would likely necessitate the demolition of the entire north side of the street and involve eminent domain, something the governor's surface-level redevelopment plan does not. Skyscraper construction on West 30th is contingent on rail plans, though they wouldn't necessarily preclude it.
Whatever happens, the street won't be anything like it is now: a mix of loft buildings, Art Deco towers with terra-cotta façades, meticulously maintained brick low-rises, undistinguished one- and two-story structures showing their age, municipal buildings, and a 151-year-old neo-Gothic Roman Catholic church. The block and quarter is home to a handful of apartments, a jiujitsu school, furriers, music shops, a guitar school, Bette Midler's urban-beautification nonprofit, an Irish pub, a handmade-cigar store, the Lithuanian Alliance of America, an Off Broadway theater, a whiskey bar, New York City's Human Resources Administration, and the World Seido Karate headquarters, among many other things.
I spent a few days talking to business owners and residents on the block, asking them for their thoughts about the redevelopment. Here's what a few of them had to say.
Martin Downs, caretaker, St. John the Baptist Roman Catholic Church
St. John the Baptist, which has been on West 30th Street since 1840 (it was rebuilt in 1871 following a fire) has a steady stream of tourists, office workers, and locals at midday. Most stay only a short time, lighting a candle or sitting in a pew for 10 or 15 minutes before heading out. The church has an altar to Italian saint Padre Pio and also some of his relics. Downs, who's been responsible for the church for 30 years, told me that no one likes the redevelopment, but personally, he doesn't think it will happen.
"I used to be a chef — the person who owned the restaurant filed for bankruptcy, so I started working as a security guard. The church was one of the places where I worked — they had problems with the homeless sleeping here and drugs — and they took me on as a caretaker.
This is a commuter's church, a church most people visit when they come into the city. But we do have some of our own neighbors across the street. And on Padre Pio's feast day, there are 600, 700 people here.
Tearing down the church and 19 other buildings? That's too much. Where would we put our food pantry? We feed thousands of people a week. We also have AA meetings. You can move those, but not the food pantry. Tearing down the block won't get rid of the homeless. You move them from this area, they'll go to the next."
Ben Franklin and Kris Olness, instructors and co-founders, Aerial Arts NYC
Aerial Arts NYC, an aerial- and circus-arts school, moved to 150 West 30th during the summer of 2020, signing a ten-year lease for a high-ceilinged, column-free space with a mezzanine in the back. 
Franklin: "We got a pandemic special. We used to be in the basement in Turtle Bay and now we have windows. This was a wig shop and a fur shop, but it had been vacant for some time. They knocked down the walls for us. For us, being this close to Penn Station is great. We have people who come from New Jersey and Connecticut. With the big windows and the DMV across the street, we get a lot of people looking in. Sometimes it's like living in an aquarium.
Chris and I were employees of the Trapeze School. It used to be in a giant tent next to the High Line, but it got booted out in 2012 for the next stage of High Line construction."
Olness: "I don't want to get booted again. When we moved into this space, this area was dead because of COVID and it just started coming back to life. I feel like redevelopment will kill that."
Franklin: "This is New York, people are always going to want to open businesses and try new things, if they can afford to. We lucked out, renting this space in the little window when we could afford it. Every day I come into this place and look around and go, 'Ahhh.'"
Chris Tsapouris, co-owner, Viktoria Stass
Viktoria Stass is one of several furriers that still line the south side of West 30th Street — part of what used to be known as the Fur District, a stretch between West 27th and 30th Streets that had, by some estimates, more than 350 fur-related businesses in the 1970s. Many had already gone out of business (gentrification, changing tastes) before COVID caused more of them to close. Tsapouris, who co-owns the shop with his wife Viktoria, is eager for any changes that might help bring more foot traffic to the area, but at the same time, worries that the higher rents that come with redevelopment will likely push him out. 
"I think redevelopment is going to improve [the area]. No people have come this way since COVID, the foot traffic kind of died out. This is basically a tourist business. People come here for the holidays, buy themselves something to bring back. The businesses on this street are old businesses. Everyone goes to Hudson Yards now. It's new.
This area also has a lot of homeless. When you see homeless outside, how do you feel buying something really nice?
If it gets redeveloped, we don't know if we're going to be here. You get more traffic, but then the rent is more expensive. I hope I'll be here to see it when it's finished."
Steve Marshall, resident and musician, West 30th St.
When Marshall moved into his loft in 1975, Tommy Ramone, the drummer for the Ramones, and Steve Gadd, Paul Simon's longtime drummer, lived in the building. In the early 1980s, Madonna recorded in his studio, whose windows overlook Madison Square Garden. Back then, the block was filled with music shops and recording studios. Now just a few vestiges remain.
"I was the wildest party band leader in the city. It was like spring break in Las Vegas, we were very interactive and sexy, but like Austin Powers sexy. I played with Slash, Gene Cornish, Simon Kirke. Here's a photo of me with Les Paul. Here's one with Britney Spears. I didn't play on a hit record 40 years ago like a lot of my friends, but I have a lot of street cred.
The most recent person who rehearsed here was Joan Jett's drummer, Thommy Price. That was about four years ago. It's not a commercial recording studio anymore, but people play here all the time. I met a blind guy and I host sessions for blind and disabled musicians now.
They're destroying an artists' block. If you go between 34th and 42nd Street it's like a no man's land. But our block is great. You know why? We're a neighborhood block. Vornado is saying there are 126 people who will be displaced. I can count 126 people that I know."
Clay Chalem, salesman and guitar builder, Rogue Music
Chalem has worked at Rogue Music for the last 25 years. The shop, which sells used and new gear, including Chalem's guitars, has been on the block since 1983. As we talked, Chalem cleaned the grimy exterior of a 1971 fuzz pedal with Goo Gone. Celebrity customers have included David Byrne and the Black Keys.
"Before it was a store, Rogue was a band that used to sell gear in The Village Voice. I think it's ridiculous — the idea that we need more office space in this city. The block is a little seedy, but it's New York. The landlord has been very nice to us, but there are always men with clipboards coming around. We're a two-story building. If skyscrapers go up here, we won't last. Even if we did, it will be a ten-year construction project, at least. We'll be out of business either way.
If you ask any musician, they all know Rogue music. But at this point, would we relocate? Business isn't great. I don't know if we could afford anything else."
Angela Reilly, owner, Molly Wee Pub & Restaurant
Reilly has owned both the Molly Wee Pub & Restaurant and the corner building that houses it since 1995. Upstairs are seven residential apartments. The bar is cozy and homey, with leaded glass windows, shelves full of shamrock-covered porcelain, a wall of photos, and a painting of Reilly's late husband, Paddy. 
"Of course I don't want to lose my business. The Molly Wee has been here since 1980, when my brother-in-law opened it. It was a different place then, what I'd call a gin mill, very divey. My husband and I renovated the space after we bought it from his widow.
Many people have tried to buy the building off me over the years, but I never wanted to sell. We have about 20 people working here altogether and the kitchen staff has all been with me a long time. I would describe it as a very nice neighborhood restaurant and bar with good food at a reasonable price: burgers, shepherd's pie, chicken pot pie, daily specials. We have a lot of repeat customers — Rangers fans, workers from Madison Square Garden, people who come to concerts.
My husband died nine years ago. This has been my life since. I live in Queens, but this is my home. I'm here from 12 noon to 10 p.m. Where do I go from here? I'm 68. Too old to employ or start something new. I figured I'd be here for the rest of my life."