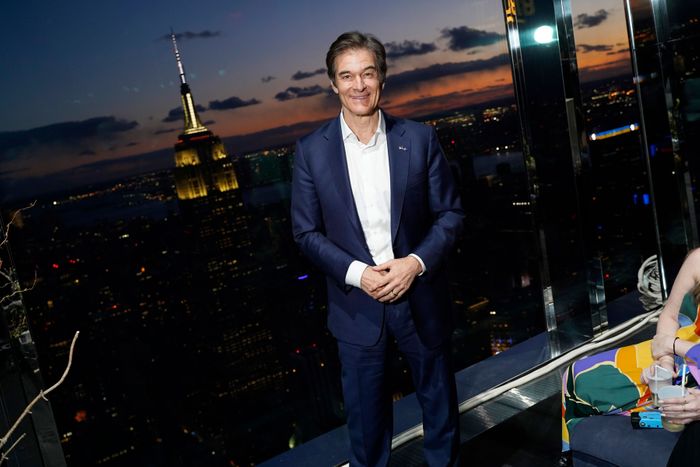 Dr. Oz says he "legitimately" only has two houses, but of the ten properties to his name, he owns two condos just in Manhattan.
Photo: Jared Siskin/Patrick McMullan via Getty Images
The most entertaining political campaign in the country is the Senate race between Pennsylvania lieutenant governor John Fetterman and Mehmet Oz, a medical fraud who made a fortune selling "magic" fat-burning pills and spent the pandemic hawking hydroxychloroquine on Fox News. The candidates haven't even publicly debated each other, but they seem to interact exclusively via dunk tweets, memes, and GIFs. After an entire media cycle was dominated by Oz's failed relatability bid in the form of a "crudité inflation" video, their latest beef centers on just how many houses Oz has. "Legitimately, I own two houses," Oz said last week at a county-fair campaign stop. Fetterman argues Oz owns ten.
Oz clarified yesterday (using Twitter, of course) that he owns ten properties, but insists only two of them are homes.
Does he mean only two of them are his homes — as in, places where he actually sometimes sleeps — and not investment properties? Because even that's not remotely true. The Daily Beast found public records for ten pieces of residential real estate owned by Oz, including three literal mansions that he frequently visits. Among them: a six-bedroom home he built in Cliffside Park, New Jersey; a $3 million farmhouse in rural Pennsylvania; and a Spanish Colonial oceanfront estate he renovated in Palm Beach. He also owns three condos: one in New Jersey and two on Manhattan's Upper East Side, which family members are suing him over in a bitter inheritance case filed earlier this summer. Also on the list: three residential properties in Turkey, where Oz has citizenship. And a cattle farm in Florida, where it appears he intends to build a ranch.
Oz quickly tried to turn the conversation to Fetterman's own real-estate portfolio: "I purchased my houses with MY money. You lived off your parents until you were almost 50." He seems to be talking about how Fetterman used family money to buy dilapidated buildings when he was mayor of Braddock, Pennsylvania, a position for which he was paid $150 per month. Fetterman sometimes lived in these buildings as they were being renovated, and he was featured in shelter glossies for converting a Chevy dealership into a loft.
Lying about his real-estate holdings brings us back to the fundamental mystery at the heart of Oz's campaign: How did a longtime Palisades resident who listed his permanent residence as New Jersey until 2021, and still spends a great deal of his time there, even come to enter a Pennsylvania Senate rate? Easy. He just bought a house there. Or is it a property?