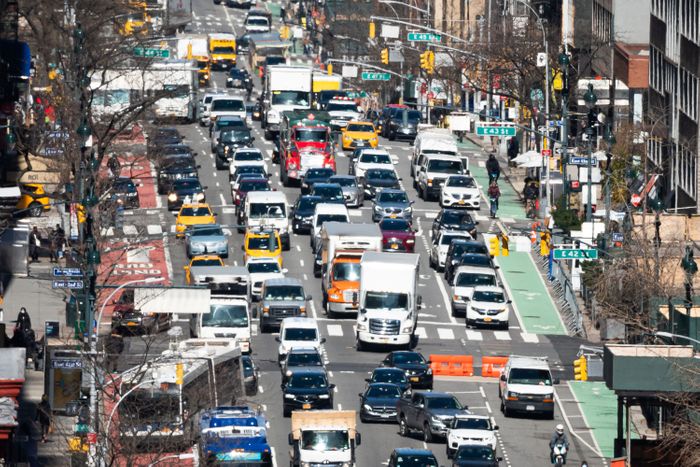 Photo: Noam Galai/Getty Images
The long-awaited congestion-pricing environmental review was released by the MTA on Wednesday morning, finally offering some details on how the plan, which the State Legislature passed back in 2019, could actually work in practice. The numbers you've been waiting for (if you have a car): Potential tolls for drivers entering Manhattan below 60th Street range from $9 to $23 during peak hours and $5 to $12 overnight (once per day for regular drivers). And for everyone else: The report estimates the plan could reduce car traffic by up to 20 percent.
Which makes sense — the costs are meant to both discourage drivers from trying to jockey their way into Manhattan's commercial district during prime hours and raise $1 billion per year to fund desperately needed mass-transit improvements. Added bonuses include improved air quality and, ideally, fewer crashes and related injuries and fatalities.
The MTA plan is incredibly comprehensive — and about three feet tall stacked together — outlining seven possible scenarios with different tolling amounts and exemptions. Each reduces vehicle volumes between 15 and 20 percent. Truck traffic would be especially impacted; the tolls for commercial vehicles range from $12 to $82, which is projected to lower truck trips through the central business district between 21 and 81 percent. Meanwhile, the number of commuters driving into Manhattan's core would be reduced by 5 to 11 percent. (Streetsblog has a good breakdown of the different options in a cute little dating-quiz format.)
The analysis finds that certain subway stations — such as Court Square, Flushing–Main Street, 14th Street–Union Square, and Times Square–42nd Street — will see an influx in riders and may need some changes to improve passenger flow. The report also estimated that there would be a drop in revenue between 0.3 and 5 percent for taxi drivers, noting that the MTA would work with employment agencies to help taxi drivers transition to jobs as bus drivers or offer Access-A-Ride trips if they wish to.
The next step will be six virtual public hearings scheduled for later this month. Judging from the rhetoric of opponents, they're sure to be animated. Buckle up — or, if you want to avoid a toll, hold on to your strap.