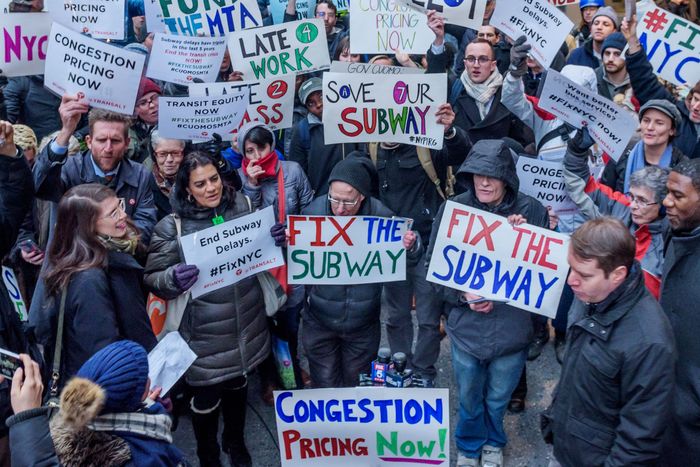 Photo: Erik McGregor/LightRocket via Getty Images
Like the traffic it's trying to alleviate, the first in a week of public hearings for New York City's congestion-pricing plan was a slow parade of grumpy people that started around 5 p.m. on Thursday and dragged on for far longer than it needed to.
With 391 speakers signed up and three minutes allotted to each, MTA attorney Louis Oliva kicked off the hearing with a promise to let everybody speak, a process that he warned could "go well past midnight." (It ended up going until 11:42 p.m.) The agency didn't seem to be in a particular hurry — it took up the first 45 minutes rehashing the findings from its massive environmental-assessment report. All that did was delay the thing that everyone was waiting for: the chance to vent at a Zoom panel of dead-eyed transit officials (and a team of indefatigable sign-language interpreters) next to a neon-green countdown clock.
The first two speakers, State Senator Anna Kaplan and Congresswoman Nicole Malliotakis, called from their cars. Kaplan, a Long Island Democrat who supports the toll — which is required by law to set aside 10 percent of its $15 billion revenue to the Long Island Rail Road — nonetheless demanded the "lowest out-of-pocket cost for residents who choose to drive into the city." Malliotakis, a Republican from Staten Island, ripped the plan for "double-tolling" the island's residents — who pay a small toll to cross the Verrazzano Bridge — as part of a "war on cars" being "jammed down our throats." She was followed shortly after by two other suburban Republicans (who were not sitting in their cars): Staten Island city councilman Joe Borelli, who appeared on his selfie camera to call the plan "embarrassing," and Rockland County state representative Mike Lawler, who stood in front of a wall of his own campaign signs while blasting the MTA as the "worst-run authority in the country, period."
The officials from the MTA and city, state, and federal departments of transportation watched blankly until around 6:26 p.m., when Brooklyn Borough President Antonio Reynoso, an ardent congestion-pricing supporter, signed on. Then, one state Transportation official cracked a smile in recognition. After Reynoso called the plan a "win-win-win" that should move forward with as few exemptions as possible (beyond those required for emergency vehicles and those carrying disabled passengers), he signed off, reminding the panel to "spread love — it's the Brooklyn way," which made NYCDOT's senior director of special projects, Will Carry, break into a toothy grin. The officials showed no emotion for the rest of the evening.
Many callers labeled the plan a "money grab": One man, Marcos Pilozo, complained that "if the MTA were given a trillion dollars, they would find a way to spend it, and then they would say they need more." Callers pleaded with authorities to imagine seniors who would be bankrupted for taking cars to see doctors in Manhattan — they "could be your grandparents," argued Glen Oaks Village co-op president Bob Friedrich. Others used their time to say public transit was unsafe, like North Bronx caller Wallace J., who said, "I don't take public transportation because it's not safe for anybody. If you take public transport, you're risking assault, robbery, or death."
Some of the more compelling pleas were made on behalf of working drivers. Intercity bus executive Dan Rodriguez asked for an exemption for his fleet, which includes Megabus, arguing that it takes millions of cars off of city streets. Bhairavi Desai, the director of the New York Taxi Workers Alliance, stated plainly: "We're really offended that your own report says there are going to be massive job losses for this workforce, yet you haven't recommended exemptions for drivers in all of these scenarios." (Only two of the seven currently proposed toll scenarios exempt taxis, and none exempt for-hire vehicles, like Uber and Lyft.) Pedro Acosta, a Brooklyn for-hire driver, reminded the panel that hundreds in his profession had died offering their services through the pandemic.
There were many passionate supporters of the plan — though they seemed outnumbered. Lifelong Manhattanite Evan Ferrer said he had lost friends to traffic violence and argued against extra exemptions. "I don't think the loud, tinted cars on our streets are all driving to their doctor's office," he said. "Enough with the rhetoric about unsafe subways for the elderly. Are our highways really safer? Have you seen the madness that occurs on our city roads?" Luke Szabados, a Bronx resident, said that as a bike commuter, "it's astounding how much pollution we have" and called the toll a "great win." Authorities should go even further, he suggested, by building high-speed rail in Long Island and bike highways.
As the night wore on, more and more speakers were no-shows. The panel stayed stony-faced as Patrick Johnson, a young man in a sleeveless shirt, went on an energetic rant against the "embarrassment" of the plan in one of the evening's best New York accents. "All week I'm going to be doin' this," he said, gesturing at his webcam with a pen. "I'll see you at the next meeting, thank you and have a great night."
Just past 11 p.m., with a handful of speakers remaining, Joseph Muto, a Bay Ridge car owner, called in to say, "I prefer taking the train to driving," and cheered on the haggard-looking bureaucrats. "I just want to tell you guys to stay strong. Don't give into the car fetishists. I hear people complaining the policies are punishing car drivers. Good, they should be punished." But he added, "Please, dear God, fix the trains, fix the buses. They should be fast, they should be safe, they should be clean. That's all I ask."