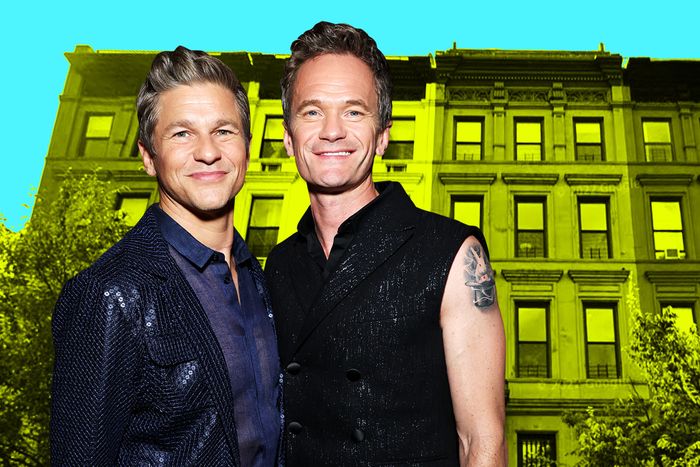 Photo-Illustration: Curbed. Photos: Getty Images; Google
Congratulations to Neil Patrick Harris and David Burtka on setting a gentrifier record! The couple sold their Harlem brownstone for $6.9 million, a new high for the neighborhood, according to the New York Post. They first listed their SoHa home (I assume they are the only ones still calling South Harlem that) last August for $7.3 million. The sale broke the recent brownstone sale record set in April of this year for $6.4 million, per The RealDeal.
It looked like Harris was set on living in Harlem, since the How I Met Your Mother star took to Twitter in 2013 to ask his followers for help finding a brownstone in the area. (Ryan Serhant, always ready, was among the earliest to reply.) The couple bought their five-bedroom home for $3.6 million that same year. When Charlie Rose asked about their house the following year, Harris replied, "I guess, why not Harlem?" It turned out he mostly thought it was a bargain. "We like the city of Manhattan. We looked at places that were bridges away, but we kind of wanted to be in it. And I think for the most bang for your buck financially, Harlem is a pretty good buy."
Harris and Burtka toured their museum-of-curiosities-that-they-call-a-home for Architectural Digest in 2015 and again in 2019. The 8,000-square-foot property, built in the 1800s, is packed to the brim with completely normal decorations like a Tom LaDuke knife sculpture, peephole art, and, of course, Burtka's beloved taxidermy collection (He takes classes and has been learning to stuff animal skins himself, delightful!) Just like fellow TV funnyman Jimmy Fallon's recently-sold Gramercy home, it, too, features a vintage parlor, which the couple has named the "Monkey Bar" (after the taxidermy monkeys decorating it, naturally). Cara Delevingne, eat your heart out.
According to the Post, the couple has been "spending so much time in the Hamptons since the pandemic that they decided to downsize in the city." Perhaps the sale was inspired by Harris's recent role as a recently-single New York City realtor navigating the gay dating scene on Netflix's Uncoupled. The Burtka-Harris family's Hamptons home is plenty sexy though, given that it's a former orgy estate.