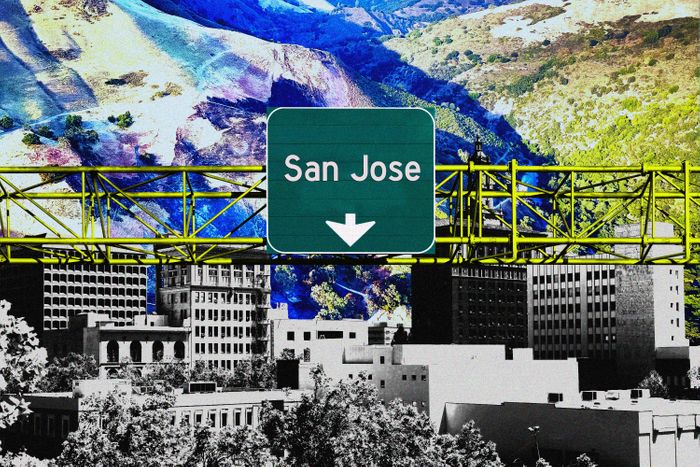 Photo-Illustration: Curbed; Photos: Getty Images, Shutterstock
In this biweekly series, "Realtor Diaries," we hear from the people at the center of a wilder-than-ever market. Today, an hour-by-hour glimpse into the working world of Tori Atwell, 59, a power broker in the San Jose area.
8:30 a.m. I'm not an early bird, what can I say?
Last night, I promised myself to wait an hour or so before checking my emails in the morning so I could spend some quality time with my pets. I have a lot of them. Two potbellied pigs, four cats, five small dogs — the biggest is 20 pounds, but that's just because he's fat. I feed and pet everybody, and of course now I'm going to break my promise and dive into my emails.
9 a.m. Sure enough, I have about 100 to go through. When you're a Realtor, you're hearing from everybody, from lenders to buyers to lawyers to sellers — everybody wants to connect with you. Also, I was born and raised here. I know a lot of people.
11 a.m. I do all my errands first. Head to the post office, fill a sign box with brochures, do a drive-by for a client. Clients ask us to check out streets for them before they even bother looking. While I drive, I listen to a murder-mystery podcast. I'm very well prepared to murder a client at this point. I know all the tricks.
12 p.m. I go to the office. Another 50 emails. No day is the same. What you need to know about San Jose is that it's basically a bunch of little towns all squished together. And they're all incredibly distinct. Some are luxurious; some are dangerous. Some are funky and historic — Japantown, Naglee park. But mostly, San Jose is mass urban sprawl, track housing, and strip malls, kind of boring. Also, people don't really move to San Jose because they want to move to San Jose.. They move to San Jose because they can't afford Santa Clara.
I'm working a lot right now in Almaden Valley, which is a highly desirable "executive" community. It has a lot of big fancy houses, plus great schools and large lots. Houses are 5 or 6 million there, on average.
I'm also doing a lot in Willow Glen, which is charming and has a little town. The houses were built in the '20s and '30s — a lot of bungalows, mini-Craftsmans. All the millennials with their baby strollers are there now. We called them yuppies in my day. They send their kids to private schools; they like to walk to town and be cute.
1 p.m. A Realtor friend calls me. Realtors in this area are chatty. We talk about the press the market in San Jose has been getting lately; an article said it's seeing the largest decline in home prices in the United States. Sure, maybe 70 percent of the town is not doing well. But it's not Almaden Valley or Willow Glen. It's the 70 percent of San Jose that's urban sprawl. And that's because people aren't looking to move there in the first place. That being said, even in Almaden Valley and Willow Glen, homes aren't moving as quickly, or with as many crazy offers, as they were a year ago, when people were getting $200,000 over ask, all cash.
2 p.m. I'm showing a large, charming Craftsman house to a family with four kids; it's on for 2.5. They can afford only under 2 million, but they want Willow Glen, so they say they want to see it anyway. I am a very straightforward person, and I tell them that they're not going to get what they want in the neighborhood they want for less than 2 million. I wish it were different, but that's the truth. They aren't sure they like it, anyway.
We look at another house, more of a bungalow type, that already has an inspection report. The electrical report says "reverse polarity," which looks bad, but is actually nothing — it just means the "hot" and neutral wires are switched. The bad issues are roof problems or black mold. And fungus, which you see all the time. Especially in hoarders' homes.
My clients are going to think about this one. All Realtors say this, but buyers are like sheep. When everyone is buying, they want to buy. When everyone is pulling back, they pull back. Right now, with the interest rates, clients are pulling back. But it's silly to me. This time last year, there was no way to get into the market; you'd have to overpay by hundreds of thousands of dollars. Now — in San Jose at least — you can get a house for the right price. This is the time to buy! But all I can do is give my advice.
3 p.m. I meet up with an engineer client. They're the most challenging to work with because they are hyperanalytical. The majority of them work for Facebook, Google; take your pick. I have one hard-core engineer type, whom I've been working with for 20 years, who keeps saying, "Damn it, the market is going to go down!" because he's done an algorithm that indicates this. I'm not joking — 20 years without pulling the trigger. It's like, "Dude, it doesn't work like that. You already missed the boat!" Anyway, after discussing the market and numbers and math for a half hour with this engineer client, I need to move on to other things. I tell him, "You need to stop obsessing over the math. It's simple. Do you like the house? Because the person who likes the house the best will get it."
I'm very straightforward. I'm just me. If you don't like me, don't work with me.
4 p.m. A client forwards me an email from someone who wants to show their house, who contacted them directly even though I'm the listing agent, and who sounds shady all around.
Now, I know a lot of classy, honest, excellent Realtors in the area. But unfortunately, San Jose is known for having a lot of dirty agents, too. Really dirty. They specialize in flips — as in they buy distressed properties, then do cosmetic work, then resell. Often, the work is of poor quality, and the actual issues (electrical problems, pest damage, leaks, structural items) are covered up or not addressed. I had a listing like this a few years back — it was gorgeous, but when we had inspections done, we discovered many, many problems. There was a back addition with no foundation at all.
The only good kind of bad agent is the kind that doesn't know how to sell a house — either because they're inexperienced, or because they just don't care. They don't do open houses. They don't do the marketing. The result is there is less interest in the property — which means my buyers can come in and score a deal. The sellers will take it because there's no other interest.
Anyway, I tell my client not to deal with him. Maybe he'll go away.
5 p.m I'm ready to leave the office. It's a new office for me. I was with a very local company for many years. Then Compass bought them out, but we stayed in the same space. The Compass culture wasn't right for me. Too corporate. So I moved to the Agency. I found out after I joined that it's owned by a famous reality star. But I obviously didn't join for that reason.
6 p.m. I come home to my pets. I cuddle them, and I have dinner.
7 p.m. I enjoy doing something mindless in the evening, especially if I've had to deal with a moron that day.
8:30 p.m. I have some escrows going, so I check my emails and respond to a few issues.
9:30 p.m. I try to really limit my stress at night. I'm a sleepwalker. I once sleep-walked into my underwear drawer to look for a file. I also once fell down my basement stairs, while sleepwalking because I thought I was showing a house to buyers. So yeah, I try not to think about work before bed. As much as I love what I do.