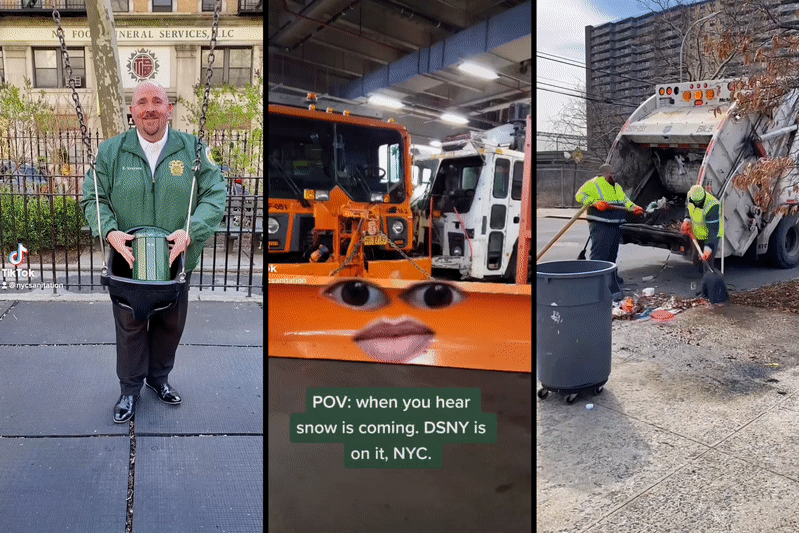 Video: Curbed; TikToks: New York Department of Sanitation
At some point earlier this year, my For You Page changed for the better. Between cute boys making sandwiches, Brian Jordan Alvarez videos, and American Girl Doll memes, I started getting the occasional video from @nycsanitation. I don't think I've ever watched through a full video on TikTok from any government department, local or federal, but @nycsanitation has clawed its way through algorithms and attention spans to be that rarest of finds: an official organization or company account that's actually good. The Department comes across in its TikToks as a bunch of genuine, hardworking salt-of-the-earth folks. I mean that literally; @nycsanitation TikTok reminds us that they're the ones in charge of salting the streets in winter.
In fact, the salt spreader and snowplow have become something like the mascots of DSNY's fleet. @nycsanitation uses the app's Face Builder effect to plop eyes and a mouth onto still images of its vehicles, and the result is like Cars for adults. The big plow is caught in a city blizzard, lip-syncing to Kim Kardashian saying, "It's a full-time job, and it's extremely time-consuming, and it's not as easy as it may appear to some people."
In another, the caption is straightforwardly useful: "Snow starts at 7pm & we have 1800 plows ready when 2inches falls. Link in bio for details. Tag a #newyorker who needs updates." Miss Plow seems tired but is smiling through it, set to a hilariously weary Kali Uchis sound drop. I reached out to DSNY to ask if the lip-synching eyes and mouth belonged to a particular person, and it turns out she's played by social-media coordinator Livianette Cabrera, who cautioned that she really doesn't want us to suggest that "I'm the only person who does these. We all come up with them together." A video of the snowplow looking depressed in the garage in mid-May 2021 was the account's first TikTok to go viral, with 40,000 likes and more than 100,000 views.
Between Everything Everywhere All at Once and Marcel the Shell With Shoes On, 2022 has been a major year for googly eyes in cinema. Add to that list of cinematic achievements this TikTok for DSNY's Adopt-a-Basket program, showing then-Commissioner Edward Grayson (who recently retired after 20 years in the department) raising a googly-eyed little trash bin like a son:
Other videos show speed-run street-side cleanups that give your brain a jolt of secondhand productivity porn. In the same way that cleaning and home-organization TikToks are soothing, so too is a fast-forwarded video of a sea of trash getting dealt with, set to Mario Kart music. And where most of CleanTok takes place in private domestic space, there's something especially engaging about seeing civic garbage — our garbage — swept away.
On a viral post like this (2.2 million views and 353,000 likes), the comments section is incredulous: "great now come to the bronx"; "since when y'all do this"; "where is this I know it's not NYC." This seems to be the public perception of DSNY that these videos are trying to campaign against. This video ends with Grayson saying, "Remember, we didn't create this problem; we're here to pick it up," and urging New Yorkers to call 311. One function of the account, in fact, is to suggest things New Yorkers can do to help make the jobs of people who work at Sanitation a little less awful.  (A series of anti-littering posts from April ended with Grayson saying, "It's our job and we're proud to serve you, but we are not your mother.") A commenter on one of his other videos wrote, "He speaks with his hands, I feel safe here."
One of the account's most recent videos may be its most popular yet (Goodman says Chuck Schumer reached out to say he "loved it"): It's a PSA about the return of alternate-side parking to its pre-pandemic schedule, and it's a parody of PSAs. Sarah McLachlan's ASPCA guilt-banger "Angel" plays over black-and-white footage of curbside trash and deadpan-earnest sanitation workers begging, "Please." The Department's new commissioner, Jessica Tisch, says in a knowingly mournful voice, "Will you move your car? Every day, litter gets on the streets of our city, and it's crying out to be cleaned up. A single mechanical broom sucks 1,500 pounds of street litter off of New York City streets. But they don't work … if you don't move your car."
One reason this account is the way it is, suggests DSNY assistant commissioner for public affairs Joshua Goodman, is that DSNY occupies a particular slice of the civic realm where it can safely be a little playful without seeming frivolous or offensive. "The Conflict of Interest Board and the Department for Citywide Administrative Services, the two agencies that are most known for their quirky and unusual social media — neither of those agencies is ever going to be issuing an emergency alert," says Goodman. "And we do issue emergency alerts. Then, of course, it might not be appropriate for other service agencies like police, fire, and hospitals to be doing what we do. So we're in this middle ground between the ability to be a little offbeat and remembering that our channels are a place where people get important information." Besides, as Goodman says, "Everybody loves a big truck."