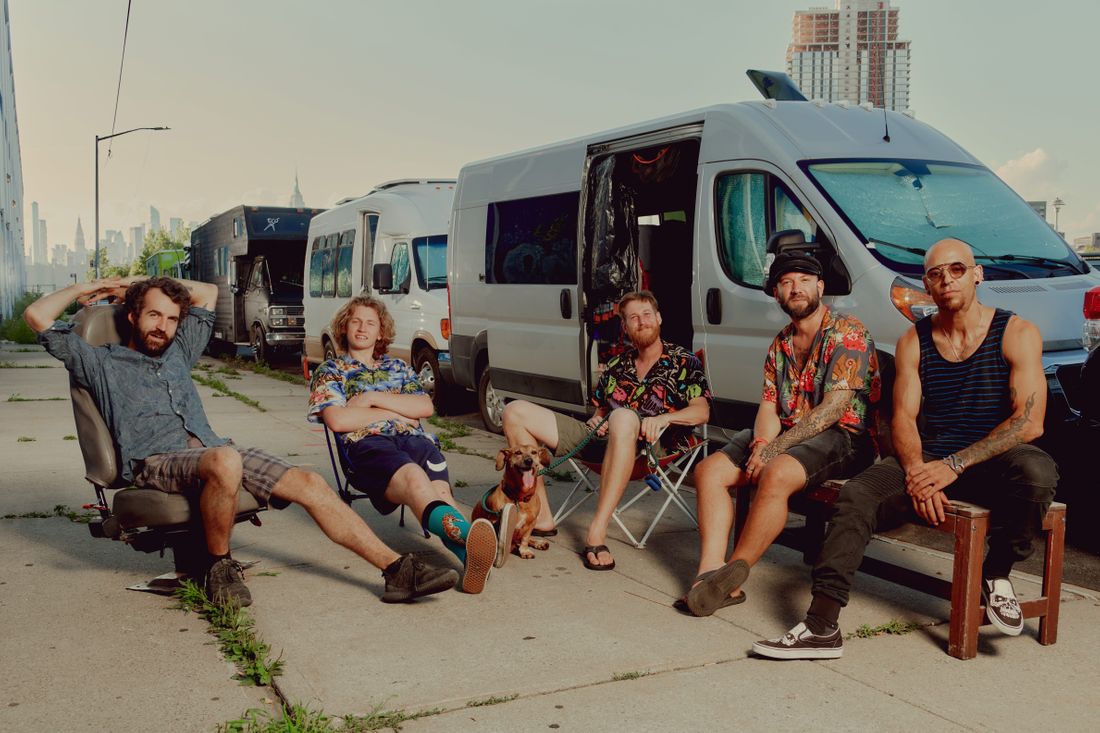 From left: Rob Walker, Cole Wettersten, Drew Reister, Jimmy Giordano, and Slade Guillory.
Photo: Victor Llorente
In Williamsburg, on a dead-end waterfront street known as Van Alley, their hulking shapes rest comfortably against the skyline. One van's dust-streaked windows are adorned with baby-pink-and-yellow leis. Inside another, a glass bong is the pièce de résistance among piles of laundry. Benefiting from the area's lively bar scene and gyms that "only sometimes" require a membership to use their showers, Van Alley "has a unique sense of community that a lot of other van-life hubs or hot spots haven't had," says resident Drew Reister.
Reister has been here for close to a year. Slade Guillory runs a full-service salon from his van, a sleek black number with a spinning barber pole fixed to its side. Rob Walker has lived here off and on since 2019, making him something like Van Alley's mayor. There are usually five to ten vans in the Alley, which their owners move around to avoid tickets.
The afternoon I meet them, Walker is the only one not wearing a Hawaiian shirt (a coincidence, they all swear), and his beard is speckled with sawdust from the day's construction at Brooklyn Campervans, which designs and furbishes custom vehicles-cum-homes. Business, he says, is good — they're booked into 2023.
It's no easy way to live. Cole Wettersten, now in year four of van life, tells me he got frostbite during his first winter; he smiles distantly as he describes his eyelids freezing shut. Yet they all agree summer is the worst. Reister managed to install an AC unit in the window of his van, but most of the guys just slog through months of sweltering heat.
What, then, has kept them loyal to van life? Well, there's the luxury of paying no rent at all as prices on the housing market reach ever more ludicrous heights. And they have each other. Van Alley regularly hosts potlucks and movie screenings with residents perched on lawn chairs or lurking in one another's doorways. Their latest pick for movie night? Spider-Man: No Way Home.