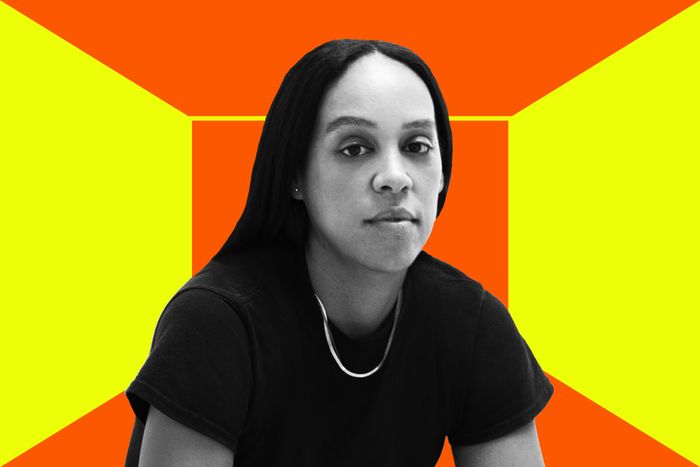 Photo-Illustration: Curbed; Photo: Lelanie Foster
New York's "21 Questions" is back with an eye on creative New Yorkers. Ebony L. Haynes is a writer and curator and the director of 52 Walker, David Zwirner Gallery's Tribeca space. In May 2020, she established the Black Art Sessions, a series of talks about how the art world operates, and she was formerly the director of the downtown art galleries Martos and Shoot the Lobster. 
Name: Ebony L. Haynes
Neighborhood: Bed-Stuy
Occupation: Director of 52 Walker
What's hanging above your couch?
Nothing — there isn't a wall behind my couch, which is sort of in the center of the room.
What's the first job you had in New York?
I was an intern at Foxy Production when it was still in Chelsea, and that job led to four years of employment. I was fortunate to have a wonderful internship and for the gallery to take a risk on me and sponsor my work visa, since I'm Canadian.
What color are you always drawn to? 
I only wear black, white, and gray, but visually I'm drawn to forest green. It feels calming and familiar. When I was young and we drew straws, I always picked the green one. And I have early memories of doing arts-and-crafts projects and wanting the green crayon.
What work of art or artifact are you most surprised you own?
I've had my mother's gold wedding ring since I was 16. My father designed it and had it specially made. I've gone through phases where I would consider it a bad design — it's kind of gaudy and not welded properly — but I've grown to love it.
Which New Yorker would you want to hang out with?
I worked in music before I worked in art, and to me, Jay-Z is the epitome of New York hip-hop. He's the signifier of New York sound for so many decades, and he's an entrepreneur and an art enthusiast. I'd like to DJ with him and go song for song.
What's the last thing you made with your hands?
I knitted a very basic scarf. It's the only thing I know how to knit.
Is there one thing you own multiple versions of?
I have eight copies of Octavia Butler's short-story collection Bloodchild. She's one of my favorite authors and the collection has my favorite short story of hers, which is also named "Bloodchild." I like finding used copies of this book with notes in the margin. It provides insight into how other people are reading the stories. Sometimes I'll come across copies where you can tell it was a student who's really underlined and marked it up. And if I come across different covers, I'll buy those too.
What New York City museum do you always go back to?
The Morgan Library. Their exhibitions are always surprising. They had a really great Gwendolyn Brooks exhibition called "A Poet's Work in Community." I appreciate the patience and cadence in how they program their shows.
What do you always have next to your computer? 
A large bottle of water.
Where is the best view of the city?
During some of my earlier days in the city, a lot of my friends had studios on Canal Street and we would go to the roof. It's my favorite view of the city. The Manhattan Bridge is there, you're close to the water, and you're high enough in these low-rise studio buildings to see the city all around you.
What building or object do you want to redesign every time you see it?
Landline phone cords just drive me fucking crazy. I use the phone often, and the amount of time I spend untangling the cord is ridiculous. Personally, I don't like cordless stationary phones. They always feel strange to use, like a giant cell phone.
What's one thing you would change about your field? 
I would like to see multiple gallery models exist in the art world, which is what I'm doing with 52 Walker. I compare it to a Kunsthalle, which is a non-collecting museum. I wanted exhibitions to slow down and last longer than five to six weeks. I also wanted to see what a non-representation model would do for myself as a curator and for the artists I work with. I will likely only have one show with an artist, and when it's your one opportunity to do something big, the stakes feel different. We have the time to think about an edition, a book, archiving, and talks so people can come to the exhibition for a second or third time.
If you could live anywhere in New York City, where would it be?
Bed-Stuy. It's the only place I've lived in my ten years in New York and I can't see myself leaving.
What would you hoard if it stopped being produced?
As a design object, books are so beautiful: What kind of binding does it use? Is it hardcover or softcover? Is it part of a series? I was obsessed with the Encyclopedia Britannica as a kid, but I never read them; I just wanted them on my shelf because they're such beautiful objects.
What do you do to get out of a creative rut? 
I procrastinate until the eleventh hour and eat and sleep too much to avoid doing anything until I reach a moment of epiphany.
Where was your first NYC apartment and how much was the rent? 
It was in Bed-Stuy with four roommates. My share of the rent was $400.
Where in the city do you go to be alone?
My favorite time alone is Mondays in my office. The gallery is closed and it feels like my safe space. To be honest, I don't have time to go anywhere else.
Worst piece of career advice you've ever gotten? 
Someone once insinuated I was trying to do too much and told me "Jack of all trades, master of none," and it really irked me. I totally disagree with that. Everything you're interested in will inform one another. There's never a wasted interest.
What have you given away to someone that you wish you could get back? 
I've wasted so much time on what people think I should be doing or where I should be going. Not that I'm in a rush, but if I just listened to myself, I would have gotten somewhere sooner. Time feels more precious for that reason.
What's your favorite NYC restaurant and regular order? 
I love going to Raoul's to get the steak au poivre. The restaurant feels like old New York.
What descriptive phrase do you want on your obit headline?
"She always knew what she was going to have for dinner."