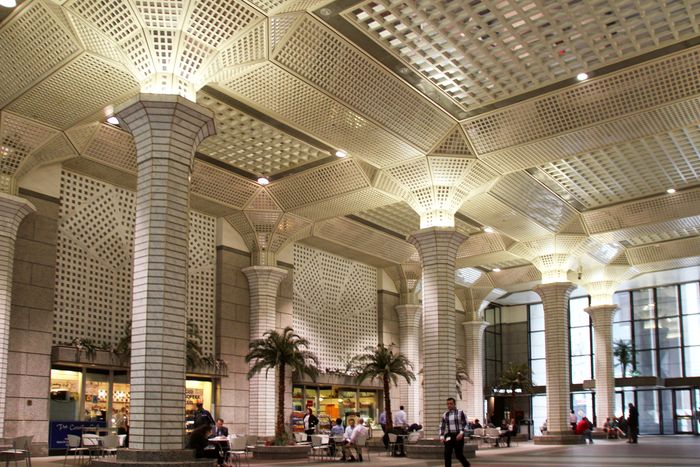 Photo: Can Pac Swire/Flickr
It's coming down to the wire for the lobby at 60 Wall Street, everyone's favorite over-the-top postmodern atrium. Its papyrus-stalk columns, an interpretation of the Egyptian Revival aesthetic that had blossomed a few years earlier in marble and granite and latticework the color of Bolivian flake, are a fantastical relic of the time when architects had once again begun to muse, Well, how about let's try decorating it?, after 20 years of stripped-back modernism. This privately owned public space, or POPS, is exuberant, a little ridiculous, and threatened with a deadening renovation. The Paramount Group real-estate trust, the building's newish owner, has declared its intention to rip out the 1989 Kevin Roche treatment and Apple Store–ify it into plain white submission. Ditto the chunky gray granite columns outside at the base of the façade, which were intended to echo the ones at the top of the building but are slated to be reclad in squared-off beige limestone.
Normally, the Landmarks Preservation Commission would have no power over a non-landmarked structure like 60 Wall. But owing to some agreements made when the building went up, the LPC has some jurisdiction over the plans for the exterior, and in July it called for revisions: It demanded that the exterior columns be more closely contextual with those they face at 55 Wall, with which its design was required to "harmonize." A scheme presented last week does indeed show columns that are closer in dimension to those across the street, though they now have little resonance with the building they're actually attached to. That revision may be ruled upon at Tuesday's meeting. The atrium isn't officially being considered, but because this is all one project, a no-decision on the columns outside will preserve the interior long enough to be evaluated. A yes will likely set the jackhammers going.
Docomomo, the modernist preservation group, has justifiably gone to the mat for this one, and on September 12, the LPC offered the group a glimmer of something approximating hope. "In its initial review, staff has determined that the building and interior POPS merit further study within the context of postmodern commercial architecture and interiors," the LPC wrote in a letter to the group's executive director, Liz Waytkus. That was followed by a cascade of caveats noting that such new buildings are tricky to justify, particularly in Manhattan. It is also a noncommittal statement: Merits further study does not mean "we are issuing an order not to rip it out tomorrow." It also doesn't stop preemptive demolition — a technique that has sometimes been used by developers faced with a possible landmarking, including the hasty destruction of the McGraw-Hill Building's lobby on 42nd Street last year and the Jacob Dangler mansion in Bed-Stuy in July.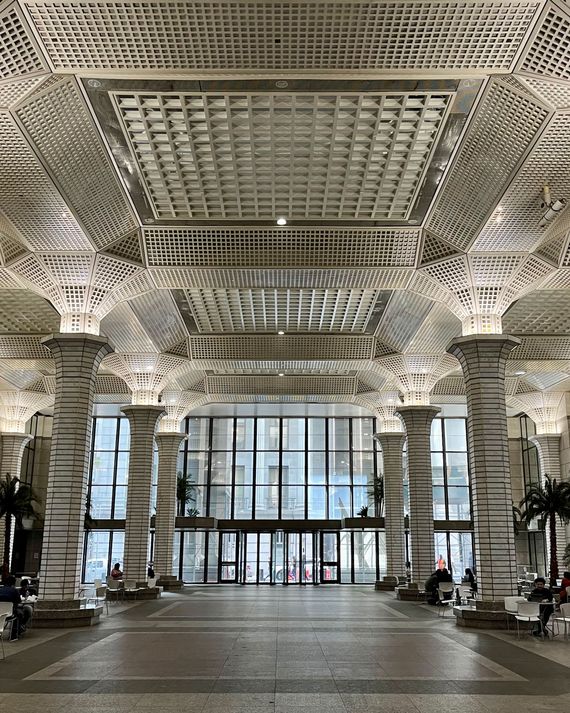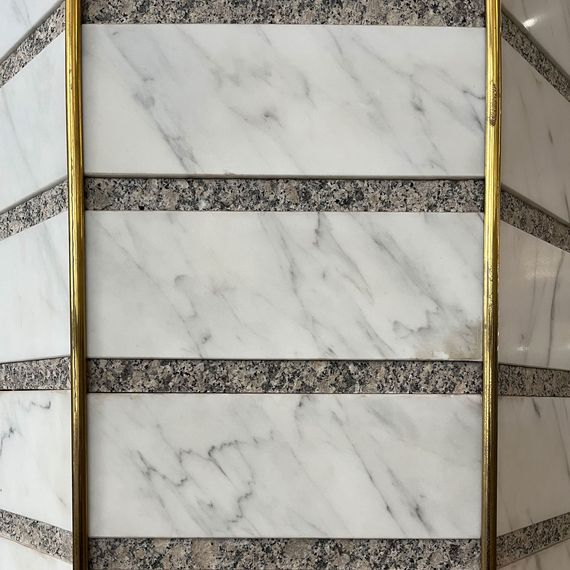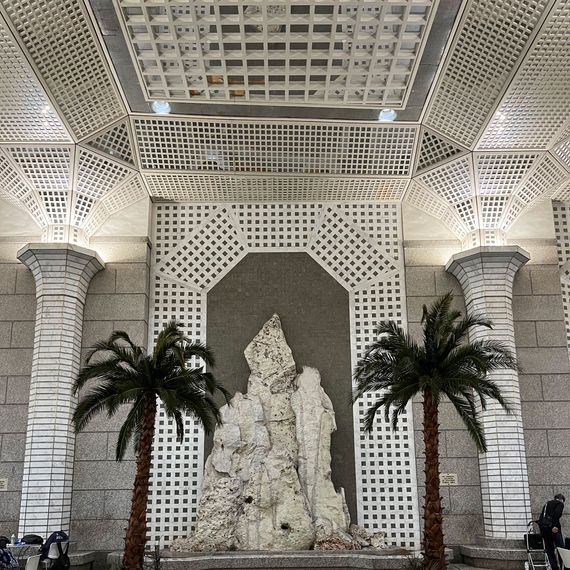 What happens tomorrow, when the exterior alterations come up on the agenda, will be one of two things: Either Landmarks will fail to approve them, in which case the whole thing continues to be paused for more evaluation, during which time the commission is likely to look harder at the lobby. Or it will green-light the changes to the exterior, in which case the whole thing moves forward and the lobby is probably toast. "Demolition could start tomorrow afternoon," Waytkus said to me, and indeed the entrances are already wrapped in scaffolding.
Sixty Wall is a little too young to be canonical despite Roche's architectural significance, and that's perhaps why it's considered so expendable. Buildings in their fourth decade — especially postmodern ones, which have faced disdain in some quarters since they were new — are just now able to be evaluated with a little distance. Ten years ago, most people would likely have considered towers like this dated and tacky, absolutely not worth saving. Twenty years from now, when people who came of age in the 2010s dominate the taste conversation, it would almost surely be saved. Right now, we're at the point in between: where the aesthetes (at least some of them) get it, and the money guys just think it's old and unfashionable and weird and maybe hard to rent. That period is, too often, the middle ground when great buildings, too often, give way to something much less great. Penn Station was 53 years old, dirty and ill-kept and simultaneously too big and too small when it was demolished. The Singer Tower was about 60 when we let it go. Neither was a perfect building, but neither would likely have come down if it had hung on a little longer.
The 60 Wall lobby is also imperfect, and it too is a little forlorn right now, its fountains dry and its retail spaces locked. That puts it at particular risk. Buildings that show a little weathering just look old to a lot of people. (When I went by yesterday, about one-third of the lightbulbs were burned out, a bit of probably willful neglect that made the soaring spaces look dingy and gloomy.) But "it retains all its original fabric. Who rips granite and marble off a building?" Waytkus says, a little incredulously. "To put up what? Concrete?" It's really all done in luxury materials, I remark. "It's on Wall Street," she agrees, noting that it was in sync with its time and place.
A few postmodern interiors have been recognized for their significance. The Ambassador Grill, Roche's super-flashy 1976 restaurant near the U.N., was similarly set to be renovated out of existence a few years ago. In 2016, a last-ditch push from Docomomo and other groups—not to mention Curbed—made it New York's youngest interior landmark. In that case, though, the owners didn't see the push to landmark the space coming. This time, they're pushing hard to renovate. How do the odds look? Waytkus is cautiously optimistic, putting the chances of saving the lobby at substantially better than even. There's a lot of goodwill on the side of its rescue, she says, including the community board's, and perhaps some sympathy from the LPC itself. But, she admits, "being a preservationist means losing a lot."