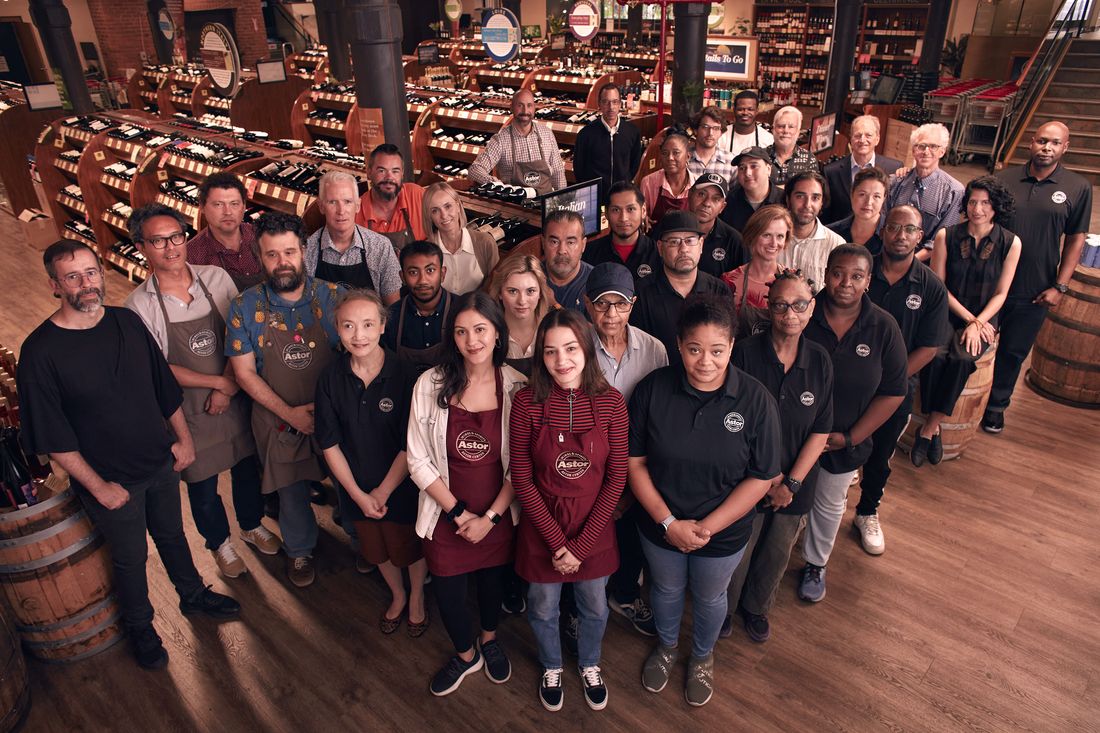 From left:
Vince Grace, Chung Park, Andrea Fraccari, Josh Mizrahi, Bill Kenny, Ling Li Ding, Simon Gouldstone, Erfan Himel, Urszula Przedwojska, Kayla Marcos, Claire Fishman, Doug Yacka, Charlene Perez, Alfredo Cantillo, Devanand Chanilal, Victor Boddie, Bilmar Morales, Veronica Martin, Juan Cintron, Jordanna Douyon, Steve McGregor, John Wilber, Taliek Weeks, John Johnson, Bambi Ray, Eric Moore, Esther Collins, Nima Ansari, Shawn McLaughlin, Andy Fisher, Varvara Pokaeva, Michael Dougherty, Rob Fisher, Lorena Ascencios, and Wil Reed.
Photo: Frankie Alduino
The last time Astor Wines & Spirits appeared in the news came during the early weeks of the pandemic, when the beloved store tweeted images of a business transformed: boxes of wine piled on the floor, snaking shopping carts full of booze, all waiting to be shipped to customers who suddenly found themselves trapped in their apartments. Astor became a pillar of its Noho community, a rare vestige of the old world.
Astor underwent another transformation this past summer, announcing on September 12 that its owners, brothers Andy and Rob Fisher, had completed a sale of the company — not to another set of owners but to their employees. "It was utter shock," Lorena Ascencios, Astor's wine buyer, said.
The Fishers, whose father, Edwin, purchased the shop in 1968, said in a statement that "the best succession plan is to entrust Astor to the people who have been so instrumental in building our enterprise." The sale was made through an ESOP (employee-stock-ownership plan), which allows employees to hold shares in the company and makes them the owners. They can expect to take home modest dividends in good years and sell their shares when they leave. New employees will also receive shares. Doug Yacka, Astor's operations manager, likened the plan to a superior form of 401(k).
Astor has been in operation since 1946. The Fisher family oversaw multiple expansions and relocations, culminating in the 2006 move to its current home in the historic De Vinne Press Building on the corner of Lafayette and East 4th. The transfer of ownership is striking given the decision by Trader Joe's in August to shutter its wine store in Union Square just as its employees were reportedly preparing to unionize. In contrast, Astor's employees will be even more integrated with a store that was already an anchor of the neighborhood.
"First and foremost, I still have a job," Ascencios said. "Job security, that's a huge deal for me."