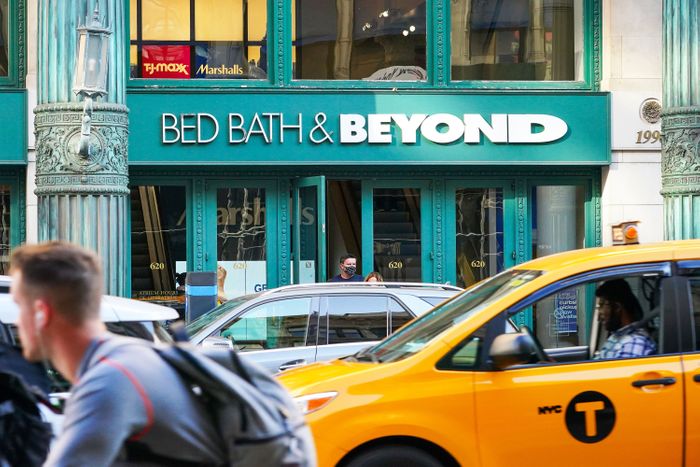 Photo: John Nacion/SOPA Images/LightRocket via Getty Images
Bed Bath & Beyond, the store where once upon a time every teenager bought their first set of extra-long dorm sheets, has been in the news a lot lately. Stores are shutting down, lawsuits are swirling, and memes are stocking. A breakdown of the turmoil, in brief:
First and foremost: Is the iconic Bed Bath & Beyond on Sixth Avenue shutting down?
It's not clear yet but probably not. The retailer announced last week that it was closing 150 stores and laying off 20 percent of its corporate and supply-chain workforce in an effort to turn around its finances. Reuters reports that around 50 to 60 of its stores will close by February in the "first wave," and CNBC reports those closures will target "lower producing" stores, but we don't have much detail beyond that. According to Patch, the Chelsea location re-signed a ten-year lease in 2020, but, as it noted, "it wouldn't be the first time a New York City business shuttered shortly after resigning a lease."
And why is this happening?  
It hasn't been a great decade for the company, but the last couple of years have been particularly acute: After first-quarter sales decreased by 25 percent year over year in 2022, the company fired its CEO, Mark Tritton, who had helmed Bed Bath & Beyond since 2019. The closures and layoffs are estimated to save $250 million in the current fiscal year.
What's going on with the stock scandal?
I guess we have to talk about the whole meme-stock thing again.
Meme stocks …
Basically, in March, billionaire investor Ryan Cohen, the chairman of GameStop and an activist investor whose moves are closely followed by r/WallStreetBets and other Reddit stock-trading boards, disclosed an almost 10 percent stake in Bed Bath & Beyond. In August, shares went up 350 percent, then crashed after Cohen sold his stake, netting him around $59 million, according to CNBC. This made the Reddit boards angry. ("Cohen just showed his hand. He will screw everyone else so he gets wealthier. He is setting you up" is a representative comment.)
Which is probably where the lawsuits come in. 
Yeah. On August 23, a group of shareholders filed a class-action suit against the company, Cohen, and former CFO Gustavo Arnal, claiming that they had engaged in a "pump and dump" scheme. According to Reuters, Arnal had sold 55,013 shares on August 16 and 17, worth around $1.4 million, with 255,400 shares still left in the company. The lawsuit claimed that Arnal and Cohen had collaborated in a "fraudulent scheme to artificially inflate the price of Bed Bath & Beyond's publicly traded stock." On Saturday, Arnal died after falling from his high-rise residence in Tribeca's Jenga Tower; the medical examiner's office later ruled his death a suicide.
And what does the My Pillow guy have to do with this?
If this all weren't chaotic enough, now add far-right internet types who are blaming Bed Bath & Beyond's troubles on its decision to stop selling My Pillow products after My Pillow's founder supported the January 6 insurrection. (The company said it dropped the pillows because they were "underperforming.")
Anything else? 
Not really. In addition to downsizing, the company apparently thinks it's going to reverse its fortunes by focusing on national brands and speciality items. It claims to be the first store to carry the air fryer, which I can't confirm but is a weird point of pride for the brand, I guess.