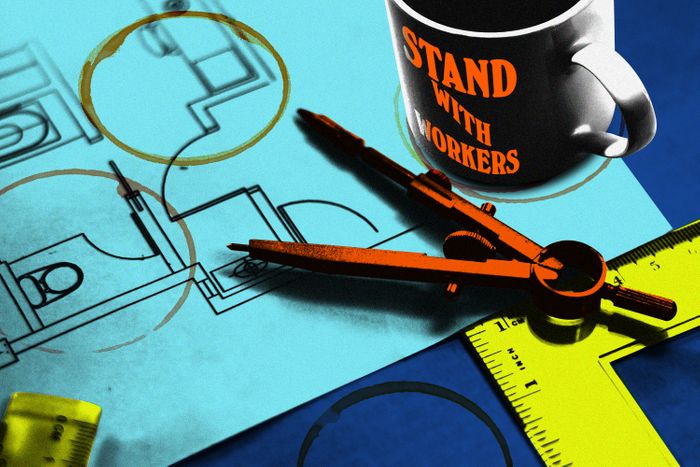 Photo-Illustration: Curbed; Photos: Getty
Earlier this month, the employees of a small Brooklyn-based architecture firm made history when they announced that they had formed a union. The 22-person firm of Bernheimer Architects, which specializes in affordable housing and retail, became the first private-sector architecture union in the United States. It will join the International Association of Machinists and Aerospace Workers, which includes employees at workplaces that range from United Airlines and Harley Davidson to yoga studios. This comes a few months after the failed union drive at SHoP Architects, which was led by employees there alongside Architectural Workers United, a new campaign that formed in 2021 with the goal of improving working conditions for architects.
The collapse of the SHoP union campaign only weeks after employees filed to hold a union election — a decision AWU attributed to a "powerful anti-union campaign" staged by the firm's higher-ups — reanimated the discussion about the industry's long hours and low pay. AWU was able to keep the momentum going by talking to other firms across New York interested in unionization. They found footing at Bernheimer, where management and employees had already started a dialogue on improving the workplace and a recent hire from SHoP accelerated the process. The firm's leadership voluntarily recognized the union with principal architect Andrew Bernheimer arguing that it would make for "better architecture" in an interview with the New York Times.
AWU is currently in talks with up to ten other firms across New York City. In the meantime, what's next for the first one in nearly a century? Curbed spoke with Chris Beck, a project designer at Bernheimer Architects and a member of the firm's union organizing committee, on what happened in the lead-up to the announcement and what an architecture union might actually look like.
Curbed: Given that architecture is notorious for long hours, let's start with the basics: How many hours do you typically work in a week at Bernheimer?
Chris Beck: I've been at the firm for over four years. I've only recently started working part-time, so now I work around 32 hours a week. But during my time at Bernheimer, on a normal week with no deadlines, I tried to work 40 hours. Of course, things happen and you sometimes work more, but at Bernheimer we typically try to keep it under 45 hours.
What initially sparked the conversations on unionization at Bernheimer?
Obviously, the news at SHoP kind of rocked everyone. But also, in the wake of that, we had hired someone from SHoP, Je [Jennifer Siqueira], who had been one of the employees who helped organize the union drive there. When she came in, everyone knew what had happened, and she wanted to continue the conversation. Even before the pandemic, we'd been having informal chats around what we could do to advocate for ourselves, things that are easier to approach, like office structure. When Je came in, I think it all kind of collided. And then, when we really started talking about the union, when she started having conversations with people and we all started talking to each other, it was like, "Yeah, let's do it."
You weren't discouraged by the SHoP employees' decision to pull their campaign?
I think it might have been the opposite within our firm. We had this unique position of having someone come into the firm who already had context, and it was just a matter of continuing that work in a different setting. That combined with issues that the pandemic raised, things just clicked and people were just ready, even knowing that SHoP didn't work out. We pretty strongly understood that we weren't SHoP and that our office was different.
What were some of the differences?
One of the things that has made this easier in a lot of ways is size. We're technically a medium-size firm, but we are definitely smaller than what most people envision as a unionized workplace. So there's a sort of intimacy that comes with that: Everyone knows each other and a lot of the conversations could happen a lot more seamlessly. Also, related to our size, there was less of a sense of hierarchy within the firm. Another thing is, and this is what drew me to work at the firm to begin with, is that we already had a good workplace culture that was receptive to thinking alternatively about what working as an architect had to look like. Even before Je came, we had employees who were a part of the Architecture Lobby [an architectural workers advocacy organization].
What made you want to be part of the union organizing committee?
A lot of it goes back to the informal efforts we had put in before the union, the conversations around pay transparency, pay structure, and training for new hires. While the informal process had some limited success, sometimes after these conversations, the issues would slip under the radar again. Having a structure that could lead to actual implementation influenced my involvement with the union. A secondary reason is that I also teach — currently I'm at Parsons — and at the places I've taught, I've been in union positions. The sort of clarity I got from those positions in terms of pay, role, and advancement showed me what being in a union could do. Things like pay bumps didn't have to come from any one-on-one haggling.
So was it easy to get everyone on board when you began organizing Bernheimer? And how long did it take?
The process was definitely not easy or happy-go-lucky. There were weeks and months of conversations, especially with colleagues who were a little more unsure. I mean, there was very little if any direct opposition, but there were certainly a lot of people who felt uneasy, which is totally understandable. In many ways what we were trying to do was risky. But a lot of these conversations were just asking questions that were already on everyone's minds, things like, "How are things for you in the firm? How are things for you with the industry at large? What are some things you'd like to see change?" The process took around five months, and we were pretty careful about approaching people and having these conversations one-on-one, especially at the beginning, because we weren't sure how they would feel about the campaign.
What were some of the concerns that your colleagues raised in response to the unionization efforts?
It stemmed from a couple of things. More broadly, there's a real stigma attached to unions in this country. Especially for people in architecture, where unionizing is unheard of. But a lot of the initial questions people had were things like whether they were going to have to pay more, or what Andy Bernheimer was going to think, and of course some hesitancy that comes from wanting to keep the status quo going.
How did you answer those questions?
We definitely have to give some credit to the Architecture Lobby and some of the other organizations who have brought a different way of thinking about this. But I think at the bottom of it, everyone's in agreement that things in the industry are fucked up. The pay is low for the type of professional work we're doing, not to mention the misogyny and racism that are embedded into the system. So we had a basis of understanding. But a lot of it was taking it slow and letting people air their concerns out — explaining that no dues are collected until a contract is agreed on and showing how a union could benefit the entire firm as a business.
The union was voluntarily recognized by leadership, but did you come against any internal resistance when you first presented the idea?
It was met with a healthy amount of skepticism and uncertainty, especially from Andy, who had a lot of questions on what voluntary recognition looked like versus a formal election and what implications a voluntary recognition might look like. It probably took roughly three months of conversations. It felt productive, though, since a lot of the questions Andy was asking we were also asking. Ultimately, the difference was that voluntary recognition was just an acknowledgement from Andy that he'd seen a certain number of union cards that reflected that the firm wanted a union.
Now that you've been officially recognized as a union, what's on the table for negotiation?
In our joint statement we've named transparency as a goal, so personally one thing is just-cause firing, which is a big one. Having that sort of security in an industry where there isn't a lot of that is big for me.
Things like better pay, too, but that will be more complicated because the fee process is pretty complicated. Our firm is embedded in a lot of bigger systems since we primarily do affordable housing [working with developers who have contracts with the city]. So a lot of that would also look like working with our firm leadership and our union through that complexity, but right now we are just really focused on trying to get together a contract for the fall. Honestly, just getting a contract is huge. I think what people need to understand is that we're not trying to shut down the firm with any of our demands; that would obviously affect us as much, if not more, than Andy.
Right, one argument that leadership across architecture have used against unionization is the concern that unionized firms will lose business to non-unionized firms. SHoP leadership told employees that during the unionization campaign they lost contracts. Was this risk a consideration when you were unionizing? 
I don't see it as a risk at all. I mean, I would point to Andy's own words about this making our office and architecture as a whole better. I can't speak to lost contracts, but the industry is constantly losing people and to me that is the bigger issue. There's a huge problem with turnover and quality of life, and the only way to address that is to create a system where people feel safe and there's a system where people can have real input into how the office is operated. We're not going to go in and immediately demand a unilateral 10 percent raise. It's just an open channel for communication with our leadership on where we'd like to see our firm going, a negotiation. The union's primary concern isn't with getting and maintaining business, it's with how we work.
Have you heard anything from clients on this?
No, we haven't.
What's it been like to be the first unionized architecture firm?
We're celebrating. It was a lot of work to unionize, and we know there's a lot of work to come. It's surprising to be the first. It's a shock that there aren't any other unionized firms.
It's also really been exciting to be a part of a community of other unionized workers. Something we talked a lot about when unionizing was about how as the creative class we've been taught that our work isn't labor, and as white-collar workers we are separate from other laborers. I think that architects have got to get over this idea that we are somehow special or different from other workers. I strongly believe that that's hurting our discipline and want to encourage people to see themselves and our industrywide problems in a different light.