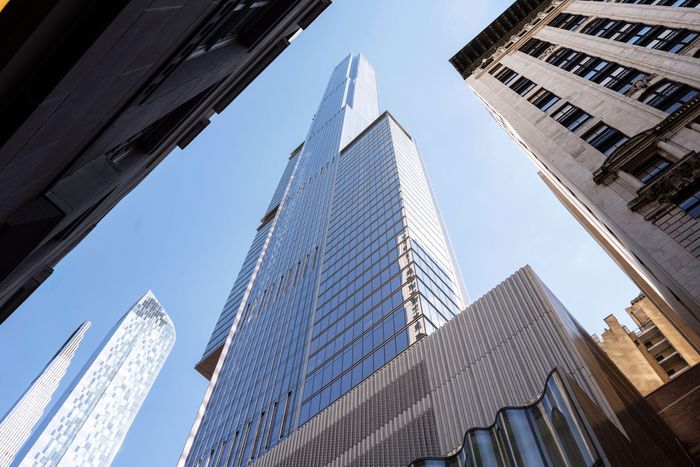 Photo: Taidgh Barron/ZUMA Press Wire/Alamy Stock Photo
Developer Gary Barnett is listing the triplex penthouse of his Central Park Tower for $250 million, The Wall Street Journal has reported. It's a sum that is both eye-popping — if the penthouse actually sells for asking, it would be the most expensive sale in the country — and utterly unsurprisingly. One-upmanship is the lifeblood of Billionaires' Row, and many of the new towers have aimed to not only outsell and out-glam what came before but to literally rise above the competition, if only by a few feet. (At 1,550 feet, Central Park Tower is slightly taller than the 1,428-foot-tall 111 West 57th Street, which is itself slightly taller than 432 Park Avenue at 1,396 feet.) Although to hear Barnett describe it, given how much the superrich are dropping on other stuff right now, the place is kind of a deal: "There's a bunch of artwork going for $100 million and even $200 million … compare that to 17,000 feet of steel and brick and glass at the top of the world, this seems like a relative bargain," he told the Journal.
Barnett, whose Extell Development was also behind the original billionaire magnet on the strip, One57, is aiming high but not necessarily unrealistically so. The current record is held by 220 Central Park South, where hedge-funder Ken Griffin paid $238 million for floors 51 through 53 back in 2019. And as listing agent Ryan Serhant of Serhant told the Journal, that apartment has "partially obstructed" views. Can you imagine?
So what does $250 million get you? Besides 17,500 interior square feet and a bit of vertigo whenever you ascend the glass staircase, which twists up through a glass-walled corner of the unit, there's also a 1,400-square-foot terrace (which sounds slightly terrifying). And then there are those unobstructed views. They're kind of a thing for Barnett. For years, he waged war with 220 Central Park South's developer, Vornado's Steven Roth, to preserve what was then called the Nordstrom Tower's views. The Vornado tower was, initially, going to sit immediately to the north of what became Central Park Tower, directly blocking it from, crucially, Central Park. So Barnett used some strategic purchases around the Vornado development site, holding up the construction until they could reach a compromise: Roth agreed to shift his building a little bit to the west and Barnett pushed his to the east a smidge.
Barnett's first tower on Billionaires' Row, One57, which launched sales in 2011, also had a record-setting penthouse — it sold for $100.47 million in 2015 — but its sweeping views of Central Park were from a mere 1,005 feet above the city. And by that point, 432 Park, which stood 1,396 feet high and launched sales in 2013, had become the new darling of the Row. Unlike One57, with its reputation as a safe-deposit box in the sky, real New Yorkers allegedly wanted to live there. And then, like real New Yorkers, they sued the developer when things started to go south: leaks, getting trapped in the elevator, high winds causing the building to sway and moan like a haunted house. The battle for the real-estate hearts of the world's billionaires is unending among Manhattan's supertalls, but 220 Central Park South has been the preferred skyscraper of the global elite despite being on the short side at just 953 feet. (The global elite has a thing for limestone, private Jean-Georges restaurants, and buildings that act too good for their money — Roth apparently filled the building like a private social club, tapping the people he wanted to buy there and making it hard for anyone else to even see the building.) "The marketing strategy was Steve's Rolodex," another developer told The Real Deal. "The bet was that he could curate a country club of like-minded people."
Central Park Tower hasn't seen anything like the success of 220 Central Park South — rather than raising prices many times over (in the first year of sales, 220 Central Park South raised them six times and then went on to raise them many more times in the years to come), Barnett has dropped the price of some sponsor units by as much as 32 percent, which he now says he regrets. (He says he wanted to pay down debts and get started on other projects, but in retrospect, he now sees that as borderline charity). "I think I've given them away. It's just too low compared to other trades I'm seeing in the market," he told the Journal.
He's not giving this one away. And a flashy penthouse sale could somewhat redeem the reputation of the building, which is expected to fall far short of the initial $4 billion sellout that was projected.
It's not the best time to sell real estate, of course, with a cooling market, rising interest rates, a faltering stock market, and persistent fears of recession. But as Fitzgerald said, the rich are very different from you and me. Sure, someone shopping for a $5 million apartment might get spooked by things like that, but those in the market for nine-figure real estate are in another category entirely. "It's not in the timing," Serhant told the Journal. "This is not the type of property where you wait for the spring market or the fall market." Possibly. The trophy market is very much its own animal, but that doesn't mean the global elite aren't watching the markets. And each other. Part of what fuels these sales among the ultrarich is the impression that if they don't pay $250 million for the penthouse, someone else will. And that, as an observer told the paper, was much easier to believe a year ago before the crypto and the NFT market crashed. But a new billionaire was born (monetarily speaking) every 30 hours during the pandemic. Someone could bite. We've heard the views are great.