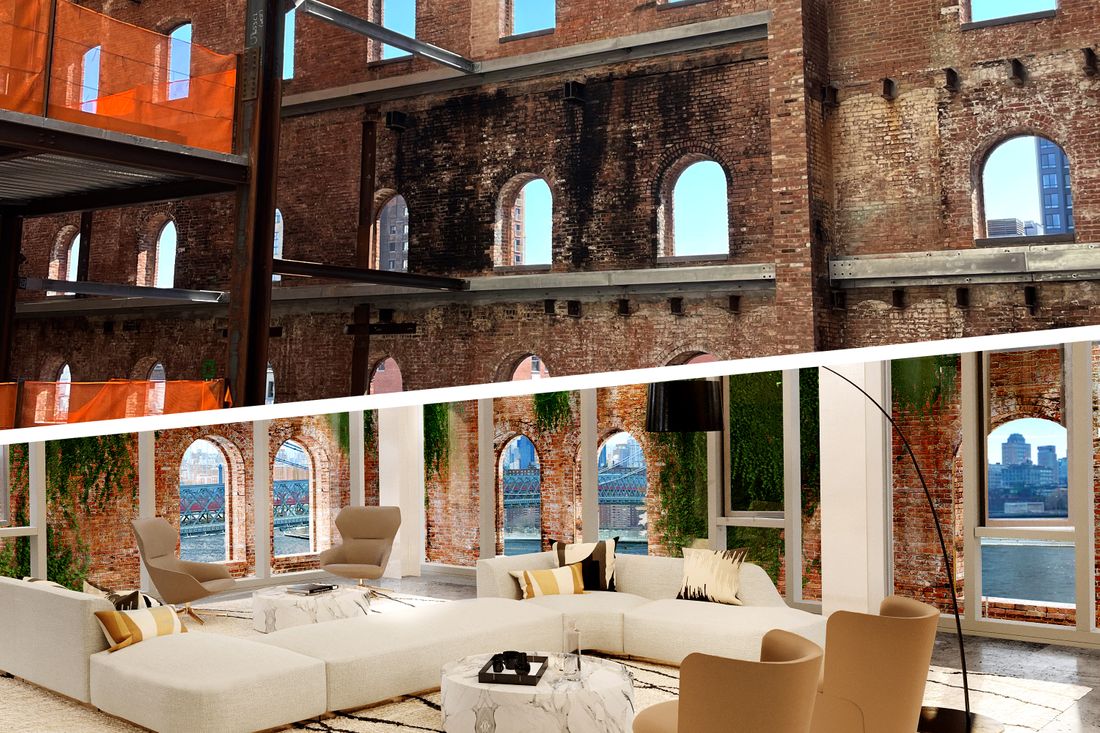 Photo: Courtesy of Two Trees Management
On a hot summer day, the base of the Williamsburg Bridge is all direct sun and concrete: bus terminal, traffic ramps, parking lots, the industrial neighborhood that Williamsburg once was still palpable beneath the dusting of coffee shops and salons that have opened in recent years. But as you move toward the river, the breeze picks up. Cool air perfumed with leather and sandalwood and polished people flow out of the front doors of well-decorated lobbies. The dogs and joggers and bicyclists multiply, moving up and down Kent Avenue and looping around the perimeter of Domino Park, a lush little oasis at the heart of Two Trees' $3 billion Domino Sugar complex, a cluster of gleaming towers anchored by the landmarked 19th-century brick factory that gives the waterfront development its name.
It was there that, on a recent morning, workers were installing the first of the steel arcs that will form the ribs of the refinery's glass penthouse, a 27,000-square-foot spread with 30-foot ceilings and sweeping views of the Manhattan waterfront. But unlike most new Brooklyn penthouses, this will be an office space rather than some celebrity's showplace home. The refinery is in the midst of being converted into a 460,000-square-foot Class A office building (that is, the nicest category of office building with the most up-to-date building systems and amenities), slated to open next fall. Two Trees started leasing late this summer, right before employers attempted to call workers back yet again, after numerous COVID waves, employee rebellions, poorly implemented hybrid schedules, and, most recently, summer, foiled earlier attempts. Since the start of the pandemic, office attendance on any given weekday in New York City hasn't cracked 50 percent.
Domino is a big bet on office space at a time when the future of the office is very much up in the air. Vacancy in Manhattan is at almost 19 percent and it's anyone's guess if employers' latest attempt to lure workers back to the office will take this time around. Domino is being built on spec — meaning, without an anchor tenant in place — with floors as large as a midtown office building and rents of $60 to $90 per square foot, which one commercial broker I spoke to described as "very aggressive for that market." (That's $1.8 to $2.7 million a year for a full floor.) The developer is hoping to rent the penthouse for even more.
Two Trees, however, is banking not so much on work space as it was in 2019 — a bench desk in a Greater Midtown building filled with bad fluorescent light and half-eaten Sweetgreen salads — but on the office as it never really was. At a time when so many return-to-office efforts have failed, Domino presents an alternative vision of what office life might look like. Maybe going back doesn't have to be agonizing and antagonistic, spurred either by threats of layoffs or desperate incentives like free lunch and Lizzo concerts. Maybe it could just be, well, pleasant: a place near home that employees go for camaraderie, collaboration, or, if nothing else, to escape their vaguely depressing work-from-home setups a few times a week.
When Two Trees bought the Domino site in 2012, it had already been rezoned for residential development after years of land-use wrangling, and it seemed likely that the development would be largely luxury apartments. The previous developers had worked out a deal with the city to build condos and rentals — just under 30 percent of the rentals would be affordable — with a waterfront esplanade. The condo bust of the mid-aughts had come and gone, apartments were moving briskly again, and most people had resigned themselves to a future in which the Williamsburg waterfront became a string of residential towers like the Edge, boring and expensive, fronted by an uninspired strip of parkland. But Two Trees undertook an ambitious rezoning of the site, redesigning it as a mix of rental and office space with shopping, restaurants, and a larger, six-acre park designed by the landscape architect who'd worked on the High Line — a formula very similar to the one it had used to great success in Dumbo. The park has beach volleyball, a playground that looks like a miniature sugar refinery, and an elevated walkway. The entire first floor of the refinery will be all retail and restaurants with public restrooms for parkgoers; the refinery's retail is yet to be determined, but the developer prides itself on luring Brooklyn restaurants like Roberta's and Misi, which are open elsewhere in the complex.
"At the time, it was thought that residential was the highest and best use," says David Lombino, a managing director at Two Trees. "But we rezoned the site and very deliberately made the refinery, a building that was going to be private space, into a public one." The Domino rezoning, which was the first major rezoning of the de Blasio era (the mayor managed to wring a little more affordable housing out of the deal), seemed like a savvy move: After previous waves of development, the waterfront was packed with wealthy residents eager for places to eat, drink, shop, and hang out nearby. And while adding more than half a million square feet of office space was less obvious, it seemed like a good bet that a lot of those people might also like to work closer to home, rather than pushing onto overcrowded L trains to go into Manhattan every morning.
But that was, of course, before the pandemic.
During the first six months of COVID, office vacancies shot up to the highest levels since 2009, and many tenants, including high-profile ones like Condé Nast, either withheld rent or tried to off-load their spaces, flooding the sublease market with inventory. Did Two Trees ever regret making the crown jewel of its waterfront Williamsburg development an office building? "Sure," says Lombino. "We have 1.5 million square feet of office space in Dumbo. At the beginning of the pandemic we went through what everyone went through — March to September 2020, leasing the refinery was not the first thing on our mind, it was stopping the bleeding. And then we leased Ten Grand and felt vindicated."
Two Trees opened Ten Grand, the other office building on the Domino Sugar site, in late 2019 and had just one office tenant — the direct-to-consumer beauty company Prose — lined up when the pandemic hit. "The first couple of leases, we were reasonable with the concessions, but then we were able to get close to the asking rents of $65 to $85 per square foot," says Alyssa Zahler, the managing director of commercial leasing at Two Trees. At Ten Grand, 85 percent of the founders and principals live in Williamsburg, Greenpoint or Bushwick, according to Zahler, and say that most of their workers do too. "A lot of their talent pool lives within a 10-block radius."
When I visited several of the offices at Ten Grand recently, it felt like stepping into a future I couldn't quite believe existed: There were people everywhere, sitting in Cesca chairs around conference tables, stopping by each other's desks to confer and chat. The building is filled with the kind of tenants that have traditionally gravitated to the Brooklyn waterfront: smaller, younger companies including tech and fintech firms, media companies, interior architecture firms like Chango & Co., the wine importer Rosenthal, and a number of start-ups, among them Blank Street Coffee, which leased 16,000 square feet at Ten Grand this June. A full floor there is about 6,000 square feet, and some companies lease half-floors of the 24-floor tower.
At the refinery, the floors are much, much larger — around 30,000 square feet — which requires landing the type of tenant who traditionally would have gone to Manhattan. "Brooklyn has traditionally been a small tenant market," says Jeff Fischer, an executive vice-president at CBRE, the commercial brokerage that's handling the Domino lease-up. The floors could be broken up, of course, "but right now, before the building is finished, we're not going to chase the half- or quarter-tenant," says Fischer. "In our mind, the anchor tenant is likely going to be a large creative company — someone whose employees want to be in Williamsburg or are already there — or a large corporate tenant who wants to make a statement." Similar to when Aetna leased a building in the Meatpacking District: "It was a beautiful building with wraparound terraces — everyone thought it would go to like a Google or a Facebook," Fischer says. (Aetna's brush with hipness was short-lived; CVS acquired the insurer a short time later and sublet the building to other companies.) The tax breaks — $3,000 per employee per year for up to 12 years — for companies moving from Manhattan to Brooklyn will probably help with lease-up as well.
"Frankly, I think it's going to lease," says Arthur Mirante, a veteran office-leasing broker, now at Savills, and the former CEO of Cushman & Wakefield. Mirante points out that Domino is exactly the kind of space that is renting well in Manhattan right now: high-quality, new, unique. "Look at One Vanderbilt, 425 Park Avenue, and some of the buildings in Hudson Yards — those buildings have leased up and been much more successful than the rest of the Class A office space in the market."
Certainly, there aren't other office buildings that will look like the refinery: the design, by the Practice for Architecture and Urbanism, features a modern glass building set inside the historic brick façade, with greenery, including lanky sugar gum trees, growing up between the two.
Ruchika Modi, a principal at PAU, says the decision to set a building within a building was largely, but not entirely, a practical one: The refinery was never the monolith it appeared, but "a giant piece of machinery cloaked in a masonry façade." There were three separate buildings; none of the floor or window heights lined up, and even if they had, the floors were so large the center of them would have been all but lightless. PAU's design sets a modern glass building back from the façade by ten feet on all floors except the first, which will extend to the masonry walls, creating light, airy, largely column-free spaces with ceilings between 12 and 14 feet high. It also happens to feel really cool. "Most people today are tired of the all-glass office building," she says. "They've been there, done that, they were great and they solved a lot of problems, but now people are looking for something different, a unique and interesting experience, especially now that we have this option of working from home."
"Leasing has been all over the place in the city — some companies are doubling in size, others are cutting space and trying to sublease, but I do think the Domino site kind of separates from everything else out there in the marketplace because of its uniqueness," says Kirill Azovtsev, another broker at Savills, who has worked with tech clients like Spotify and Apple. "I would compare it to 55 Water and 10 Jay in Dumbo — exposed brick, right on the water, and those two have done very well. There's some sublease space in those buildings right now, but Domino just needs an anchor tenant and the others will come."
The only potential issue, brokers say, is the location: beautiful and hip, yes, but not the most convenient for workers who don't live within a ten-block radius or commute by bike. There's the JMZ, the L train, and the ferry, but walking from the G-train stop to the office is a bit of a schlep, as is the Williamsburg bus terminal. The day I visited, it took me about an hour to get there on an SBS bus from Prospect Heights. Even so, no one I spoke with thought that would really matter in the end: Maybe a company with a lot of employees in Westchester or Long Island wouldn't move there, but plenty of others would.
Long before the pandemic, companies that wanted their clients and employees to see them as cool and fun were abandoning midtown, opening offices in Union Square, Soho, Dumbo, and, most recently, Williamsburg. Even so, the shift was more culturally than statistically significant: The lion's share of the city's office space and workers remain in midtown — Greater Midtown has 240 million square feet of office space compared to less than a million in Williamsburg, according to city data. "The amount of office space and employment in Manhattan, it vastly outpaces everywhere else," says Moses Gates, the vice-president for housing and neighborhood planning at the Regional Plan Association. "The office space in these smaller hubs is just really underbuilt."
But the pandemic turned the phenomenon of office space in fun, nontraditional neighborhoods into a far more compelling proposition. Brooklyn's retail has also fared far better than Manhattan's. Gates believes Domino will find tenants not only in spite of the pandemic, but also because of it: "Domino might have been a tough bet before the pandemic, but it's become a better bet after."
Susana Simonpietri, the creative director of interior architecture firm Chango & Co., remembers looking for office space in Manhattan seven years ago. "Everything just felt depressing, very few windows, very expensive for what you get." She ended up leasing retail space in Williamsburg before moving the company to a half-floor at Ten Grand during the pandemic. She rarely goes into Manhattan these days. "I don't get into the city on a daily basis. I don't need to," she says. "All of midtown is sort of dead. It's depressing. The Pret a Mangers are closed. You don't get that in Brooklyn at all; it's very much alive, something is always going on."
Chango requires employees to come in three days a week, but since the move, Simonpietri says she's noticed people have been coming in more than that. It's not surprising: Chango's office is on a high floor with river views, it's flooded with light, and almost everyone lives nearby, including her. For those who bike in, the building has free bike parking, showers, and locker rooms. The company also covers half the membership cost for the gym in the building. After work, the staff often goes out together or meets up with friends nearby. Yes, office workers have established that they can do their jobs from home, and it's convenient, but it's lacking in a lot of other ways.
"Working from home, it's not good for partnerships and relationships and friendships," Simonpietri says. "It's a very strange atmosphere, people Zooming with each other all the time and only leaving the apartment to exercise."