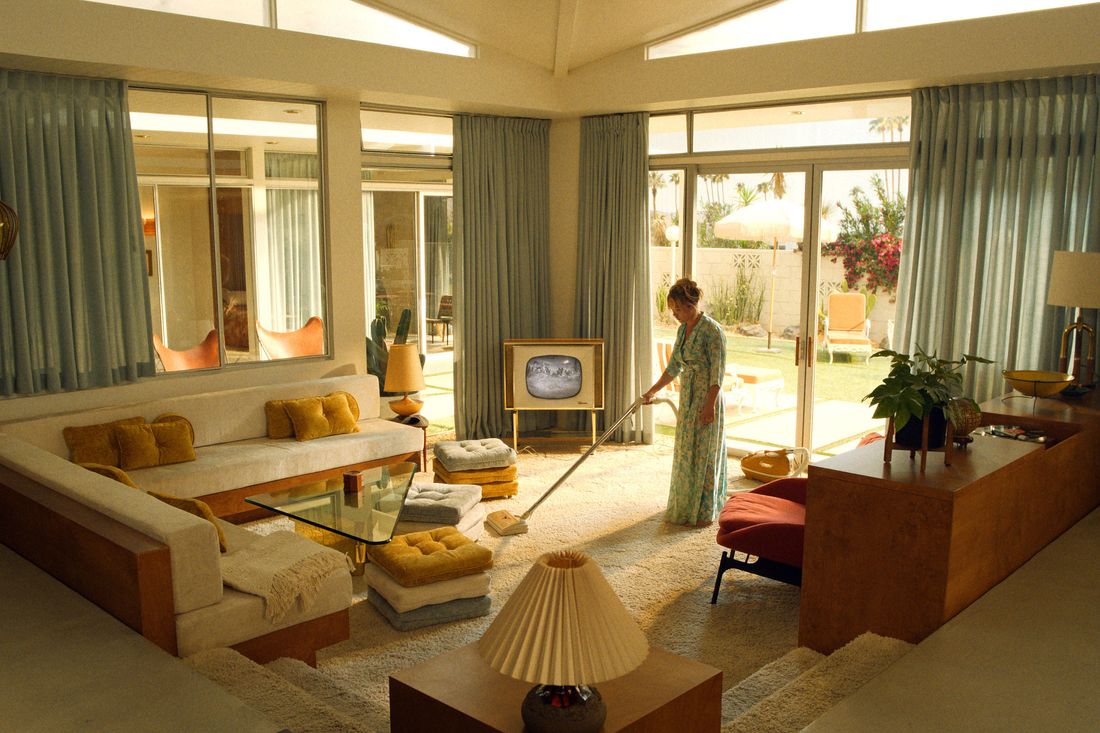 Photo: Courtesy of Warner Bros. Pictures
Based on early reviews of Olivia Wilde's new movie, Don't Worry Darling, there's more drama surrounding it than in the actual film: whether Shia LaBeouf quit the film or Wilde fired him, the icy dynamic between Wilde and lead actor Florence Pugh, gossip over the on-set romance between Wilde and Harry Styles, and who could forget Spitgate. But watching the film, which is out in theaters today, it's easy to get swept up in the sets, which are an homage to mid-century Palm Springs — a Slim Aarons photograph come to life. The sets are, by far, the best part of the movie. "We were interested in the fearlessness of the mid-century aesthetic," says Katie Byron, the film's production designer. "We wanted to build a bold world."
At the heart of Don't Worry Darling is the Victory Project, a planned company town. It appears that the town's residents, who all live in nearly identical white suburban houses, are leading happy, fulfilling lives — including Alice (Pugh) and Jack (Styles), a couple that's madly in love (and madly horny). During the day, Jack drives off in a silver Jaguar convertible to the Victory Project headquarters, where he works on a top-secret project. Frank (Chris Pine), the enigmatic creator of the Victory Project, has handpicked Jack and all of the other men in the community to be a part of his mysterious business. The women lounge by the pool, stroll through the mall, and prepare elaborate meals that are on the table by the time their husbands come home, doing their part to perform the fixed, traditional gender roles that are fundamental to the vision of the Victory Project. In the evenings, at martini-fueled dinner parties that rule Alice and Jack's cul-de-sac, couples playfully accuse each other of being drunks against a backdrop of conversation pits, teak furniture, stone fireplaces, and gleaming appliances. But cracks in the too-perfect facade begin to show as Alice begins experiencing unsettling events that no one else will acknowledge.
As in many movies set in a mid-century suburb, the illusion of a perfect life comes unraveled in sinister ways, and the glamorous sets, shot impeccably, play a central role. "Prestige homes for people of prestige, who appreciate the very best." This line could have been spoken by Frank, but it actually comes from a 1965 ad for the Canyon View Estates, the very real Palm Springs neighborhood designed by William Krisel where Don't Worry Darling was filmed. It isn't surprising that a film driven in large part by a character who believes he's giving people a better life would be set in the 1905s, an era dogmatic about its idealism. Before mid-century modernism became the Pumpkin Spice Latte of design, thanks to a glut of Amazon and West Elm knockoffs, it was a radical movement. Designers like Krisel (who defined desert modernism and popularized the butterfly roof), Albert Frey, Richard Neutra, and Charles and Ray Eames believed that our homes and the objects we fill them with should look good, work well, and, most important, be affordable. (Krisel's Palm Springs tract homes originally sold for less than $30,000 but now go for nearly $1 million.)
As the film goes on, the Victory Project starts to feel less like an aspirational community and more like a cult with a MAGA-like obsession with the "good old days." (Nostalgia, as we know, creates a rose-colored version of a past that never existed.) In an early scene, Frank hosts a party at his home, which is outside of the planned community and much slicker and more luxurious than the homes his employees have. (This was filmed at Richard Neutra's Kaufmann Desert House, a coup for Wilde, since it's the first time a production has ever been allowed to shoot there.) In a speech to his guests, Frank asks, "What are we doing?" In unison, the crowd responds, "Changing the world." They trust Frank's vision absolutely. Everyone seems honored to be part of Frank's "important work" and live among friends in a community where all their needs are met. However, the real purpose of the Victory Project remains a mystery until the final, unnerving 20 minutes of the film.
"When we look back at the '50s, we often see what was sold to us," Byron says — the beginning of mass consumerism and the advertising that made it all so appealing. "If Frank wanted to create a world that would equally tempt a modern man or woman, it would need to be spectacular and luminous." While most of the exterior shots are real locations, the interiors are all built on sets from the ground up. "Taking a note from Neutra and Alexander Girard, we wanted Frank's vision for the homes to be total," Byron says. To create his captivating "dream world," she imagined "pastels and idyllic exteriors mixed with dark and dreamy interiors. Smoked glass and mirrors. Bars fully stocked. Record cabinets outfitted with the best-sounding speakers." Most of the furniture you see in the film is custom-fabricated. Set decorators Rachael Ferrara and Ashley Bussell scoured Palm Springs estate sales and antique stores for some of the smaller items — including a vintage Sylvania television. Modernica provided some of the antiques.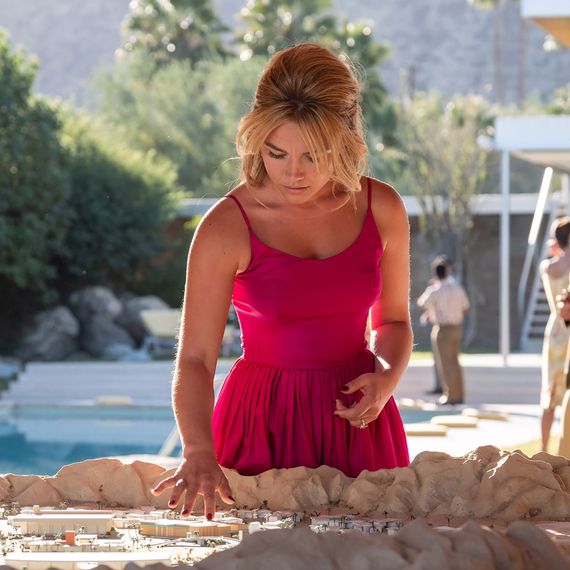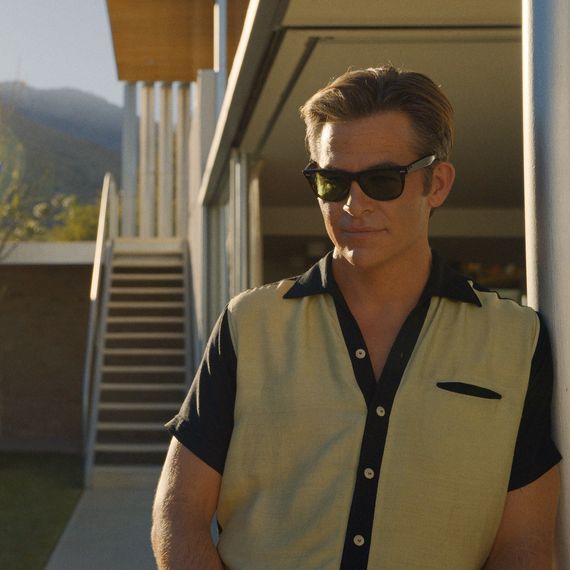 As perfect as the world seems, Alice is rightly skeptical. She witnesses a horrific incident early in the film, and no one believes her when she tells them what she saw. A Victory Project doctor tries to convince her that it was a hallucination. Then more inexplicable things start to happen: Walls close in on her, she crushes a carton of eggs only to find there's nothing in their shells, and she has a recurring nightmare of nearly identical platinum-blonde women in a kickline. She becomes convinced that Frank is hiding something from the entire community, and she's determined to figure out what's going on. To do that, she breaks the Victory Project's cardinal rule — staying inside the community — and ventures miles into the desert to visit the company's headquarters, a domed structure on top of a mountain. This is a real mid-century building too: the Volcano House in the Mojave Desert town of Newberry Springs.
Architect Harold Bissner Jr. designed the Volcano House in 1968 for Vard Wallace, a wealthy engineer who was obsessed with the architecture of the San Onofre nuclear power plant and wanted his home to be built in its image. "The Volcano House is a landmark shrouded in enigma," Byron says, and the white dome atop a lone mountain in the sprawling desert looks just as mystifying in real life as it does onscreen. In the film, Alice places her hands on its mirror-glass walls before waking up in her bed at home, wondering if it was all a dream. In the end, the structure remains a mystery to her. Despite this, she eventually discovers the building's true purpose and realizes that her perfect home, cinematic neighborhood, and doting husband are not at all what she had believed. The eccentric backstories of midcentury architecture are Hollywood tales in and of themselves.