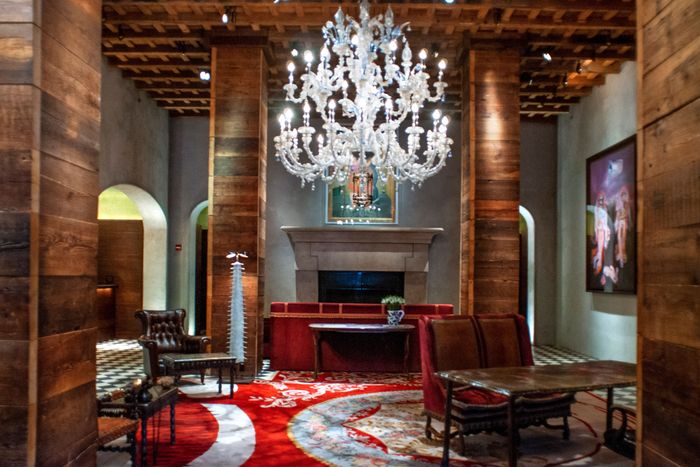 Before the fall.
Photo: Sergi Reboredo/VW Pics/Universal Images Group via Getty Images
"What do you do for a living?" the door guy, Matt, was asking. He used to be a chiropractor, he explained, making a lot of money until his epic divorce. Now "I make a lot less money but have a lot of fun." That fun, on Tuesday evening, was managing (and expansively chatting with) hundreds of people at the entrance to the Gramercy Park Hotel, and in a way he became its final doorman. The crowd was there not for cocktails or a post-movie-premiere party but instead to go shopping among the ruins. The hotel had closed abruptly in 2020 and never reopened, and its owner, Aby Rosen's firm RFR, quit paying rent on the ground lease and got evicted. Rumor has it that the building is going to become condos. So its contents, from its quasi–Spanish Renaissance chairs and beds down to the shoehorns and shot glasses, are being dispersed this week by a firm called Best Buy Auctioneers. People in the line, which stretched up Lexington and around the corner onto East 22nd, told Matt they were writers and bankers, but the look was distinctly "old friend of the Schnabels." (According to Avenue, the nightlife guru Nur Khan, who ran Rose Bar, was seen hauling out a carpet he'd bought, and event planner Bronson van Wyck was spotted looking at tables.)
The liquidation sale has been running since Sunday, but word got out in a big way yesterday — ABC7, Guest of a Guest, TikTok. As the waiting crowd shuffled forward, they watched movers fill a U-Haul cube truck with dozens of bubble-wrapped lamps and side tables. On the first couple of days of the sale, Matt explained, "people were coming out with tears streaming down their faces. Someone came and bought $33,000 worth of stuff. Came back, bought $10,000 more." It did seem like a quick way to furnish your place, if you happen to be opening a restaurant or an inn and you like this particular aesthetic. But most of the line was quite clearly civilians, looking for souvenirs or a bargain single piece. Matt noted that the crowd was not the usual group of auction-trawling professionals. "If you want to understand America, you have to go to auctions. Just 50 bucks. 100 bucks. Watch everything."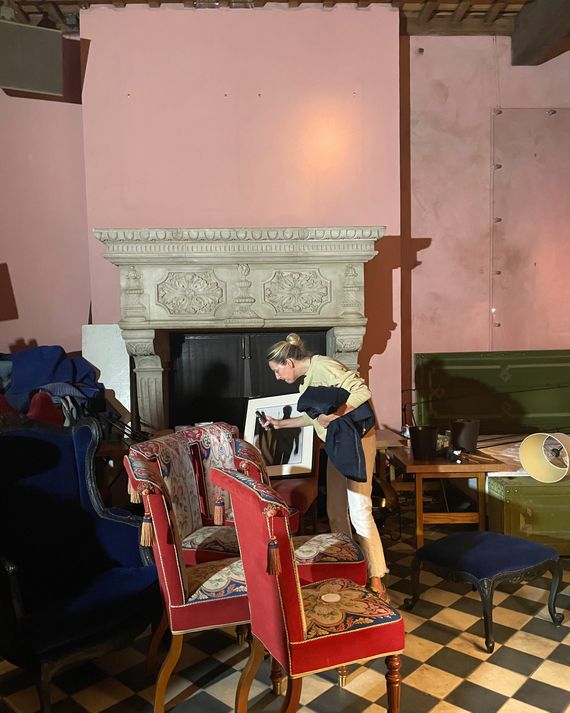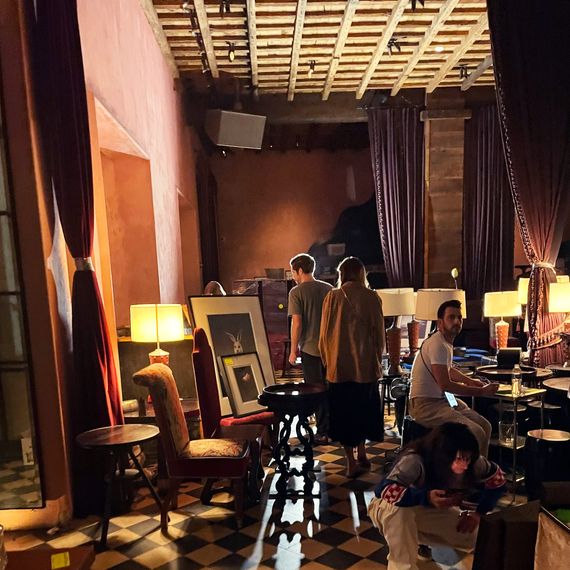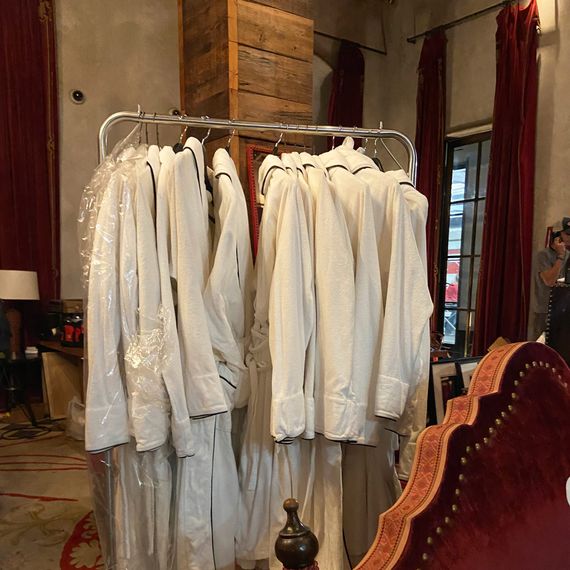 What did you see, if you did indeed watch everything? Most of it was packed into the former hotel lobby, two big rooms replenished steadily with furnishings from upstairs. Red-leatherette bookcases decorated with nailhead studs were selling for $600 each. The shoehorns were $10. There were big arrays of glassware and white Royal Doulton china. Nearby lay some cast-iron Dutch ovens that looked unused and a pile of skillets that had been worked nearly to death. Anything with the GPH logo went for a premium: bathrobes for $100, terry slippers for $50. Some of those figures seemed fungible because there were no price tags. You had to ask one of the attendants what anything cost, and they didn't all seem to be pricing everything the same way. Your best shot was perhaps with Vivia Amalfitano, a woman who was zipping around the sale, setting prices and accepting Venmo payments.
A couple of longtime residents of the hotel were here to work as sellers, presumably out of affection for the hotel. One, a fashion stylist, had lived there for four years. "My kids, my dogs — they loved it here. All my clients are here." After the sale, she said, "I'm probably going to throw myself on the floor." If you were interested in buying a whole room's worth of furnishings, someone might be willing to take you upstairs for a look, but most requests to get backstage were turned down.
It was funny to see how much nostalgia existed for this version of the Gramercy Park Hotel, which has existed for less than twenty years. That all started in 2003, by which time it was a moderately gone-to-seed place, in decline but beloved as a semi-slummy cool hangout where a downtown music act might stay while on tour. (David Bowie and the Clash did just that, among others, and Hunter Thompson holed up in a room for a while.) It was owned for decades by a single family, one member of which, David Weissberg, took his life in 2002 by jumping off the roof. Soon after, Aby Rosen and Ian Schrager bought it (though not the ground lease, setting themselves up for Rosen's eventual downfall) and with Julian Schnabel turned the 509 old hotel rooms into 185 new ones, in the process converting a raffish old celebrity hang into a super-glitzy new celebrity backdrop. (There was a liquidation sale back then, too.) Hunter Thompson was out; Scarlett Johansson was in. Rosen — who bought out Schrager in 2010 — has reportedly had cash-flow troubles for awhile, and the pandemic really did a number on hotel operators citywide. Last night's sale was the latest result. Today it was even busier:
By 8 p.m., Tuesday night, the crew from Best Buy Auctioneers had cut off the back of the line and sent people home. "We're opening at 11 tomorrow," a portable P.A. system blared. "There's not much left inside. We'll be bringing down a lot more in the morning." Staff members began pushing people to wrap it up, make their purchases, and leave. Curiously, though, everyone's instinct seemed to be to stick around, to keep picking over what was left and just generally looking over the room. (Hotel lobbies, even when they're not functioning as such, are for lingering.) The last thing I saw as I slipped out was a book dated 1949, one that had likely been chosen at random to serve as a prop on a bookshelf. Its title was Never Dies the Dream.