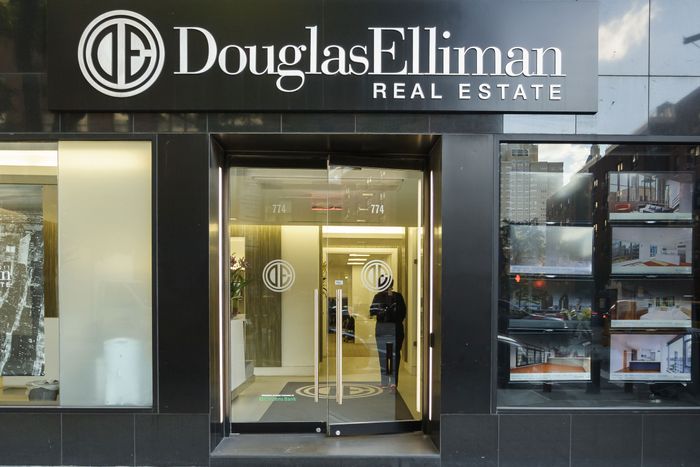 Photo: DW labs Incorporated/Shutterstock
For years, brokerages have been suing Compass for poaching agents, stealing them away with lavish incentives that other brokerages — those burdened with things like, say, turning a profit — couldn't afford to match. But recently, as Compass has struggled to start making money before it burns through all of its investor cash, more than a few brokers have bailed, many of them returning to the firms where they worked before. Douglas Elliman, in particular, seems to be getting a slew of prodigal agents (and others) from the Compass exodus.
Recently, a number of super-successful agents, including husband-and-wife-led Assouline Team ($300 million in sales last year), new development team Stanton Hoch (40th in The Real Deal's ranking of Manhattan's top residential brokers), and Kirsten Jordan (who just took over Bloom, previously a Compass development) all trotted back to Douglas Elliman. Michelle Griffith ($143 million in sales in 2021) and McKenzie Ryan ($10.6 million in deals sourced from Instagram alone last year), who both worked at Corcoran before Compass, have since left the start-up for Elliman. (Elliman has been picking up agents from other firms too: Erin Boisson Aries, who left Christie's after its New York City office got traded back to Brown Harris Stevens, and, nationally, teams in Miami Beach and a number of big Texas brokers.)
Several Douglas Elliman agents said they've noticed the influx. "Oh, that's definitely happening," said one, who speculated that it might have something to do with the fact that Compass, which just entered into a second round of layoffs expected to primarily hit tech staffers, might be cutting back on marketing budgets and support staff — essentials for top agents.
Douglas Elliman declined to comment or provide numbers on how many agents it has added from Compass or other firms. Compass, for its part, disputes that there's been any kind of exodus and says that in, fact, they've added more agents from Elliman than vice versa, bringing on 242 principals and agents from Elliman totaling $1.7B in sales volume in 2021 and 2022. They also claimed that only the Compass agents mentioned in this article have left. "Compass has over 30K total agents and is in twice the markets Douglas Elliman is, yet there are only 5 Compass agents in this article that have left Compass," a Compass spokesperson. wrote
There are reasons that agents may want to leave, however. Agents previously told Curbed that before the company went public, it had stopped covering the cost of even minor things such as DocuSign and Adobe. Others have said that the company grew so quickly that the support staff was always spread too thin, even in flusher times. Over the summer, Compass announced that it would no longer offer equity or cash incentives to new agents, a decision that will almost certainly impact brokers trying to expand their teams. And upcoming layoffs are expected to be significant — the company's SEC filing noted that it expected to spend between $23 and $26 million on severance and other termination benefits.
CEO Robert Reffkin said previously that the company plans to continue adding agents even though geographical expansion is on hold. The question is whether it'll be able to. The company is no longer throwing cash around as freely as it once did (or at all), and it plans to cut expenses by $320 million this year. Compass increasingly seems to be what critics always said it was: just another brokerage. One that hasn't, however, managed to turn a profit.
Meanwhile, Douglas Elliman, which went public at the end of last year, is turning a modest profit: $10.2 million in the second quarter of this year, which was considered generally favorable in light of the cooling housing market. Going public allowed the company to offer employees stock-based compensation and to access capital markets to target acquisitions. As the move created pressure to grow and retain talent, it's likely the company is using some of those perks to do just that. One real estate insider said the company wasn't giving out anything approaching the old Compass offers — just higher splits on the first few deals and marketing budgets — but that, apparently, is enough.
After moving to Douglas Elliman, the Assoulines told The Real Deal they were on the hunt for "really good rock star agents" to expand their team. McKenzie Ryan, who left Compass for Douglas Elliman in February, said that since she joined, she has added several agents to her team and landed a TV show. "Plus our PR department is constantly working to get our listings to the forefront," she says. "Just last night, I was looking at my webpage and realized I had press I didn't even know about." Another broker cited the company's PR, marketing, and "robust" support staff.
Agents have been vague about their reasons for jumping to Douglas Elliman. The Assoulines said it provided "great opportunities" that fit into the team's strategy. Per Kristen Jordan, "it just seemed like a perfect move." Caldwell's Julian Cohen felt it was "the right time to spread my wings." All of which most likely translates to the reason agents usually switch brokerages: a better deal than they had before, which is something Douglas Elliman is able to offer right now.
*This story has been updated with a response and numbers from Compass.