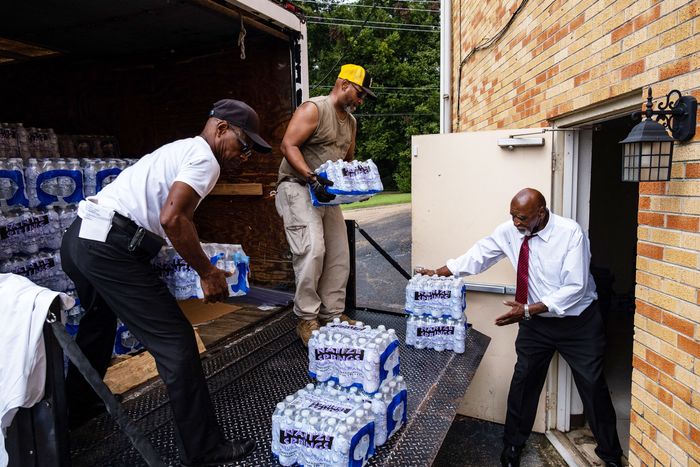 Members of Progressive Morningstar Baptist Church move cases of water following a Sunday morning service. The city of Jackson, where 80 percent of the population is Black and poverty is rife, has experienced water crises for years.
Photo: Sseth Herald/AFP via Getty Images
When historic flooding on the Pearl River overwhelmed the O.B. Curtis Water Plant last month, the taps in Jackson, Mississippi, went dry. Without safe running water for the capital city of 150,000 people, businesses closed and schools went virtual, upending daily life for weeks. It wasn't the first time. The city had, in fact, already been under a boil notice since July, and Jackson also lost water in February 2021 during the deep freeze that gripped the South. Water pressure was restored to parts of the city this week, but there's still no solid plan for the pipes to be repaired after decades of deferred maintenance. As access to clean water becomes more fragile, Jacksonians have put together vast support networks to turn to when the infrastructure fails. With one water crisis almost behind them, Jackson lifers like Cassandra Welchlin, executive director of the Mississippi Black Women's Roundtable, a nonprofit focused on promoting education, healthcare, and economic security for the state's Black women and girls, say they're just waiting for the next.
This interview has been edited and condensed.
We still can't drink the water and we're still under a boil notice. Some of our water is still coming out brown, but we're showering in it. We're boiling it to cook with, but should we even be using it? The chair of the Mississippi American Academy of Pediatrics warned parents to use bottled water, not boiled water, to mix formula. So is this water good for any of us? One of our daughters was sick, her stomach was hurting and she had diarrhea, and it turned out she was filling up her water bottle with the sink water.
We've been trying to not spend money eating out, but cooking at home takes time, you've got to really think about it, to plan ahead. Even washing dishes requires boiling. If we needed to, I could go to a restaurant or even get a hotel. But so many people don't have those kinds of resources. People at my church, one couple, the husband is on dialysis at home. And so he depends on clean water to filter a dialysis machine. Well, he can't use that. They're having to use other types of solutions provided by the companies for filtering. He's not the only one.
And we're still being asked to pay for all of this. People still have these extremely high water bills. The mayor's office worked with the state legislature to get a bipartisan bill passed, back in 2020, that would create a water bill relief program for families who could not pay. The governor vetoed it. People can't pay the water bills and their rent. We know who will be affected by this most: the Black women who are the heads of these households. We know that in West Jackson and South Jackson — poorer neighborhoods — the impact of this crisis is way more than what you see in North Jackson or East Jackson.
A new part of our regular routine is just driving to distribution sites to get water, particularly the gallon waters because they're easier to cook with. We have distribution sites across the city, which is good, but you need a car and idling to wait in line uses up gas. Not everyone can do that. Right now, World Central Kitchen is putting 600 gallon tanks outside schools so cafeteria workers don't have to boil the water to cook. But water at our schools has always been an issue: Even before the boil order, before the water treatment plants shut down, our school-supply list included cases of water.
The other thing is laundry. So much depends on access to clean water. People haven't had water so long they haven't washed their clothes. Starting next week, my work is providing free laundry services at laundromats in the area that have water, like we did in 2021. We're telling people: Just bring as many clothes as you need to.
There's a real infrastructure here when it comes to passing along information about how to get your needs met. Social media is definitely one way, but beyond that, churches. We have community leader calls that happen every morning at eight o'clock. The Mississippi Rapid Response Coalition that we are part of meets every day. Jackson has been saving itself. Even before the government stepped in, we have been responding to our own community.
The governor wants to take over the water-treatment plant and said all options are on the table, including privatization. I don't want to see it privatized. I want to see federal dollars and the state dollars go into fixing the system — actually fixing it. The right solution would provide better infrastructure that is also sustainable.
I grew up right here in the city, and I remember being a little girl in the '70s and '80s when my granny and my mom would prepare the house for storms. They would say: We've got to fill up the tubs. And when this flood was happening, that's what I told my family: Let's fill up all the bathtubs. If we lose water, at least we can keep flushing the toilets. I remember this happening as a little girl — and we're still dealing with it.