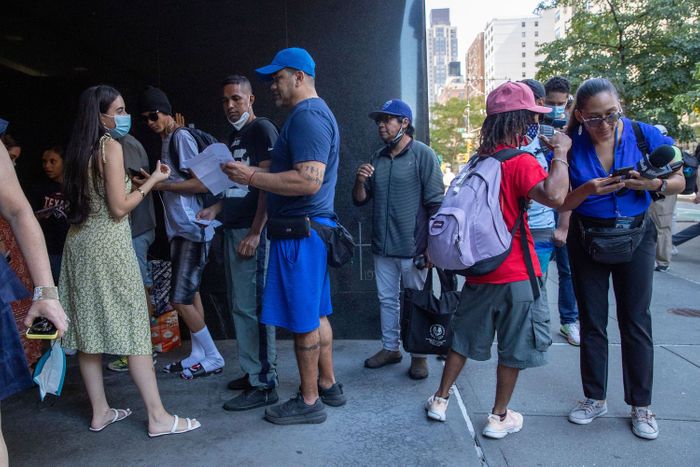 Photo: Sarah Yenesel/EPA-EFE/Shutterstock
The migrants started showing up at the Catholic Charities Brooklyn & Queens office on Joralemon Street in early July. At first, it was a trickle of people — maybe two or three — each day. "We treated it as an individual case," said Richard Slizeski, the organization's vice-president. "But all of a sudden, it was like, 20 people in line each day. Last week, we saw about 300."
At first, the Catholic Charities staff weren't sure why asylum seekers had begun arriving on their doorstep. Slizeski reasoned they had heard about the organization's affiliate, Catholic Migration Services, which is located in the same building and provides low-income immigrants with free legal assistance. "But no, they were coming for us — the good old walk-in center!" he said.
The migrants — many of them from Venezuela, along with a few from Haiti — had all been bussed to New York City from Texas, said Bexabeth Gomez, a Catholic Charities program manager. And between 70 to 80 of them, she said, had shown up holding forms with the Catholic Charities office as their place of residence. "This was the Department of Homeland Security — their letterhead — listing, 'This is your new residence now. This is where you will live,'" Slizeski said.
But there was a serious problem. "We're an office building. We are not a shelter," said Slizeski. The form is part of the standard paperwork for migrants apprehended at the U.S.-Mexico border who are allowed into the country to pursue asylum cases. Called the Notice to Appear, it asks people to list an address where immigration officers can reach them for upcoming court hearings. Some asylum seekers list the addresses of friends or relatives living in the U.S. until they can get settled somewhere on their own. But across the country, volunteers who help resettle the recent wave of migrants have noticed that an increasing number of recent arrivals have no connections in the U.S. at all — and nowhere to go once they're released from DHS custody.
That doesn't explain how the Catholic Charities office ended up as migrants' official address. Customs and Border Protection is the agency that fills out Notices to Appear, but, a CBP spokesperson told me, "The federal government is not involved in the Texas and Arizona government's busing of migrants to other states," and did not respond to questions asking how asylum seekers from Texas were directed to CCBQ. The Texas departments that sent migrants to D.C. in April, the Texas Department of Public Safety and Governor Greg Abbott's office, also did not immediately respond to requests for comment.
At the office, as dozens and dozens of asylum seekers showed up, Slizeski said, "We were blindsided. We had no [notice] from either the federal government or from Texas." The migrants, he added, "showed up with lots of expectations that we would fulfill all their needs of housing, employment," he added. "They were promised a lot of things, which I think is really disgraceful." All that Catholic Charities staff could do is give the asylum seekers basic necessities like food and clothing and direct them to to legal assistance that helps them file a change of address form with the immigration court. But as for a place to stay, they could only refer them to the same city shelters that the thousands arriving at Port Authority and other locations were also being sent.
The sudden influx of migrants at the nonprofit office is another arena of the unilateral campaign initiated by Texas governor Greg Abbott, Arizona governor Doug Ducey, and now Florida governor Ron DeSantis to transport migrants to Washington, D.C., New York City, and other so-called "sanctuary cities" and states as a political statement about the Biden administration's supposedly open border. (In actuality, Biden has kept the Trump-era closure of the border to most asylum seekers largely in place.) Abbott's office claims it has sent more than 2,200 asylum seekers to New York City since August 5, while city officials estimate that around 2,800 people have been bused here from both Texas and Arizona. The city has scrambled to provide basic services to the new arrivals, but a lion's share of the work has also been done by volunteers and nonprofits meeting migrants at Port Authority.
This isn't the first time CBP has written the wrong information on migrants' Notices to Appear. Immigration officers wrote "Facebook" as the last known address for some asylum seekers who were forced to wait for their hearings in Mexico under a now-defunct Trump-era program called the Migrant Protection Protocols, BuzzFeed News reported in 2019. More recently, migrants bused to New York City from Texas have had fake addresses and phone numbers listed on their Notices to Appear. In July, one migrant had "111 unknown" listed as their address along with a nonexistent phone number, NBC News 4 reported in August. Migrants told NBC News 4 they were given those addresses and encouraged to go to New York to seek asylum.
Hasan Shafiqullah, the attorney-in-charge of Legal Aid's Immigration Law Unit, said some organizations that are on the pro-bono providers list given to newly arrived asylum seekers have had their addresses written on migrants' Notices to Appear. "There are also groups that are not [on the pro-bono providers list] that are being listed," such as the Department of Homeless Services office on Beaver Street, Shafiqullah said. Catholic Charities has attempted to contact Homeland Security to get it to stop listing its address on migrants' hearing notices but hasn't received a response, said Maryann Tharappel, Catholic Charities' special projects director for immigrant and refugee services, at an August press conference. Gomez said the staff haven't noticed the organization's address listed on more recently issued NTAs.
The problem isn't just that migrants are being misled to think they'll have housing upon arrival in New York City; it's that all the information about their upcoming court hearings will be sent to the wrong address. The consequences of this are potentially dire. "If the court has adjourned the hearing to a date before the court date and they send a notice to the address on record, you're not going to get it," Shafiqullah said. Those who miss their immigration-court hearings can be arrested by ICE at subsequent court dates and sent to detention, or ordered deported in absentia for not making it to court. While they can attempt to reopen their cases if they can prove they never received notice because the court had the wrong address on file, the decision to do so is ultimately up to an immigration judge. In the worst-case scenario, asylum seekers who have the wrong address on their forms may be doomed to deportation.
"The judge may say, 'If it wasn't your address, you should've spoken up or filed a change-of-address form,'" Shafiqullah said. "Certain judges could take a pretty aggressive stance and say, 'The duty was on you to fix this. Why should I reopen your case? Too bad, so sad.'"