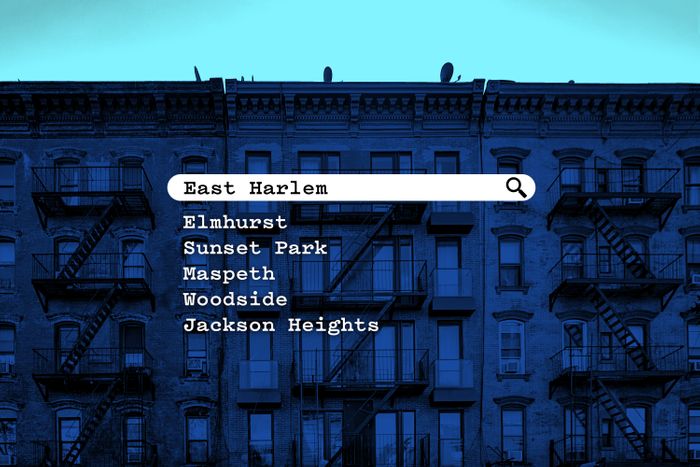 Photo-Illustration: Curbed/Getty Images
Levy Tewel, a real-estate broker since 2011, opened his own firm specializing in uptown Manhattan in 2014 when he realized, as he put it, that "Harlem is really hot." But he has never seen a market like this summer's. Normally it's the time of year when he vacations with his wife in Miami or Cancún, but he asked to postpone this year's trip. "I was like, let's cash in," he said. "When things slow down" — he corrects himself — "if things slow down, we'll be able to get a little break then."
As more New York City renters give up on popular neighborhoods like Chelsea, the East Village, and Soho, the fight for space has rippled outward to neighborhoods considered more affordable. New search data from StreetEasy shows soaring interest in apartments in uptown Manhattan as well as more distant parts of Brooklyn and Queens. Brokers say it's already having a big impact on prices.
Tewel has seen a surge of demand for units in Harlem from people who are priced out elsewhere. "I have people all the time that are looking in the Upper East Side or the Upper West Side, and they couldn't find anything," he said. "So they just came further up to East or West Harlem and they get a lot more bang for their buck." But that has caused a new problem: "We ran out of inventory. I don't have any listings right now because we literally rented so many." Some Harlem newcomers are signing leases early and paying rent on units they don't need until later in the fall, he explained. In another instance, Tewel helped a client sign a new lease only for the unit's existing tenant to change his mind about leaving when he realized he couldn't find anything new.
East Harlem's median rent was $2,295 a year ago; since then, StreetEasy searches for the neighborhood have grown by 48 percent and the median rent has reached $2,750. Over the summer, the agent said units were renting within hours of being listed, with roughly one in ten applicants making offers above the asking price — something Tewel had never witnessed before. "Landlords start getting cocky," he said. "If it's sitting, they're like, Oh, you're not doing a good job. And if it runs quick, they're like, Oh, maybe you're not telling me that you can get more. Either way, we're screwed."
It's a similar story in Queens. Nicole Zheng, a broker who primarily serves Chinese clients in the borough, said she has seen "crazy" price increases in Long Island City, where a flood of wealthy residents has helped push the median rent from around $3,000 last year to $4,100 this summer — which is forcing renters into areas like Maspeth, Woodside, Jackson Heights, and Elmhurst and, in turn, increasing prices there.
Many Chinese immigrants like to rent from Elmhurst's Chinese landlords, who are sometimes willing to look past poor credit or lower income in exchange for cash paid up front (it also helps to speak Mandarin). Zheng said she recently helped a former Long Island City couple close on a one-bedroom rental in Elmhurst in a newish six-story building owned by a private landlord. The landlord was asking $1,900, but unlike last year, when he was "so generous — he was providing full coverage on utilities, everything included," she said, "this year, it's only water and gas." Even then, there was intense competition for the rental, so the couple offered an extra $100 a month and won the lease. That would have been unheard of in the past.
Zheng said apartments in the area aren't staying on the market for long anymore — usually no more than a few days. StreetEasy searches here have increased by one-third since last year, during which time the median rent has jumped from $1,800 to $2,100. Some of that increase is due to Elmhurst's new tallest building, the auspiciously addressed 88-08 Justice Avenue (the number eight sounds like the word for "fortune" in Chinese). There was so much interest in the luxury high-rise that one applicant was messaging Zheng about it on WeChat, the Chinese social-media app, even after the broker posted that she was going into labor. "You can interpret this story however you like," she told me.
In Brooklyn's Sunset Park, where StreetEasy searches have shot up 44 percent since last year, the median rent has increased from $2,000 to $2,400 over the same period. McKinley Jones III, a broker with Compass who has been licensed for 15 years, used to live in the neighborhood and said he was "shocked" to watch how the prices have gone up. Like Tewel, he's seeing a dire inventory shortage in a neighborhood that's composed mostly of immigrant families. "If you were to go online right now, there are no studios in Sunset Park at all," he said. "None. It's crazy. If you were looking for a one-bedroom, you're looking at maybe about five available right now."
Jones said he first encountered an applicant offering above the asking price in Sunset Park late last year; since then, there has been a marked increase in bidding, with some people dangling $200 extra a month. The demand has been overwhelming: After listing a two-bedroom apartment for $2,100, Jones said he received 100 emails for it a day. "They're just constantly reaching out to me, texting me for updates: 'Please let me know, we're super-interested it. We love the place. We'll do whatever it takes.'" And whereas renters used to balk at his fee (equal to one month's rent), now "people are already expecting that." But he said the dynamic makes him a little stressed.
"It's good in some ways because some brokers would tell you, 'My open house is packed; we rent an apartment the same day.' But from a renter's point of view, it's just very challenging. You need someone to kind of hold their hand. And we are the professionals. We're the experts. We're supposed to make them feel comfortable and give them service," Jones said, but he can no longer guarantee that. "I've never in my life seen it this difficult to help renters find apartments. I feel bad when someone's reaching out to you and you do a search and there's just nothing right now."