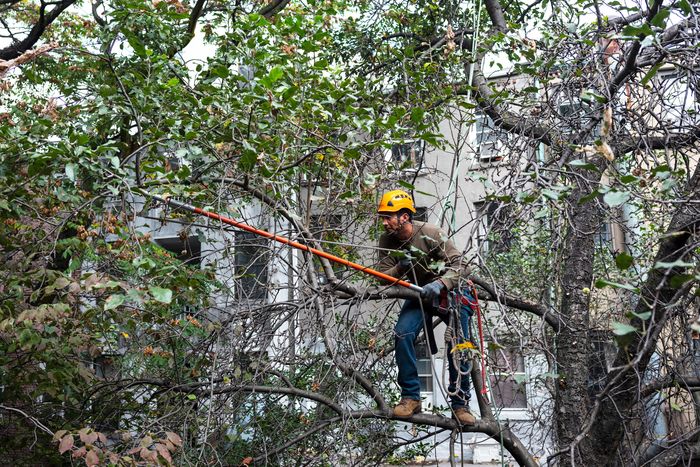 Photo: Robert Nickelsberg/Getty Images
It's Climate Week in New York City and the mayor is talking about trees. "I'm proud that we have ramped up tree plantings significantly this past year," Adams said of the 13,000 trees planted this fiscal year. There are more trees to come, but there's just one detail he left out: The Parks Department hasn't actually been able to prune any of the city's trees in Brooklyn and Queens for the past year. Let's hope the new ones don't grow too fast.
If you have perhaps been wondering about that precariously dangling branch on your block, it's because, as the Brooklyn Paper reported this week, the Parks Department had to suspend its contract with Dragonetti Brothers Landscaping over the small matter that they are currently being sued for massive insurance fraud. The city's in-house tree-maintenance teams are apparently only dispatched for emergency situations. (Like maybe, for example, when a tree hasn't been pruned for a year and its mighty branches are about to crush a passerby.)
A simple fix might be hiring new contractors to snip our trees, perhaps ones who are not accused of misclassifying their workers in order to cheat them out of $1 million in insurance premiums. Problem is, the Parks Department told the Brooklyn Paper that the $12 million contract was already awarded to the Dragonetti Brothers and cannot be terminated and rebid to someone else. ("This matter is currently under review," a Parks Department spokesperson told the Paper.) The workers have suffered and now so must the trees.
Meanwhile, a quick search of 311 tree-service requests reveals unsettling entries like "overgrown tree" that is "hitting building" or "damaged tree" that is "leaning." If you have a perilously overgrown tree on your block, feel free to tip us off.