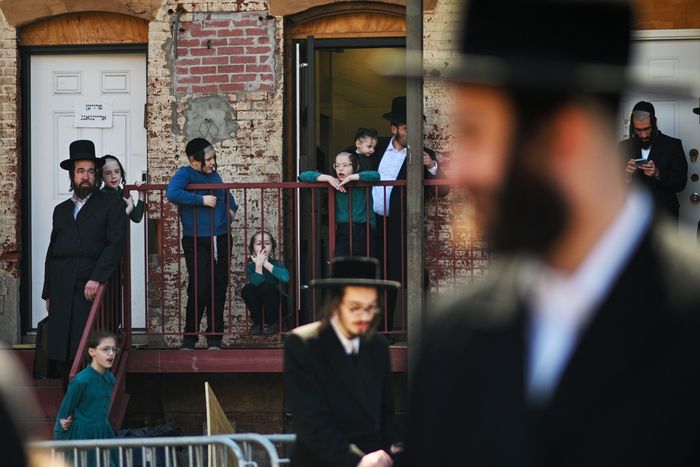 Photo: Alexi Rosenfeld/Getty Images
On a recent Sunday afternoon, two days after New York governor Kathy Hochul declared a state of emergency over polio, I went to talk to Hasidic parents in South Williamsburg. As of June 30, only 56 percent of children under 5 in the neighborhood were fully vaccinated for the paralytic disease (compared to 86 percent citywide). Of the half-dozen people I stopped along Lee Avenue — mothers, shopping for back-to-school clothes and Rosh Hashanah celebrations — all said they'd recently gotten their children vaccinated over the last few weeks. None had vaccinated their children for COVID or taken the COVID vaccine themselves. "I want to protect them from polio," a Williamsburg mom named Shaindy, whose children were 2 years old and 11 months old, told me. She heard about the dangers of polio from "gossip" in the community — people were talking about the first case, an Orthodox man in Rockland County. Another young Williamsburg mother named Golby said none of her friends are skipping their children's doses. She even asked her pediatrician to jump ahead of other vaccines to administer polio doses for her children, who are 19 months and 4 months old.
Public-health officials and Brooklyn's Orthodox Jewish community leaders have been working hard to alert parents about the necessity of vaccination through ads in Yiddish-language newspapers, radio, social media, and automated phone calls since late July, when the disease was found in wastewater samples in Rockland County. Traces of polio have since been found in 57 positive samples in New York City and Orange, Sullivan, and Nassau counties, prompting the state of emergency. "On polio, we simply cannot roll the dice," state health commissioner Dr. Mary Bassett said in a statement. "If you or your child are unvaccinated or not up to date with vaccinations, the risk of paralytic disease is real. I urge New Yorkers to not accept any risk at all."
Their efforts seem to be working. According to community leaders and doctors, there has been a rapid increase in vaccinations in Hasidic communities over the past couple of weeks. Over 5,000 have been administered in Rockland County since that first confirmed case. Pediatrician Jay Begun, whose Kindercare Pediatrics primarily serves ultra-Orthodox families, says in the past month he's given 270 inoculations for polio in his offices in Williamsburg, Borough Park, and South Fallsburg, a hamlet in the Catskills, more than double the month before. "I'm overwhelmed with patients now," he says. "I've been giving tons of vaccinations. Mothers are bringing their 2-month-olds to receive their polio shots. Even babies are coming in," Begun said. "There's definitely been an uptick in immunizations since the summer ended."
This is in stark contrast with how the community has responded to past disease outbreaks. A measles outbreak that started in Williamsburg in September 2018 continued to fester for a year thanks in part to coordinated disinformation campaigns within the community that claimed the vaccines were made from nonkosher ingredients and caused autism. Mayor de Blasio ordered unvaccinated individuals to receive a measles vaccine or face $1,000 fines, while Governor Andrew Cuomo ended the state's religious exemption from vaccination requirements for school children. By the time the outbreak was finally contained, 654 Brooklyn residents had contracted the virus. And then, of course, there was COVID. The city's attempts to enforce mask-wearing, social distancing, and vaccination compliance through lockdowns and a heavy police presence did not dissuade Hasidic residents from attending weddings and funerals during the spring and summer of 2020. By October, Cuomo restricted the size of mass gatherings in houses of worship, a move that religious leaders and organizations like Agudath Israel sued to block, and the Supreme Court struck down a month later. Once COVID-19 vaccines became widely available, only 18 percent of teenagers in South Williamsburg had received two shots by October 2020, the lowest rate in the city.  "I don't think COVID was super helpful," Avrohom Weinstock, chief of staff for Agudath Israel, said. "The whole narrative plays into the fear that the government and pharmaceutical industry doesn't have their best interest at heart."
Vaccine misinformation has been an enormous challenge in getting the community vaccinated. The Met Council on Jewish Poverty, the country's largest Jewish charity, set up COVID-19 testing and vaccination sites across the city and ran ads in Yiddish, Russian, and Hebrew. But anti-COVID messaging from media outlets still found its way onto Hasidic residents' smartphones. "They get their information, not necessarily watching Fox news but are subscribing to Fox News on their phones and getting their information from the right-wing news media on Whatsapp, Twitter, and news alerts they're signing up for," Met Council CEO David Greenfield said. "Even though the Orthodox community is, in theory, less online than others, disinformation still gets around," says Elijah Reichlin-Melnick, Democratic state senator for Rockland County. "And people seem willing to embrace conspiracies." According to Weinstock, when Hatzalah had their testing and vaccination sites up, they received a torrent of harassment from anti-vaxxers, discouraging them from the immunization effort.
So far, health officials and community leaders have not noticed any anti-vaxx efforts to counter their polio vaccination campaign. Begun, for his part, believes the community's desire to get vaccinated for this one is simple and has little to do with pamphlets or automated phone calls. They've scared. "They're taking this very seriously. They have firsthand stories about the devastation polio can cause and its paralysis. It's real to them," Begun said. "Deep down, they know how effective the polio vaccine has been and they realize there's no downside to taking it."