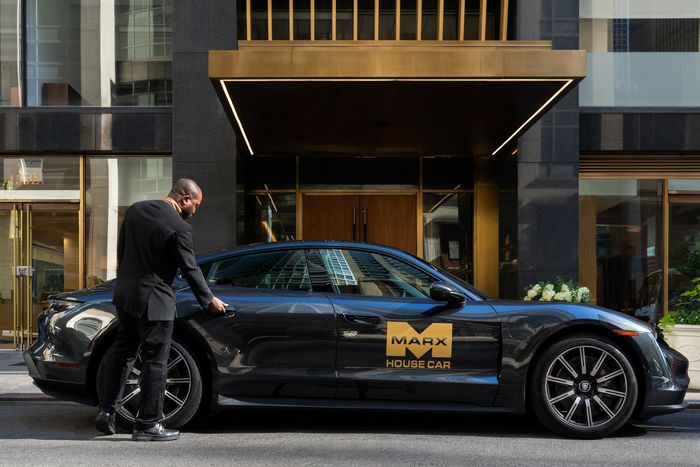 A branded electric Porsche Taycan is now serving as 10 Grand Central's "house car."
Photo: Courtesy of Marx Realty
What may be the most ostentatious return-to-the-office perk ever is currently parked outside 10 Grand Central in midtown: a $100,000 Porsche Taycan. As of this week, the building's 1,200 tenants can use an in-house app to rent the electric sports car — emblazoned with the Marx Realty M—in 40-minute increments for free. "When I think of all the amenities we have, this one has gotten tenants the most excited," Marx CEO Craig Deitelzweig told the Commercial Observer. Tenants are apparently posing for photos with what he calls the "Marx Mobile."
The response among the non-Porsche-renting public was less enthusiastic. ("Thank you to wealthy people for doing more than your part to make our city unlivable and kill the planet!" was one variety of response.)
On the one hand: yes. It is icky and status seeking, a cheap thrill for city residents who have their transit needs taken care of and then some. The best Porsche, after all, is one at the bottom of the ocean. However, consider this: What if more buildings — both office and residential — invested in a few shared electric vehicles for tenants to use instead of providing parking? What if the one-car building was an actual thing and not just a novelty for the account executives and junior bankers at a handful of firms?
Shared vehicles are already standard at a lot of properties. Retirement communities often have a van on-site to ferry residents to the grocery store and for other errands. And there's been a concerted effort over the past decade to station car-sharing services like Zipcar in the parking garages of new residential buildings to make them extra convenient for apartment dwellers. But the fancy shared EV is slightly different — a way to potentially dangle a luxury amenity in front of wealthy residents who, on the whole, opt for larger and more deadly car models and drive them more miles. Also, it could actually work! Just the looming specter of congestion pricing is rattling some garage occupants below 60th Street enough to, they say, swear off their vehicles in favor of mass transit.
This idea has the potential to do the most good in U.S. cities with parking minimums, where new apartments must include one, and in some cases two, parking spaces per unit. In addition to encouraging driving, these requirements are destroying housing affordability because developers are forced to build a home for each car, which drives up the overall cost of the building. A growing list of cities have abolished parking minimums, and there's a bill to end the practice for the entire state of California currently on Governor Gavin Newsom's desk. For some people wary of moving into a parking-free building, knowing they've got a free Tesla at their disposal might make them feel better about accepting this garageless lifestyle.
The benefits have the potential to be massive. More apartments instead of ugly parking podiums. Fewer cars at the curb that need to move for street cleaning. Cleaner air! Lower emissions! Maybe even meeting your neighbors as you coordinate your runs to Ikea? (Do rich people shop at Ikea?) It's a really straightforward way to get people thinking about their mobility choices as less individualistic and more communal, a mind-set the country needs to embrace if we're going to avert the worst of our fossil-fueled, SUV-choked destiny. So thank you, Marx Realty, you kind of got this right. By accident.