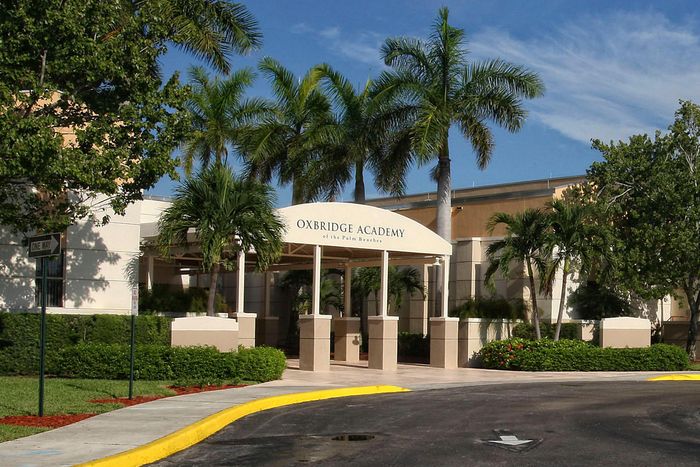 Photo: ZUMA Press Inc/Alamy Stock Photo
The weather's great, the taxes are low, and the houses are palatial by Manhattan standards, but South Florida has a serious private-school problem, according to the rich New Yorkers trying to relocate. Palm Beach brokers say they're struggling to close real-estate deals with wealthy families because all the tony private schools are full, the Real Deal reports. "If you're even thinking about moving here, put your name on the list," one broker advised. "Just fill out the application, get it in immediately."
The local public schools are, obviously, a nonstarter: "They see the ratings and where they matriculate to college, and they're just not that impressed," Vince Marotta, a broker with Illustrated Properties, told TRD.
Traditionally, billionaires in South Florida have dealt with the lack of elite academic options by founding their own schools: Oxbridge Academy, where Barron Trump goes, was founded in 2011 by William Koch, brother to Republican puppet masters Charles and David. Billionaire Jeff Greene and his wife, Mei Sze Chan, opened the Greene School in West Palm Beach in 2016, which added a high school this year. And tech entrepreneur John Marshall founded a new elementary school in Miami Beach. But these things take time (and a commitment to South Florida, which has been a problem with some recent transplants).
So instead they're left to wait — and throw money at the problem, naturally. Local private schools have been flooded with not only interest but donations like the $18 million that Tiger Global Management's Scott Shleifer gave to Palm Beach Day Academy shortly after his kids enrolled there. Even so, these schools, which until the pandemic were often undersubscribed, haven't been able to increase enrollment fast enough. Applications at the Benjamin School in Palm Beach are up 100 percent over five years ago. At Palm Beach Day Academy, it's up 45.2 percent, and applications have more than doubled since 2019. Unlike the brokers, the private schools are thrilled: "In our pre-K class, we have three parents who went to Princeton, two Dartmouth, one Yale, one Columbia — among 16 parents," Greene bragged to Bloomberg. 
Increasing enrollment is also a fraught move at institutions that pride themselves on keeping people out. "The vast majority of schools would prefer not to expand," lamented Palm Beach County Business Development Board president Kelly Smallridge, who started a task force to work with private-school headmasters.
Some schools are, though: The Benjamin School bought 0.9 acres adjacent to one of its campuses and hired 40 new faculty and staff; Bloomberg reported in June that Gulliver Prep and Temple Beth Am Day School are building out more flexible spaces, Chabad of Central Boca Raton is looking for land to build a K-8 school, and Avenues is opening a campus in Miami's Little Haiti, though it won't be completed until the 2024-25 school year. The developer Related Southeast, meanwhile, is organizing meetings with northeastern private schools "to discuss expansion opportunities."
The Dalton School Extension Campus has a certain ring to it.