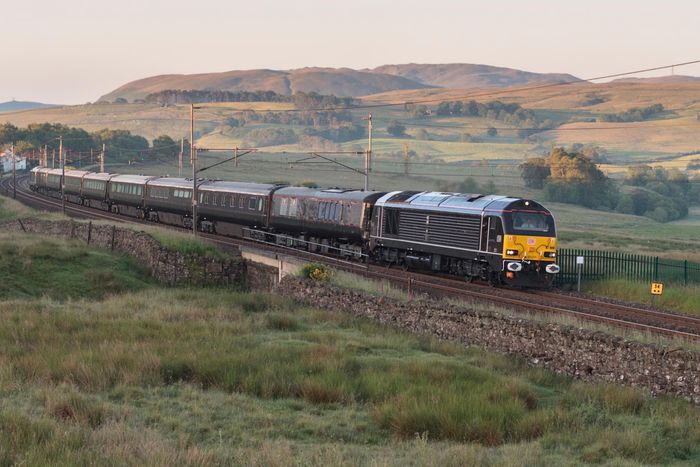 Photo: Robert Lancaster/Alamy Stock Photo
Update: The queen has died.
In the event of Queen Elizabeth II's death (assuming, of course, that she hasn't already been dead for 20 years), a few things will happen immediately: Her private secretary will inform the prime minister, flags will be lowered to half mast within 10 minutes, and the queen's coffin will be returned to Buckingham Palace. The plan, called Operation London Bridge, is incredibly precise about the various modes of transport involved in this process.
You may just be yeeted into a hole when you transcend this earthly plane, but not the queen. If she dies at Balmoral Castle, where she is currently under medical supervision, the sub-plan Operation Unicorn goes into effect and her body will be transported by rail to London — specifically on the British Royal Train. Senior members of the royal family can use the train whenever they want while they're alive, but it is kind of a coffin on wheels. Some history:
Queen Victoria was the first to ride a train at all, in 1841, after which she said she was "quite charmed." More than two decades later, she commissioned her own set of train cars — painted with 23-carat-gold details — and prohibited them from running at speeds above 40 mph. According to Town & Country, the policy may have been a product of a popular belief at the time that "moving at too high a rate of speed might render a person insane." (This would very much explain the modern condition as a whole and my own personality specifically.)
The current iteration of the British Royal Train was inaugurated in 1977 for Queen Elizabeth II on her Silver Jubilee tour. Only senior members of the royal family are supposed to toot around in the train — as well as the corgis that may outlive the queen against her wishes.
The train is decked out with nine carriages that include a tub, sleeping cars, a dining car that looks like an upscale conference room, and a room of green chairs in the Duke of Edinburgh's carriage, where one can sit and chat with their mates and fellow senior members of the royal family. (The matte-framed landscape portrait brings a very chic waiting-room vibe to the space.) It is very expensive to maintain and travel by royal rail, to the despair of taxpayers, and it moves very slowly, at around 70 mph, perhaps to keep the corgis from going insane.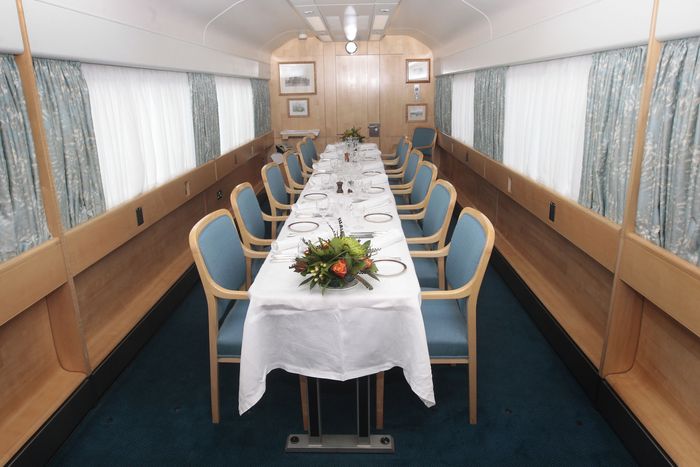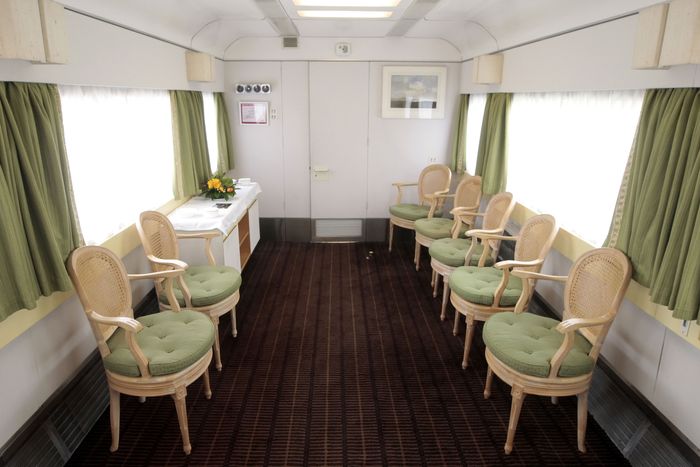 Queen Elizabeth II is known to like the train, which has been described as "one of the few places where she can truly relax in privacy." And what is death if not relaxing?