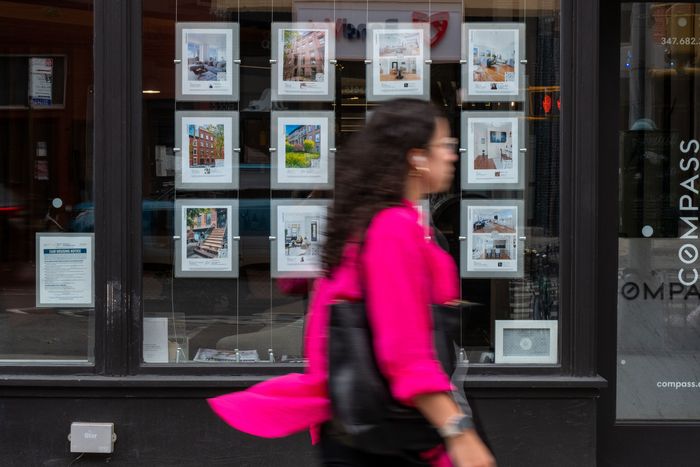 Photo: Spencer Platt/Getty Images
The Rent Guidelines Board increases — which passed, controversially, this June amid the most brutal rental market in years — will finally go into effect at the end of this week. Rents on one-year leases signed between October 1 and September 30, 2023, will go up by 3.25 percent, the highest increase in nearly a decade. And that's if you're lucky enough to live in one of the city's million or so rent-stabilized apartments. For everyone else, well, your rent is probably going up, too. Or at least it's never going down.
Since February, Manhattan rents have reached new highs every month, a fevered rise that finally started to stabilize in August, according to the most recent Douglas Elliman market report — but just barely. The Manhattan median rent is now $4,100 a month, down from $4,150 in July, while the median net effective rent slipped from $4,100 to $4,059. Cause for celebration? Not quite: The average rent inched up from $5,113 in July to $5,246 in August (pricier rentals at the high end can make averages skew higher than medians). And in Brooklyn, prices are still going up from a median of $3,400 in July to $3,500 in August. But the inventory and vacancy rates are creeping up ever so slightly, which means you may have better luck finding an overpriced luxury apartment (say, something renting for $5,000 or more a month at least five blocks from the subway) than something on the lower end, in the $2,000 and $3,000 range. Those, one broker recently told The Real Deal, are "still flying off the shelves."
As for bidding wars, they haven't gone anywhere. But now it's only one in every five apartments in Manhattan and Brooklyn versus one in four, per the August Douglas Elliman report. In the rent-stabilized market, where landlords can't charge more than the legal rent, brokers have been cleaning up by charging exorbitant fees. Renters started reporting this summer that some brokers, mostly those with rent-stabilized units, were charging excessive fees far above the standard 12 to 15 percent: 30 or 40 percent, sometimes much higher (this is not, technically, illegal). The New York Post recently reported that one renter paid a fee of $19,500 for a $1,750-a-month one-bedroom in Harlem. (That's about 95 percent of the annual rent, negotiated down from the 97 percent fee the broker tried to get.) Another renter told Curbed he was quoted a $7,000 fee on a $1,650-a-month rent-stabilized Upper West Side studio this summer — a fee of about 35 percent.
Before he could respond, the broker emailed to say she'd received so many applications she wouldn't be taking any more. After that, the renter started preemptively emailing brokers, saying he was willing to pay a 17 percent fee, a tactic he said has yet to work.
"It's not standard business practice," said one broker, who added that he's seen a lot of other shady rental practices in the past six months — "showing" fees of $150, requests for "good faith" deposits (that is, deposits before a tenant's rental application has been approved), other agents refusing to co-broke such that renters trying to look with an agent representing their interests were ghosted once the landlord's agent realized another broker was on the email chain. "But a lot of agents are trying to make it standard business practice. I've had friends and clients ask me, 'Is this legal?' And I tell them, 'No,' but also that if they don't do it, someone else probably will, and they'll get the apartment instead. When the market moves this quick, brokers can get away with it."
Good luck to us all!