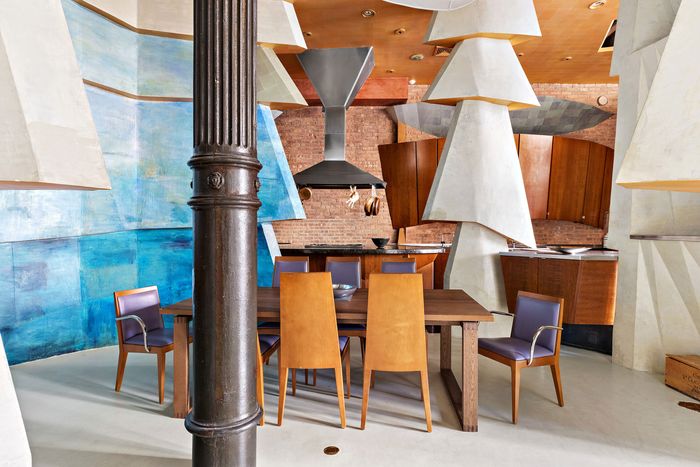 What do you do with an apartment that has been designed for exactly one couple and absolutely no one else in the world? At 112 Prince Street in Soho, such a taste capsule exists, created by architect Stephen Wanta for conceptual artist Michael Somoroff and his wife Irina.
As the listing photos show, the loft's overarching feature is its jagged edges — whether it's the floor-to-ceiling sculptures dividing the kitchen and dining room that scream, "What if a Christmas tree were scary?" or a double-height bookcase that looks like it might slash your hand open every time you grab a book. The three-bed, two-bath unit, which was put on the market in July 2021 for $5.99 million, has yet to sell, even though it's in Soho, where median home-sale prices went up 60 percent this year, and a penthouse loft with the same square footage in the same building is going for nearly $7 million. Now, as the New York Post reports, the price has come down to $4 million, and the buyer gets to walk away with a dubious perk — an NFT of the home as it is now, so the future owner can forever remember the space before taking a sledgehammer to it.
According to Somoroff, who talks at length about the loft in a video from Ryan Serhant's brokerage, which has the listing, "The immediate experience of anyone who walks into this space is 'Wow.' It was designed to shake your assumptions about space right down to your core. Because your assumptions are mediocre." Cue the violins. We are treated to a slow pan of the rooms and are mostly overwhelmed by the treelike sculptures, which Wanta says are "creating your environment"; they are "huge" and "big" and "expressive" indeed. Besides these, the bathroom and kitchen are filled with sculptural counters and islands that mostly add to the claustrophobia. Somoroff explains, in case it isn't clear, that the apartment was built as an "experiment in sustainability" to promote "truth, love, and the magic of being a part of creation." (It is possible there is too much magic in the space.)
It's hard to quantify how much the NFT adds or detracts from the already low list price for this Prince Street loft. But perhaps the NFT is the perfect medium for Wanta and Somoroff's design: wild to look at, if not to live in.