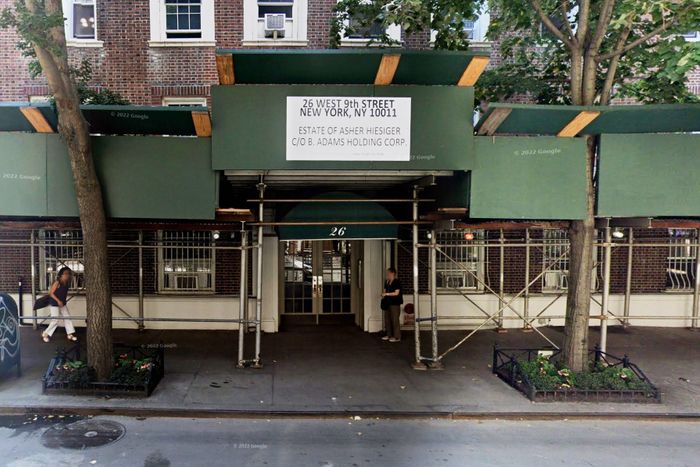 On April 28, 2021, an account called @TimesUpGeorge announced its mission with a flurry of tweets. They ranged from the descriptive — "This is when it all started," one reads with a photo of a permit dated back to 1999 — to the poetic: "22 years under a 75 ft. shadow." The tenants of 24-26 West 9th Street were fed up; they wanted their landlord, George Adams, to take down the scaffolding that had been erected around their building for the better part of 23 years.
The tweets, polite but firm, kept coming: "Hey George: The tenants at 26 W 9th have been complaining to us about the egregious sidewalk shed. You're also imposing on the folks at 22 W 9th and 30 W 9th. Send news soonest." (And coming: "Landlord George Adams at 26 W. 9th St. has no respect for city law or as tenants. See City records below. Take it down, George!") On Monday, their diligence, and practiced repetition, finally paid off. "He did the work and took it down," Take It Down organizers Leslie Breeding and Nina Kaufelt told Patch.
The structure, technically a sidewalk shed, went up in 1999 due to an unsafe façade and stayed in place through the end of the Giuliani era and the better part of the Bloomberg administration. That shed came down in 2007, but another one went up in 2012 — again due to an unsafe façade. Tenants called the shed the second-oldest in the city, but the Department of Buildings, noting the five-year gap, says that — at ten years — it was merely the 16th-oldest. The department requires unsafe façade repair work to be completed within 60 days, at which point it begins issuing enforcement actions. Those enforcement actions proved effective, in the case of the second shed, after around 3,600 days.
The tenants' campaign for direct sunlight wasn't just on social media: The group, alongside the West 9th Street Block Association, also put up posters declaring, "22 Years Is 21 Years Too Long." (This, I assume, generously accommodates one year of construction and attendant sheds.) Their message, online and on street poles, remained singular: "George, do the work!"
According to Patch, which has been diligently following this story, tenants were surprised when the scaffolding finally came down. "Men are taking down the sidewalk shed at 26 W 9th St — the second-oldest shed in NYC. Is this permanent? Landlord George Adams, tell us what you know!" the account tweeted this week. George, it seems, had finally done the work.
Update, 9/27/2022: After publication of this article, a spokesperson for the Department of Buildings clarified that the building was without a shed for a five-year period during the mid-2000s.