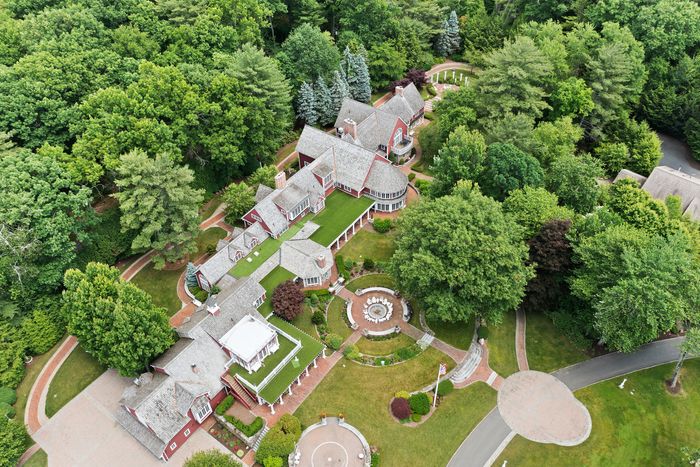 Photo: Courtesy of Douglas Elliman
The reviews of Yankee Candle's top-selling Vanilla Cupcake speak for themselves. "It's a great candle for the kitchen," one happy customer observes. "Working from home is just a little bit more pleasant with a candle beside my daily grind," writes another. Just this week, a buyer named Jennifer Chastain awarded the candle five stars and remarked that it "smells the whole living room up." This is the kind of consumer devotion that built founder Michael James Kittredge II a 16-bedroom estate in western Massachusetts. And it can now be yours for $23 million.
It would be a mistake to describe this as merely a "home" as it's more of a resort or amusement park. Across the property's 120,000 square feet, there are a two-story arcade, four tennis courts, two "car barns" (essentially mini-Porsche museums), and a Bellagio-inspired indoor water park. (Naturally, it features a hand-painted ceiling.)
If all that entertainment gives you a panic attack, you can unwind at the 55,000-square-foot spa, which features multiple massage rooms, saunas, and steam rooms. Or take in some live music at the 4,000-square-foot stage where Hall & Oates, the Doobie Brothers, and KC and the Sunshine Band have performed. (Must be something to hear Hall & Oates sing "Rich Girl" in the Yankee-Doodle mansion!)
Or kick back in the five-bedroom main house. The three-story living room looks like a wonderful place to unwrap Christmas presents, but I count only seven candles, which seems low for the main room of the Candle King's abode. There's also an oval office that looks fit for plotting a drone strike but was likely just used to plan the launch of the Autumn Nature Walk candle. Additionally, the main house has two separate commercial-grade kitchens — might I recommend a Vanilla Cupcake candle in each?