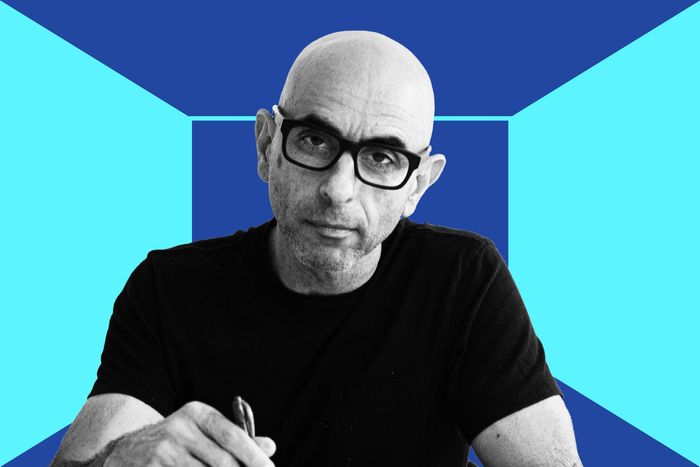 Photo-Illustration: Curbed; Photo: Carmen Maldonado
New York's "21 Questions" is back with an eye on creative New Yorkers. Nader Tehrani is the former dean of the Cooper Union's school of architecture and the founder of the Boston-based firm NADAAA, which is currently renovating the Metropolitan Museum of Art's ancient Near Eastern and Cypriot art galleries. Tehrani is a recipient of a 2022 National Design Award in architecture from Cooper Hewitt, Smithsonian Design Museum.
Name: Nader Tehrani
Age: 59
Neighborhood: East Village
Occupation: Architect
What's hanging above your couch?
Who said I had a couch? There's nothing hanging in this apartment.
What's the first job you had in New York?
I worked for an architecture firm in Williamsburg in the early '80s. They mostly did historic preservation and I was focused on learning how to do copper flashing on neo-Gothic churches in Manhattan. I can't remember the name of the firm, but I found the job in an ad when I was still at RISD. I applied, they said come in, I rode the train down and took the job immediately.
What color are you always drawn to? 
I gravitate toward the blues: lapis lazuli or turquoise. It's kind of a cliché of being Iranian.
What work of art or artifact are you most surprised you own?
I have a painting of the Scandinavian countryside by Sigrid Sandström, an old friend of mine. I traded a log cabin that I designed for it. But before Sigrid started building, she fell in love with someone who already had a cabin. I got the benefit of her painting, but she never got the benefit of my cabin.
Which New Yorker would you want to hang out with?
I grew up on American gangster movies, and I'd like to hang out with Abel Ferrara's bad lieutenant.
What's the last thing you made with your hands?
All of the stuff I do in the kitchen. My focus is on Persian stews: ghormeh sabzi, gheimeh, bademjan — things restaurants never get right. The pandemic was the first time I started cooking, and that activity sort of persisted.
Is there one thing you own multiple versions of?
I have a collection of mid-century modern chairs. I started buying them 30 years ago at flea markets and secondhand stores dirt cheap for $10 and $20 each. My Boston apartment is essentially a long dining room filled with all these chairs that don't match.
What New York City museum do you always go back to? 
I return to the Breuer building — now the Frick Madison — because the architecture is so precise and lovingly done. The canopy, the lights in the lobby, the detail of the stairs — it's a little bit of all of it that lures me back.
What do you always have next to your computer? 
A photograph and a drawing, by Jeanne Pacchiana, of my dear Vizsla László, who passed away many years ago.
Where is the best view of the city?
From the left side of a plane as you're going southbound over Central Park — when you're just low enough to see the perspectival surge of the skyscrapers in midtown coming up toward you.
What building or object do you want to redesign every time you see it?
I love the sense that there's a huge arena on top of you when you arrive at Penn Station. But the compression you feel between the assembly hall above and the train tracks below needs attention. I would want to keep Madison Square Garden intact and capture something about its monumentality and civicness below ground by excavating large troughs of space that allow you to look outside to see the city framed from this infrastructural knot.
What's one thing you would change about your field? 
Architecture doesn't have enough ability to demonstrate its relevance to address the challenges of the world today, be they environmental, social, or infrastructural. A lot of the folks that are taking on social and political issues these days are throwing design under the bus.
If you could live anywhere in New York City, where would it be?
Right in the middle of Central Park.
What would you hoard if it stopped being produced?
I already hoard saffron.
What do you do to get out of a creative rut?
I'll run eight miles around Central Park. And if it's a bigger problem, I'll pack my bags, go to an unfamiliar place, and come back in three weeks.
Where was your first NYC apartment and how much was the rent? 
I sublet a friend's place on the border of Little Italy and Chinatown the same summer that I had the internship in Williamsburg. It was a shotgun apartment with a bathtub in the kitchen and a toilet in the hall that we shared with other people on the floor. I paid around $130.
Where in the city do you go to be alone?
Central Park around 5 a.m.
Worst piece of career advice you've ever gotten? 
I was given a punch list of things to do to achieve tenure: attend this amount of conferences, touch base with this faculty and that faculty. Being the accidental academic that I am, the best-kept secret is to have done things that are precisely not for tenure and are for the passion of architecture itself.
What have you given away to someone that you wish you could get back? 
Trust, but I'm not sure if you can really get that back.
What's your favorite NYC restaurant and regular order? 
I have many, unfortunately: the scrambled eggs and onions at Barney Greengrass, the olive-oil cake at Abraço, the steak-frites at Lucien.
What descriptive phrase do you want on your obit headline?
I try not to obsess over narrative, which frees me up to have someone else worry about my obituary.