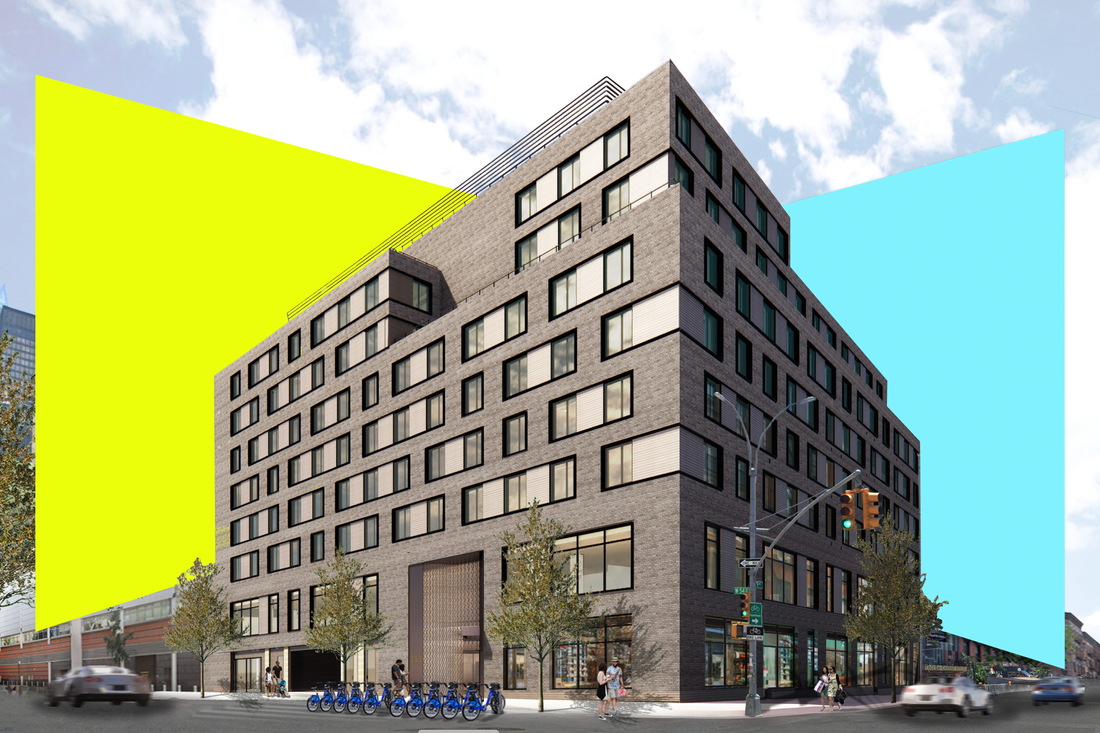 Photo-Illustration: Curbed; Photo: Hudson Inc.
On the corner of 54th Street and Ninth Avenue on Manhattan's far West Side, a blue fence skirts a gray parking lot. Windowless slabs hug the lot from two sides: on 54th, the beige wall of a large building owned by the MTA, whose employees park their cars in the lot; on Ninth, the concrete side of a glass-sheathed apartment building. Behind, more shiny towers, more brick tenements.
In many ways, the parking lot was a prize — "one of the few available pieces of dirt left," as one city worker put it, in a housing-scarcity emergency that has lasted five decades. The lot was on publicly owned land, among only a thousand or so sites that remain property of New York City, which meant that, unlike a private lot, the site did not have to make a profit. Since 2009, the city has wanted to turn the parking lot into apartments, the official plans for which were announced in 2021: 112 permanently affordable units, 59 of which were intended for formerly homeless long-term survivors of HIV/AIDS. The rest would go to low-income renters making $66,880 or less a year. There would be supportive housing on-site providing medical and mental-health care. The developer chosen by the Department of Housing Preservation and Development, Hudson Companies, had named the building the Lirio, after the city's oldest living tree: Liriodendron tulipifera. The name was an homage to its future residents, the developer said, because the Lirio tree "has witnessed the entire span of New York City's history, and it has survived miraculously."
In July, the Lirio was approved to move ahead by the City Council, aiming to relieve a fraction of need like a tiny blast of steam from a pressure cooker. But approving these 112 units of affordable housing took 13 years — a tortured saga that lasted through three mayoral administrations, three successive City Council members, multiple teams of city planners, hundreds of hours of community-board meetings, a stream of op-eds, strongly worded letters flinging accusations of political betrayal and NIMBY entitlement, piles of bureaucratic minutiae, and the construction of one billion-dollar megamall. Untangle the whole thing and you can begin to understand why it is so hard to turn a parking lot into an apartment building in the most crowded city in America, where survival is indeed starting to feel miraculous.
There is a 2009 document — the "originalist text," as one community-board member calls it — from which the controversy over the parking lot stems. But appreciating its significance requires going back to at least 2001: the year the dumping ground for train cars and the collection of warehouses, storage facilities, and muffler shops stretching from 28th to 43rd Streets, and from Eighth Avenue to the river, officially became associated with a development called Hudson Yards.
For decades, this swath of Manhattan had been a white whale for New York politicians looking to make their mark on the skyline. Increasing office capacity was the prime motivator: Commercial office space pays some of the highest property taxes to city government, and mayors and governors have long tried to stretch the midtown Business District from river to river. Twenty years ago, it was Mayor Mike Bloomberg's turn to propose a "dynamic, transit-oriented urban center," with a new subway station, retail and commercial spaces, a sports stadium, and an expansion of the Javits Center convention area.
In order to allow all those towers to go up, stores to be opened, and offices to be filled, a massive series of rezonings of the yards and their surrounding area needed to take place. This meant that Bloomberg would have to get through Manhattan Community Board 4, representing Chelsea and Hell's Kitchen. From the outset, CB4 hated almost all of Bloomberg's Hudson Yards proposal. It hated the stadium, which would take up the waterfront; it hated the height of the new buildings that would, it said, "change the neighborhood's character." But the board's biggest priority, even before the stadium idea fully died, was housing — the fear that everyone would be priced out of the neighborhood as the West Side transformed into the mayor's "next Gold Coast."
Community boards are unelected and voluntary: The 50 or so members of each of New York's 59 community districts don't get paid to spend hours in basements and hospital auditoriums discussing liquor licenses, bike racks, traffic, and trash. As a result, the boards draw particular types: Tracy Flicks at their most anal retentive, Corky St. Clairs at their most delusional. In Manhattan's CB4, the mustachioed, formidable face of Hudson Yards opposition was Joe Restuccia, whom Newsday declared the "unofficial mayor of Hell's Kitchen" in 1998. Restuccia is, in many ways, a city planner's worst nightmare: He has lived in the same apartment on 35th Street since 1980, and has been sitting on the board since 1982, for longer than many of the HPD officials who come to the meetings have been alive (a fact he does not let them forget). Restuccia occasionally has to recuse himself from votes because a project proposed by his own affordable-housing nonprofit, Clinton Housing Development Company, is attempting to win approval. During a lawsuit between Restuccia and a tenant in one of his company's buildings, a judge once wrote that the amount of detail he marshaled was "mind-numbing."
Over five years of board meetings and public hearings, CB4 complained, prodded, and pushed against Hudson Yards. Warring factions hurled Jane Jacobs and William H. Whyte quotes at one another. "This was not our first rodeo," Restuccia told me in June of this year. "The city realized they could not get approval unless they had an affordable-housing package." And it was a specific type of affordability the board was demanding — not just the standard programs used commonly by developers, in which a market-rate building has a few units designated for very-low-income residents (who have, in the past, been forced to use a separate entrance, derisively known as a "poor door") in exchange for tax breaks or more density. To the community board, Hell's Kitchen was a place for working-class people, emblematic of a dying New York that needed to be preserved. "We want a community where lawyers and librarians, brokers and busboys, can live side by side as they do now," Walter Mankoff, the 2004 board chair, proclaimed that year. Mankoff, who died in 2021, was an economist who lived in Penn South, the union-backed co-op built in the early 1960s that was once so left leaning, it was rumored, that socialists were shunned by their communist neighbors.
When negotiations ended in 2009, the board emerged with a handful of victories: Related would extend its current Section 8 apartment commitments by 40 years; and the developer would build some 400 new low-income affordable rentals. The big prize was the parking lot on 54th and Ninth. It was, in the official Western Rail Yard "Points of Agreement," earmarked for affordable housing up to 165 percent of the area median income: in today's terms, $154,110 for an individual and up to $220,110 for a family of four. In other words, it was affordable but not too affordable — intended for those lawyers, librarians, and brokers Mankoff had so romantically listed (the busboys still likely fell in the poor-door category). The parking lot, and another site nearby, would get $40 million from the city. In the board's view, it was a small but meaningful concession inside the foregone conclusion that was the luxury mall. "We knew it was happening no matter what," Restuccia says. "The city told us, 'We're gonna make so much more in commercial rent taxes. It's gonna be better for our tax coffers. And in exchange, we give you the crumbs.'" Restuccia had fallen out with another member over their refusal to support 11 additional feet of height — essentially another floor — on the building that would rise there. They didn't speak for months.
With the rezoning complete, the Bloomberg administration breathed a sigh of relief: The final hurdle for Hudson Yards had been cleared. Stephen M. Ross's Related Companies, a real-estate empire he had built on Section 8 public housing, would pay the MTA $1 billion. Restuccia's comment to the New York Times was characteristically cantankerous: "Compared with where we started, this is fantastic." 
We were ready for them to start digging," Christine Gorman, a freelance writer and president of the Hell's Kitchen Democrats, says about the parking lot. Instead, it sat dormant, delayed by personnel changes and other distractions. In 2011, the HPD official in control of new affordable-housing construction was charged with racketeering and bribery by federal prosecutors, who claimed he had taken $600,000 in kickbacks from developers (exchanges that allegedly took place at a golf course in the Bronx). Two years later, Bill de Blasio was elected mayor and nearly the entire masthead of city government officials turned over. The focus for housing projects was now in Brooklyn, where another megadevelopment, Atlantic Yards, had emerged.
Meanwhile, the towers of Hudson Yards rose mostly on schedule. Neiman Marcus signed on as the first major commercial tenant. In 2016, the plans for Thomas Heatherwick's architectural "centerpiece," Vessel, were unveiled. The parking lot was still a parking lot in 2019, when the Vessel, shops, restaurants, and luxury apartments at 15 Hudson Yards (plus some through the poor door) officially opened with an over-the-top party. Liza Minnelli sang "New York, New York." A real-estate developer called the Yards "SimCity on steroids, but real." Only some of the escalators were broken.
That February, Jeffrey LeFrancois, the current board chair of CB4, saw an article posted on a local real-estate website announcing that HPD had chosen Hudson Companies to develop the lot. It would not be building a project that featured predominantly moderate-income housing, the press release said, but one for "very low and low-income households."
The board went ballistic. In 2018, when the city had gone out with its official request for proposals from developers, the members of CB4 had stomached HPD's desire to see housing for formerly homeless people in what they thought would be a low percentage of the building. "People went crazy about that," Restuccia says. Now it was going to be more than half. After a decade, the city was not honoring the board's interpretation of that fabled document, the Western Rail Yard "Points of Agreement," but the board couldn't even complain to the same officials. Its previous councilmember, Christine Quinn, had since lost a mayoral bid and was developing shelter housing for women; Corey Johnson, a member of CB4 who became chair in 2011, had been elected in her place, and he had said nothing about the switch. The affair became known simply as "The Betrayal" among some members of the board: In the most nefarious version, Johnson, himself gay and a political rising star, who had spoken openly about being HIV positive, was campaigning for mayor and had pushed the project through as a branding exercise. Gorman found on the Campaign Finance Board's website that the CEO of Housing Works, the nonprofit that had been chosen to administer the supportive housing, had contributed to Johnson's campaign funds; "I always say, 'Well, where's the money?'" she tells me. (The last time public records show the CEO donating to Johnson was 2017, a sum of $250.)
"It was based on an actual need we were seeing in New York City," Johnson says, sounding annoyed, when I asked about these theories. "Anyone who says that this was political, or there was some sort of grander scheme, is fabricating what actually happened." Vicki Been, the HPD commissioner from 2014 to 2017 and now the faculty director of NYU's Furman Center, says that two changes occurred during the de Blasio administration that informed the city's reversal. Subsidized "421a buildings were already providing a good deal of moderate-income housing," Been says, referring to the program that gives developers tax abatements in exchange for including affordable housing. (A report released by the Furman Center this year backs her up: Of the approximately 13,700 units built under 421a from 2016 to 2021, a majority were set at middle-income rents.) The other shift, Been says, was "a recognition that where the city had the land, there was a special obligation to use that land for those deeper affordabilities." HPD, for its part, interpreted the Western Rail Yard "Points of Agreement" literally: The city had agreed to build affordable housing for people making up to 165 percent of AMI, which meant anyone under that threshold was fair game. 
As the board panicked, the COVID-19 pandemic turned the prospect of 60 apartments for formerly homeless people from a contentious issue into an explosive one. In the summer of 2020, more than 2,100 people were moved into hastily converted hotels in the district; by the fall, 800 of the available beds were concentrated on two city blocks in Hell's Kitchen. Residents collected videos of people overdosing and urinating in the street. In a Mailchimp newsletter that a group of Hell's Kitchen residents had created to oppose the Lirio, neighbors shared talking points to respond to the city's intent to house homeless HIV/AIDS survivors in the building: Under a section called "Please Please Please Avoid," it cautioned against "venting about how there are too many homeless people on the street (everyone agrees!)" and "saying anything at all that could possibly be misconstrued as homophobic or anti-HIV+." Later, the newsletter linked to a document laying out the drama. It was named "We Were Betrayed.pdf."
A September 2021 community-board meeting over Zoom was the first time the residents could confront HPD; the developer, Hudson; and Housing Works together. The city planners and Hudson presented their designs for the Lirio, and the board responded. "We cannot take on any more supportive or formerly homeless housing," said Lowell Kern, the board chair at the time. "It's burying this neighborhood." Gorman prefaced her comments by noting that she is a lesbian who had been one of the first reporters to cover the AIDS crisis for Time and mentioned visiting friends in the hospital who had succumbed to the disease. "I represent a lot of the progressive element in Hell's Kitchen," she said. "We know that there is a homelessness crisis. There is also a crisis for working- and middle-class folks." Someone accused the developer of laughing.
The old guard of CB4, those who had been around for the negotiations surrounding Hudson Yards, saw themselves as the last line of defense for a certain kind of endangered, middle-class New Yorker. By the month of the Zoom meeting, rent for a one-bedroom in the neighborhood was averaging $3,900. "We've been here for many, many years," Richard Marans, a landlord's attorney, argued. "Through the hard times, the difficult fights with the drug dealers and prostitutes. This is a steamroll." Restuccia reminded the city planners he had attended his first community-board zoning meeting when he arrived in Hell's Kitchen in 1979 at the age of 22. The city was at the tail end of an intense fiscal crisis: Landlords had abandoned their tenement buildings at alarming rates in Hell's Kitchen, and Restuccia lived in a floor-through walk-up on 35th Street that looked bombed out. The city, under Ed Koch, was foreclosing on old buildings at a rate much faster than it could afford to rehabilitate them, and through the Tenant Interim Lease program, renters like Restuccia were offered the chance to purchase their apartments for $250, then rehab them with modest government subsidies. It worked, if perhaps a little too quickly: Within three years, Manhattan's real-estate market was booming and speculators descended. When the city tried to up the price to $9,000, Restuccia, working with a tenants'-rights group, helped mobilize the opposition and won. He had learned the power of saying "no" long ago.
The anti-Lirio contingent on the board knew to anticipate criticism that its nostalgic proclamations amounted to nothing more than NIMBYism. "Not in My Backyard" is a shorthand for community obstinance to housing that typically conjures white wealthy boomer homeowners railing against the impact of a new building on their vegetable gardens. (A Twitter user once referred to CB4 as the "parking lot protection brigade.") Chris LeBron, a millennial board member and former State Assembly candidate who grew up in a rent-stabilized apartment in Hell's Kitchen, and who reminded me that he is Puerto Rican, says he rejects critics who "use heavy words like NIMBYism against a working-class minority community." He also cited the high level of supportive and homeless housing in Hell's Kitchen already compared to other neighborhoods: "These are sensible people. We're not, like, a Park Slope crew."
Still, the word NIMBY made it into the room. "Everyone seems to be saying that they are not NIMBY, but all of the opposition sounded quite NIMBYish," a young neighbor named Aisha, who said she had lived in the neighborhood with her husband since college, said when it was her turn to speak over Zoom. "One building for the unhoused is not going to change the character of the neighborhood." She was not alone. "Sometimes it sounds like CB4 is doing what I would gently describe as 'cartoon-villain shit,' you know?" one newer board member said to me recently about the meeting. "Opposing supportive-housing units — it sounds ridiculous."
The battle lines on the board were drawn this past March over Zoom, when members of CB4 voted to refuse the city's plans for the Lirio unless substantial changes were made. Their demands included that only 25 percent of apartments be designated for the lowest-income residents. The vote was not unanimous, however; seven members voted to oppose the board's requests.
In the months since the city had begun the Uniform Land Use Review Procedure rezoning process, a new group of young clean-cut faces began to appear at hearings in support of the Lirio. They were members of New York's YIMBY group, Open New York, a collection of 20- and 30-something technocratic-leaning housing activists, urban planners, policy wonks, and at least one landlord. Focused on increasing housing supply — both market rate and affordable — YIMBYs ("Yes in My Backyard") tend to view any objections to housing as a disguise for NIMBYism: "Ultimately, there are no conditions that will please housing opponents, because they don't want more housing to be built," Logan Phares, the organization's political director, tells me. YIMBYs have, in particular, taken aim at what they see as cabals of unelected affluent homeowners using arcane laws to stand in the way of desperately needed housing construction, which is why they saw the Lirio as a worthwhile battleground. "Something is clearly broken," Open New York's former executive director, a 29-year-old named Will Thomas, told the press, when "we're seeing opposition to a deeply affordable housing project that will replace a parking lot."
But the board, of course, only gets to say what it wants. It's the City Council that has the up-or-down vote, and follows the custom known as "member deference": The rest of the legislature almost always goes with the local representative's recommendation. For CB4, that councilmember is Erik Bottcher, the former chief of staff to Johnson and now his successor. Bottcher was in a difficult position. He simply could not vote against an affordable-housing project for formerly homeless HIV/AIDS survivors (especially because he too is a gay public official). But he also knew some members of CB4 would, as one member put it, "never forget it" if he didn't respect their position on the betrayal. So Bottcher and his staff exhausted themselves as go-betweens: They met with residents and the developer at the parking lot to go over brick samples, because the board had not liked the gray Hudson had chosen, for "continuity" reasons. They got HPD to change the height of the vaulted lobby that was deemed too "grand" for the neighborhood. At one point, Bottcher was trying to mollify the neighborhood with the prospect of a Trader Joe's in the Lirio's retail space.
In June, there was a last public-comment hearing on the Lirio. The meeting had the air of a battle royale, everyone brandishing their progressive bona fides to prove they knew what was best for the parking lot's future. A beloved drag performer named Ruby Rims appeared in a pink polka-dot bathrobe in support of Housing Works. Thomas from Open New York pointed out that more units and affordability could have been accommodated if zoning did not prohibit the building's height. ("I appreciate that the graduate from Regis High School and Wesleyan College, who was a member of his sailing team, is passing judgment on minority families and working-class folks," LeBron said to me later.) Restuccia scoffed at attempts to make the board seem unprogressive — "Like, excuse me! I'm gay. Hello" — and the way Housing Works marshaled Act Up founder Peter Staley to speak in favor of the Lirio at one meeting: "He had no idea what he was talking about. He lives upstate."
Privately, some board members wondered if their most passionate colleagues hadn't realized how much Hell's Kitchen has already changed. "I think the neighborhood is no longer as working class, as middle class, as Hispanic and POC as it used to be," the CB4 member who called the board "cartoon villains" mused to me. "And there are people clinging to that self-conception." Dale Corvino, a writer who has been a member for only five years, calls the board's resistance to the Lirio "NIMBY by process." "I respect their institutional memory," he says, "but I don't respect them demonizing the motives of the city agency to, you know, house poor people." A formerly unhoused employee of Housing Works put it this way in that September meeting: "It's a struggle to be middle class" in New York City, she said. "But can you imagine what it's like to not even be listed as a class?"
On July 28, the City Council's subcommittee on land use finally convened to vote on the Lirio. The required rezonings were officially approved, and the board had successfully made 40 percent of the building's units slightly less affordable. There would still be 67 units for formerly homeless residents, 59 intended for long-term survivors of HIV/AIDS, and Housing Works had committed to finding formerly homeless residents with "community ties." It was all a kind of anticlimax — so many hours spent on just over 100 apartments.
"A drop of a drop in the bucket of what we need," Bottcher told me by phone the next day, sounding tired. I asked him if he thought all the work he did to placate the board would pay off during the next battle. There would be another review coming up for a second city site that came out of Hudson Yards. It had a small population of feral cats that the board said must be cared for before development could begin. He laughed and said "no."
Another megaproject is looming on the West Side. The Penn Station redevelopment will transform the dank underworld of Midtown West's transit hub, adding ten towers (mostly office space — 18 million square feet of it), some apartments, and a hotel. The plans, jointly announced by Governor Kathy Hochul and Mayor Eric Adams in July, will use a "tax-increment financing"–style package, also known as "self-financing" — in essence, huge tax breaks and massive public spending — similar to the one that enabled Hudson Yards.
Here is how that "self-financing" went in reality at Hudson Yards. Developers did not even start paying their deeply discounted PILOT (payment in lieu of taxes) amounts to the city until 2015. In the meantime, New York City, on the hook for the project's debt, supported Hudson Yards with payments adding up to $359 million. "Self-financing" was really taxpayer financing: Bridget Fisher, a researcher at the New School with the Schwartz Center for Economic Policy Analysis, estimates that the unexpected costs of Hudson Yards to New Yorkers amount to about $2.2 billion. Related Companies' $1 billion 99-year lease on the platform atop the Hudson rail yards was supposed to transform the MTA, and it has not. The shiny new 7-train station leaked rain as soon as it was completed. There is yet another proposal for what will sit on the western half of the rail yards in place of a stadium: a casino.
The broad public benefit from the largest real-estate development in American history has not yet materialized. At Hudson Yards and with the megadeals like it that shape the city, "the government," Fisher says, "is partners with real estate. No matter what happens with your parks, no matter what happens with your affordable housing, that real estate deal is going to be paid off." Our housing emergency — and the fights breaking out over the scraps — is a policy choice, and a cursory walk around New York reveals it undeniably: There are not enough places to live, we hear — but look up and it's towers and more towers.
To seal the Penn Station deal, the same players from the Lirio's 13-year epic are reassembling in a new formation. Corey Johnson is now consulting for the developer on the project. Joe Restuccia, CB4, and Erik Bottcher will meet with city officials to see what the neighborhood can get out of negotiations. The project could cost as much as $20 billion. After the announcement of the deal, Governor Hochul proudly said the complex will include up to 1,800 units of housing — including hundreds of affordable ones.