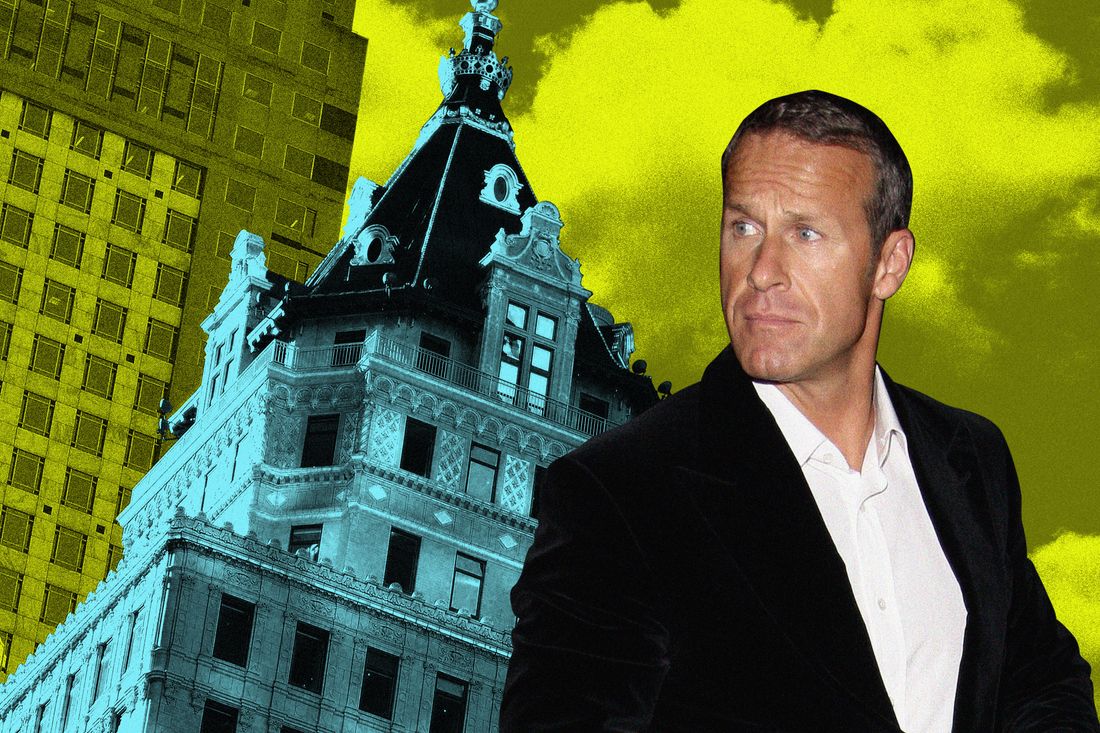 Photo-Illustration: Curbed; Photos: Alamy, Getty
This article was featured in One Great Story, New York's reading recommendation newsletter. Sign up here to get it nightly.
To a degree unusual even by the standards of Manhattan development, the opening of Aman New York — perhaps the most anticipated new hotel here in the last quarter-century — has been shadowed by scandal, discord, and death.
The project, led by the Soviet-born billionaire Vladislav Doronin, is the first outpost in the city of Aman Resorts. Based in Switzerland, with properties in Asia, Africa, Europe, the Caribbean, and the western U.S., Aman has long occupied the zenith of luxury travel, offering sui generis experiences in exotic, secluded locales: coastal Vietnam, the mountains of Bhutan, Moroccan olive groves, the pinewoods of southwestern Turkey. With nightly rates that can exceed $4,000, the resorts are principally characterized by an otherworldly beauty that arises from pairing unsullied landscapes with exquisite minimalist design. They emphasize tranquillity, peace, and (inevitably) wellness. But Aman New York was conceived in conflict.
From its inception, it was to be a departure: an urban Aman. The company looked for a suitable location for a decade before settling in 2015 on the Crown Building, the iconic Art Deco spire at the corner of Fifth Avenue and 57th Street. That April, Doronin partnered with the New York builder Michael Shvo to pay roughly $500 million for the top-20 floors. They planned to convert the lower portion of the tower into an Aman hotel and the upper floors into Aman Residences condos. By the time of the purchase, Aman had opened two other locations in cities: Venice and Tokyo. Both proved successful, chastening skeptics who doubted that the brand's je ne sais quoi would translate to a concrete environment. The New York property, however, faced impediments that only partially had to do with location.
Doronin was fighting for control of the company with his partner, an American businessman named Omar Amanat, with whom he had acquired the brand for $358 million just a year earlier, in 2014. He'd also had friction with Aman's Indonesian founder, Adrian Zecha, a revered figure in the hospitality industry. On a third front, a year after signing the Crown Building deal, Shvo was charged with tax evasion for falsifying records related to his art and car collections. According to The Real Deal, Shvo withdrew as co-developer of Aman New York and was required to get written permission from Doronin to visit the sales office. (In 2018, Shvo pleaded guilty to tax fraud, agreeing to pay $3.5 million in restitution.)
Despite the fracas, the Aman condos appeared to sell well: An Asian buyer contracted to purchase the five-story, 12,536-square-foot penthouse — sheltered beneath the Crown's copper-green, gold-accented pinnacle with godlike views of Central Park — for $180 million. Two units beneath it, listed for $72 million and $73 million, went into contract, too, and the hotel was scheduled to open in 2020.
That plan was, of course, obliterated by the pandemic. Work fell far behind schedule. In February 2021, a laborer died after falling through an improperly installed chute. According to the nonprofit publication Documented, by April of this year, the Aman site had prompted at least 34 Department of Buildings summonses for safety violations. The identity of the deceased worker remains publicly unknown. But last year, Gilbane Inc., a company involved in hiring his direct employer—a subcontractor known as Labor Innovations—was among the most accident-prone builders in the city.
As the hotel's opening was pushed further and further into the future, Doronin — who made his fortune in Moscow real estate — began to face uncomfortable questions about the precise origins of his wealth. They burbled up partly in response to his aggressive expansion. Since Doronin took control, Aman resorts have multiplied around the world. He also launched a slightly lower-brow sister brand, Janu — pursuing a strategy that can seem to dilute Aman's DNA by making common what was once rare. This past spring, Doronin spent $76.2 million on a parcel in Aspen, Colorado, for a planned resort. Russia's invasion of Ukraine prompted harsh words in the local press, and one Aspen Times columnist referred to him as an "oligarch." Doronin sued, alleging libel and defamation, and swaths of the ski town turned against him. (The suit was settled.)
In New York, protesters gathered outside the Crown Building to demand to know Doronin's stance on the war. In a statement, Doronin condemned the conflict ("I denounce the aggression of Russia on Ukraine and fervently wish for peace"), and he has since sought to distance himself from his homeland. Doronin has pointed out that he was born in what was then called Leningrad, in the USSR, and while he spent much of his life in modern Russia, he has never been a citizen of that country. The Colorado lawsuit noted that since 1992, he has held only a Swedish passport.
It was a pronounced shift from years past, when Doronin — fit, stylish, granite-jawed, with a taste for megayachts and supermodels — did not seem to object to being referred to in the press as "the Russian James Bond" or even "the Russian Donald Trump." (Doronin has a Miami-based real-estate company called OKO Group, "око" being Old Russian for "eye.") But it was also fitting for a man who has become the face of a brand as closely associated as any with itinerant global wealth.
In the luxury-hotel industry, Aman had been in a category of its own almost since its first location, known as Amanpuri, opened in 1988 in Phuket, Thailand. In Sanskrit, Aman means "peace," and the resort eschewed customary features in favor of Zen simplicity. There were no televisions at Amanpuri, nor elevators, reception desks, or mini-bars. No press release announced its opening, and for the most part, the hotel's founder, Adrian Zecha, relied for publicity on his network of well-heeled friends.
Sean Penn and Michael J. Fox recuperated at Amanpuri during breaks from filming the 1989 Vietnam movie Casualties of War — early adopters in a celebrity fan base that would come to include Bill Gates, Mark Zuckerberg, Novak Djokovic, and Rita Wilson. Instead of more familiar luxury trappings, Aman emphasized serenity, privacy, and service that has been described as "telepathic." Zecha spent an extravagant $125,000 per room to build Amanpuri, and subsequent Aman hotels around the globe were similarly exquisite but costly. "He was more of a designer and visionary than a businessman," says Catherine Heald, the owner of Remote Lands, a high-end travel service, which does a lot of business with Aman. "That's why he would bring in investors. And when you have to bring in investors, you lose control."
To acquire Aman, Doronin and Amanat had to outmaneuver several high-dollar suitors, including Blackstone, the Carlyle Group, and LVMH. Crucial to the deal was an understanding between Amanat and Zecha. "I told him I supported his vision," Amanat told Fortune. "I wanted to grow and nurture this company for a lifetime … in a way that doesn't degrade the brand."
But once the deal was consummated, Doronin and Amanat fell out almost immediately, after the latter failed to contribute his share of a $30 million deposit. Bruising recriminations followed. In a New York lawsuit, Doronin called Amanat a "serial swindler." Amanat claimed that Doronin told him, "If I feel you tried to screw me, I will hunt you down and shoot you" — an allegation Doronin denied. In a witness statement in a London court, Zecha said that at an April 2014 board meeting, he was intimidated into stepping down as CEO and was later prevented from entering his own office. (Doronin insisted Zecha resigned voluntarily.) In 2016, judges in New York and London ruled for Doronin, consolidating his control of the company.
In an unrelated trial, in 2017, Amanat was convicted in federal court of wire fraud and conspiracy and sentenced to five years in prison — a coda that seemed to bolster Doronin's version of events. But another lawsuit, which was filed in Miami in 2018 and has since been settled, complicated the picture. In the complaint, Nader Tavakoli, a restructuring expert who served as an adviser on the Aman acquisition, accused Doronin of "a secret intention to be the face and exclusive owner of Aman, which was fundamentally inconsistent with having Amanat, Zecha, or Tavakoli involved." Tavakoli had been promised a role with Aman plus generous compensation. Instead, he alleged, Doronin engaged in complex subterfuge to cut him out. When Tavakoli tried to stop him, the suit said, Doronin resorted to "threats and intimidation, including threats of bodily harm."
Tavakoli also claimed that Doronin, to emphasize his disdain for those ejected from the deal, "tossed three dollars onto the conference table to show this was all they would ever receive."
Doronin has avoided the press for most of his career, and until recently, his most notable online presence was a handful of bizarre YouTube videos. These include Vlad's Qigong Journey, in which Doronin — shirtless, ripped — breaks a marble slab over his head; a candlelit interview in Russian with a blonde female anchor, the vibe of which suggests nothing so much as late-night Cinemax; and a 2010 Oprah segment, in which Doronin smiles bashfully from the audience at the day's guest, his then-girlfriend Naomi Campbell. Since acquiring Aman, he has embarked on a campaign of stage-managed profiles and Q&As. "I have nothing to hide, so why not say the truth," he told the Evening Standard in 2015.
Doronin was born in 1962. As a child, he visited the State Hermitage Museum with his mother, where he admired works by the Russian avant-garde — the kernel for an art collection that would eventually include Dali, Picasso, Warhol, and Basquiat. In 1985, after graduating from Moscow State University, Doronin moved to Geneva. "I had $250 in my pocket," he once told GQ. "The whole point for me was to travel. I wanted to see everything."
Doronin got an M.B.A. and took a job as a commodities trader with the disgraced American financier Marc Rich, who had fled to Switzerland after being indicted in the U.S. for tax evasion, racketeering, and fraud. Doronin, an ambitious young Russian speaker, would have been useful to Rich. As the late journalist Paul Klebnikov reported in his book The Godfather of the Kremlin, about the oligarch Boris Berezovsky, it was around this time that "Soviet business became a key part of Rich's $30 billion global trading volume." By cultivating relationships with Communist Party bosses — likely with healthy bribes — Rich was able to buy commodities at artificially depressed prices and sell them on the global market at perhaps five or ten times his cost.
Speaking to the New York Post in 2001, Klebnikov described how Rich schooled up-and-coming Russians on the fine points of arbitrage. "Marc Rich ended up being a mentor to all these young kids who came out of the Communist Party Establishment and who made billions," he said. (Klebnikov was murdered in Moscow in 2004 in an attack widely regarded as retribution for his reporting on corruption.)
In a 2016 interview with Forbes Russia, Doronin fondly recalled his own relationship with Rich: "He was a brilliant man, 'iron,' not at all emotional, not sentimental, but we developed friendly relations." The pair skied together in Switzerland. "When I worked in his company, I brought in a good income. He helped me with advice, contacts, helped me become who I am now, taught me business."
In 1991, Doronin returned to Russia and founded his first company, Capital Group, which began as a kind of satellite of Rich's firm trading oil and metals. The following year with two associates, Eduard Berman and Pavel Te, he bought a factory in Moscow and converted it into office space for a local branch of IBM. The project was successful, and Berman and Te became partners in Capital Group, which refocused on real estate. In the wake of Soviet collapse, opportunities were abundant for the bold and the well funded. But in the absence of a functional banking system, getting projects off the ground could be challenging. For more than a decade, until 2004, Rich financed Capital Group's work. (Rich received a presidential pardon in 2001, but never returned to the U.S. He died in 2013.)
According to people who knew him during those years, Doronin made an effective CEO, increasingly fluent in business norms of both East and West. "Vision and personality and being able to execute — rarely do you find all those qualities in one person," says Darrell Stanaford, a managing director for the Moscow office of CBRE at the time, about Doronin.
In Moscow, Doronin became close with the mayor, Yuri Luzhkov, who ran the city from 1992 until 2010, overseeing a building boom and a flurry of modernization that made him popular. Luzhkov also presided over rampant corruption: a crony network parallel to the kleptocratic circle that materialized around the Kremlin. A 2010 State Department cable published by WikiLeaks said that "Luzhkov used criminal money to support his rise to power and has been involved with bribes and deals regarding lucrative construction contracts throughout Moscow." Succeeding as a developer often required off-the-books payments to public officials. Stanaford adds, "Luzhkov got rich by approving deals for land leases. That's how business was done." (A spokesperson for Doronin says that he "and Capital Group have always adhered to the highest standard of corporate compliance and ethics. Neither he, nor the company, have ever engaged in corrupt practices.")
One of the mayor's highest priorities was the Moscow International Business Center, a gleaming new financial district, and Doronin became one of the project's leading developers. His company completed City of Capitals, a pair of mixed-use skyscrapers, and OKO Tower, a complex that briefly included the tallest structure in Europe. "They managed to acquire nice land plots," says Denis Sokolov, a former Cushman & Wakefield partner in Moscow. "We don't know how they did that. Of course, we know that they are tied to government. You can imagine their connections."
Doronin stood out among the first generation of post-Soviet real-estate magnates for his worldliness and professionalism. A developer who did business with Capital Group recalls, "He comes the first day, bangs his fist on the table, and says, 'My name is Vladislav. Russian or English?' Most people wouldn't do that. They would just speak Russian and expect you to understand." Early Moscow skyscrapers were often shoddy, but Doronin engaged competent builders and elite architects, including Zaha Hadid. And unlike some in his line of work, he refrained from shakedowns. "Nobody was demanding kickbacks at Capital Group," Stanaford says.
Russia's 2014 invasion of Crimea soured international interest in the Moscow International Business Center, which is now occupied largely by government agencies and state-owned companies. (One notable exception is the ruling family of Syria. According to a Global Witness investigation, between 2013 and 2019, close relatives of the Assads acquired 17 City of Capitals properties — valued at about $40 million.) In 2013, Doronin, bearish on Moscow, stepped down as chairman of Capital Group. In the Aspen "oligarch" lawsuit, Doronin's lawyers claimed that he divested entirely from Capital Group between 2013 and 2014: "Since then, Mr. Doronin has not conducted any business in Russia and is no longer associated with Capital Group."
But those assertions are complicated by an array of evidence. In 2016, Doronin told Forbes Russia that he, Berman, and Te "make strategic decisions together and jointly manage the company." Later that year, speaking to the Russian newspaper Vedomosti, Te, who replaced him as chairman, said that "there were no changes in the composition of the company's shareholders." Documents filed with the Russian state register of legal entities as of June 2021 identify Doronin as a one-third owner of Capital Group Development LLC, which Doronin's spokesperson says is a "separate entity" reserved for "the remaining low-value legacy assets." (Doronin's team recently told The Real Deal he was also referring to this separate LLC in the 2016 Forbes Russia interview.) And until at least last summer, the website of Doronin's American company, OKO Group, featured Capital Group projects.
An exhibit filed in a June 2021 court proceeding in Florida appears to show links between OKO and Capital Group through holding companies in Cyprus and the British Virgin Islands. The exhibit also highlights the fact that Gavril Yushvaev, a billionaire ex-convict who derived part of his fortune from the mob-dominated casino business, invested about $300 million in OKO Tower. Among the achievements listed on the LinkedIn profile of Capital Group's investment director, Mikhail Lagranskiy, are the acquisitions of the Crown Building and Aman Resorts.
Aman New York's long-deferred debut inspired more feverish impatience than any Manhattan hotel in recent memory. The property appeared, prematurely, on Condé Nast Traveler's rundown of the "hottest hotel openings of spring 2021," while Travel + Leisure advised readers to "mark your calendars." Town & Country wrote simply: "Aman junkies, rejoice." Among Aman New York's most-talked-about features was a members-only club. But so fierce was the competition for reservations in the run-up to the hotel's opening that despite a $200,000 initiation fee and $15,000 annual dues, founding members reportedly had difficulty booking a room.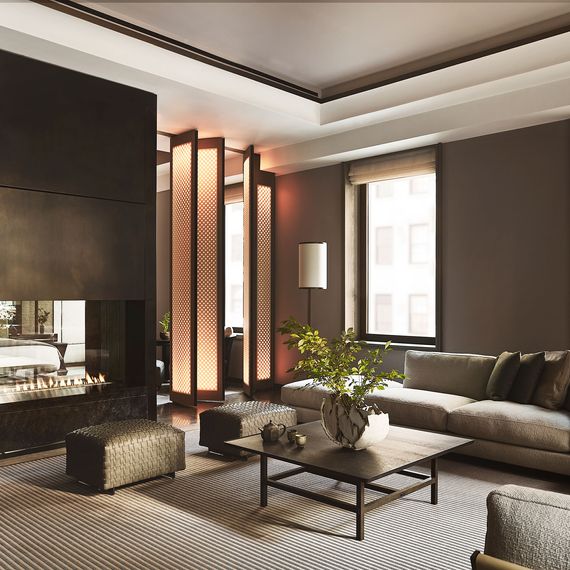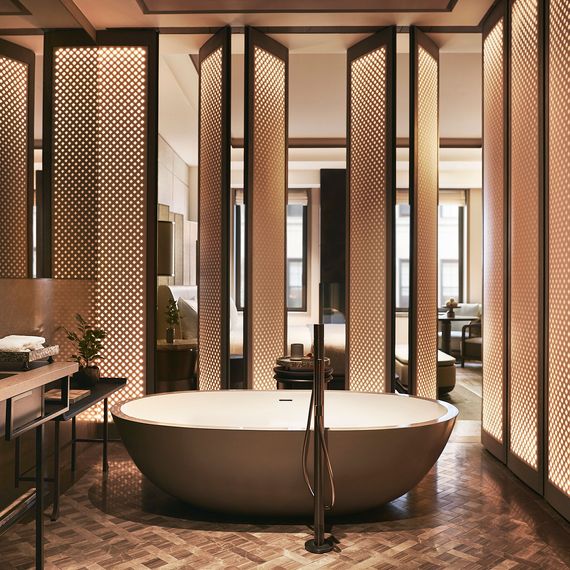 The hotel is part of an increased focus on urban locations that Doronin has pursued since acquiring the brand. Other city properties under development include Aman condos in Tokyo and resorts in Beverly Hills and Miami Beach. Many view this as a smart play. "Aman Tokyo is filled in the afternoon," says Heald, the travel adviser. "If you're in Bhutan, there are no locals who can afford to have lunch or dinner there — apart from the royal family. When they open in Beverly Hills, in Miami, it's going to be the cool place." In Miami, Doronin is partnered with Len Blavatnik, a post-Soviet magnate who got rich on the privatization of state-owned oil and aluminum and is now the majority owner of Warner Music Group.
Doronin's management of Aman has been characterized by an emphasis on maximizing occupancy rates and expansion into virtually every imaginable hospitality niche. "The guy is a strong, focused, hard-core real-estate businessman," says the architect Jean-Michel Gathy, who designed Aman New York and has worked on more than 15 Amans since the 1980s. There are private jet tours whisking guests, for example, from New York to Wyoming and from China to Sri Lanka. Yacht expeditions travel through Indonesian seas, and a soaring shopping pavilion now stands at the original Aman in Thailand. Doronin's girlfriend, Kristina Romanova, a 29-year-old model with whom he has two children, is CEO of the retail line Aman Essentials. Aman products include candles ($84), fragrances ($286), and purifying ocean face mist ($101).
Marc Milgram, an American investor and businessman, has visited more than a dozen Amans since 2007. "The service levels are exceptional," he says. "Three or four years ago, we stayed in Tokyo. It was just fabulous. Because of that, I see the New York facility being outrageously successful. I think it will be oasislike." Another devotee, the celebrity divorce lawyer Robert Stephan Cohen (Melinda Gates, Rupert Murdoch), says, "The Aman Resorts are as good as it gets. The staff is spectacular, and the architecture — the beauty of it!" He praised the clairvoyant-seeming service. "To people who are usually traveling themselves and being very much in control of the details, it was as if we were controlling the details."
But a portion of the fan base remains leery of the new ownership. Hao Tang, a luxury-travel adviser who also helps to sell Aman residences, says, "Old-school Aman junkies who've been traveling there since the '80s, who are used to the legacy ethos — it's difficult for them to adjust to the current landscape," in which Aman, no longer an in-group secret, can sometimes seem like just another brand. A 2018 thread on the FlyerTalk Forums, where jet-setters trade rumors and reviews, about the Aman in Montenegro described overcrowding, broken glass in the pool, and a wasp infestation. "It may as well be under the management of Sheraton or Doubletree," one commenter opined. Even Tang, a self-described Aman junkie, says that a recent trip to the Aman in Turks and Caicos was subpar. "I had a horrific experience with the service," he says. "Things you expect from Aman, they just didn't deliver."
For the spendiest travelers, service hiccups may be less of a concern than the possibility that Aman is no longer unique. "They got diluted," says one veteran travel-industry observer. "They started opening in places where you'd be like: Why open an Aman there? They kind of lost the plot. I don't think they have an identity."
That doesn't mean, of course, that Aman won't generate big profits. "You are losing part of your guests, but you gain others," says Gathy, the architect. "The world today requires you to be a little bit more commercialized. Maybe it's not as pretty, but it makes money."
Aman New York opened, at long last, in August. "It was extremely stressful," Gathy says, describing a stream of pandemic-necessitated change orders. "'Jean-Michel, please choose all new fabric. Please, Jean-Michel, choose all new chairs.' Lights. Hardwares. Hundreds of things!" Doronin, he told Robb Report last year, is a stickler. "He comments on everything. He's extremely analytical. He will comment on the wood, the fabric, the number of seats, the plates. Everything."
There has been grumbling among Aman acolytes that the New York property is not quite what they expected — one horrified patron told Airmail that an indoor swimming area resembled a "municipal pool" — but bookings have been brisk. The hotel has 83 units; the smallest rooms that guests can book, at 745 square feet, are more spacious than some competitors' suites. (An Aman New York corner suite can be had for about $15,000.) Each has a gas fireplace, oak floors, and Japanese-style screens. Bathrooms are a highlight, as is the 25,000-square-foot, three-story spa: plunge pools, Turkish hammam and Russian banya experiences, cryotherapy.
Gathy predicts that Aman New York will be an accommodation of choice for travelers with unlimited expense accounts. Mayor Eric Adams's presence at a launch party lent the event an air of near-civic significance. "Coming out of the pandemic, to have the ultimate hotel brand opening here is very exciting," Heald says. "It's something New York can really use right now."
A press release about the opening skillfully emphasized certain elements of history — Crown Building factoids, wellness-friendly bits of Sanskrit — while eliding others. A recitation of Aman's founding narrative omitted Zecha's name. In a typically bland statement, Doronin spoke of "an entirely new concept" for the city that "propels the brand forward." In early September, Aman said it was exploring a deal to sell its stake in the Crown Building for as much as $600 million while continuing on as the hotel's operator — an approach that a spokesperson said "maximizes funds and releases capital to drive the business forward and secure new exceptional locations for its portfolio."
Timothy Fenwick, an English businessman and former partner at the global real-estate company Jones Lang LaSalle, worked with Doronin in Russia in the 1990s. "He was trying to learn from the West," Fenwick says. "In the West, I hope, it's usually fairly clear what is right and what is wrong, what is honest and what is dishonest. 'This is yours,' or 'This is mine.' But actually, in Moscow, that wasn't always very clear." He adds of Doronin, "He's a clever guy, and he's taken some risks. There were some very nasty people in Moscow in those days. Vlad wasn't one of them. I wouldn't guarantee that he's never done something he shouldn't have. But that probably goes for all of us, to varying degrees."
Correction: The year that Doronin resigned as chairman of Capital Group has been changed.