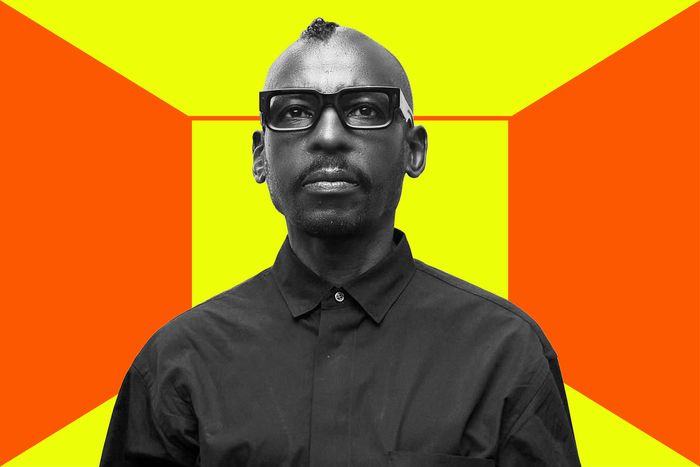 Photo-Illustration: Curbed; Photo: Karsten Staiger
New York's "21 Questions" is back with an eye on creative New Yorkers. Mario Gooden is the new president of the Architectural League, a professor at Columbia, and a founding member of the Black Reconstruction Collective, a non-profit which supports Black spatial practices. His architecture firm, Mario Gooden Studio, is currently working on the Jeh Vincent Johnson ALANA Cultural Center at Vassar College; the Woodson African American Museum in St. Petersburg, Florida; and the Churchill House at Brown University.
Name: Mario Gooden
Age: 56
Neighborhood: Chelsea
Occupation: Architect
What's hanging above your couch?
Nothing. I have a pair of sofas that float in the middle of the living room. There's a window behind one with views of the Hudson River; behind the other is my library.
What's the first job you had in New York? 
I was a summer intern for Charlie Gwathmey at Gwathmey Siegel in 1987. At the time, Charlie was working on houses for all three for the partners of DreamWorks SKG. He recently finished the Steven Spielberg barn, but I got to do some drawings for an iteration of a house for David Geffen and plans for a house for Jeffrey Katzenberg.
What color are you always drawn to? 
I wear quite a bit of black, as most architects do. But I'm drawn to light blues whenever I mix in some color. I attended Catholic school growing up and our uniforms were navy blue and light blue, so that may have something to do with it.
What work of art or artifact are you most surprised you own?
I've managed to hold on to a poster of Zaha Hadid's entry to the Peak Competition, a concept for a private club in Hong Kong, which made her famous. It's a nice reminder from when I worked for her and there were only six of us in her office. It's still in the original frame I put it in 30 years ago, and has moved everywhere with me, including to Gainesville, Florida, and South Carolina.
Which New Yorker would you want to hang out with?
I'd like to walk through the city with a younger version of Paul Auster. I devoured his books when I moved to New York in the '80s. The New York Trilogy are my favorite ones, and I was drawn to them because they're somewhat existential and about language and space. He seemed to me to be the quintessential New Yorker.
What's the last thing you made with your hands?
I'm always curating the artwork in my apartment, moving things around trying to find wall space for a new piece. Recently, I made a bracket so I could cantilever a photograph from James Welling in front of a curtain that hides a storage closet in my foyer.
Is there one thing you own multiple versions of?
I've held on to several generations of Macintosh computers. Since I started my firm 25 years ago, it has always been a Mac office. I don't have the original 128K, but I have a Macintosh II in its original box, a Mac SE, and a Mac Plus. They don't work anymore, but I keep them as design objects.
What New York City museum do you always go back to?
The Whitney, because of proximity. I'm not the biggest fan of the new building, but the exhibitions are really good.
What do you always have next to your computer? 
I hate to keep talking about books, but it would be a stack of books. Right now it's Nitasha Tamar Sharma's Hawai'i Is My Haven, Rinaldo Walcott's The Long Emancipation: Moving Toward Black Freedom, and Isabel Wilkerson's Caste and The Warmth of Other Suns.
Where is the best view of the city?
I think I have the best view. I'm on the 21st floor and can see south to the Freedom Tower and the Statue of Liberty and west to the Hudson River. During late summer and fall, the sunsets are great.
What building or object do you want to redesign every time you see it?
At ground level, Hudson Yards doesn't acknowledge the city or meet its urban patterns, and the first two towers that were built have too many architectural clichés. I want to redesign the whole thing so it is no longer a neoliberal enclave of wealth and privilege.
What's one thing you would change about your field? 
I want architecture to change so it is not seen, and does not operate, as a profession of privilege. There are exceptions, but you usually have to have family money in order to do well in architecture. It takes a lot of work to dislodge patriarchy and privilege, and decenter whiteness. I have wanted to be an architect since I was a child exploring architecture books in my small county library in South Carolina, never doubting that I could inhabit the spaces I saw on those pages. But that's not the case for so many Black boys and girls; they're not encouraged to think or believe that they belong in those spaces.
If you could live anywhere in New York City, where would it be?
I moved to Chelsea in 1991, a year after I finished graduate school, before the galleries and on the eve of gays arriving. It's no longer the same, but I wouldn't want to live anyplace else. I love being able to walk out on a Saturday and see art, which is something I often do with my good friend Joel Sanders.
What would you hoard, if it stopped being produced?
Black Uniqlo T-shirts. They're my go-to.
What do you do to get out of a creative rut? 
I like getting into the zone where I'm drawing or sketching and things just flow. I'll usually turn on Philip Glass or Flying Lotus.
Where was your first NYC apartment and how much was the rent? 
The International House, on Riverside Drive. I'm not sure you could really call it an apartment though; it was a bit like a dormitory.
Where in the city do you go to be alone?
Hudson River Park. It's become crowded during COVID, but there's a little gravel sitting garden near Perry Street that overlooks the running path where it's quiet and nice to be alone. I enjoy sitting there with a book on a Sunday afternoon.
Worst piece of career advice you've ever gotten? 
A partner in an architecture firm I worked in early in my time in New York told me something like, "I don't know if you're cut out for this."
What have you given away to someone that you wish you could get back? 
When I first started teaching at the University of Florida in the mid-'90s, I lent students books from my personal library and there are a few I never got back. They were out of print — like the first El Croquis on the work of Enric Miralles — but I managed to replace them over the years.
What's your favorite NYC restaurant and regular order? 
I go to Empire Diner almost every Sunday for late brunch, right before they stop serving at 4 p.m. I'll order an omelet with avocado and mushrooms, French fries, and a Bloody Mary.
What descriptive phrase do you want on your obit headline?
"A little Black boy from Orangeburg, South Carolina."