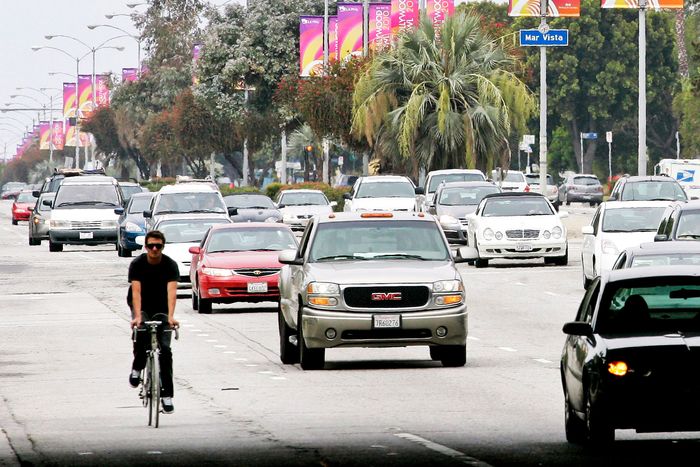 A cyclist rides next to cars along Venice Boulevard in Los Angeles.
Photo: Jonathan Alcorn/Bloomberg via Getty Images
At the far end of a parking lot in Oceanside, California, the fog off the Pacific still thick in the afternoon air, I stood gripping the handlebars of a fancy road bike and waited for my cue. About 50 yards away, a cluster of automotive designers, software engineers, bike manufacturers, and journalists looked on, eating energy bars, drinking bottled water, and nonchalantly watching me as I prepared to cheat death. My instructions were simple: ride directly into the path of an oncoming car, a black SUV I could see approaching to my right. As I pedaled to meet it, an alert similar to the one a phone displays to announce a text appeared on the little computer mounted to my handlebars. This was my notice that a vehicle, ostensibly one that would hit me, was approaching. In the SUV, the driver received a similar alert; a pleasant-sounding chime rang out as a bright-yellow bike icon flashed on the instrument panel with an arrow signaling the direction I was heading in. All of this happened in a matter of seconds — my noticing the driver, the driver noticing me. With the car now a few yards away, I cringed slightly and kept pedaling as the driver stopped. I had survived. Experiment over. After I finished my trial, I was swarmed with questions from the gallery of observers: Could I see the notification when I was biking? What about in the car, did I like the sound of the chime? Would a haptic prompt work better?
"The future of bike safety" was how Audi had described this gathering held as part of a multiday press event* for its new Q4 e-tron, an electric SUV the company is rolling out to considerable fanfare for its next model year. While some reporters took the vehicles themselves on test-drives up the Southern California coast, a handful of us rode laps around them to test how Audi's proposed onboard tech might protect cyclists and reduce the likelihood of a deadly crash.
Such crashes are too common, but thankfully they're preventable, says Anupam Malhotra, Audi's senior director of connected services (a department dedicated to how a car communicates with everything around it). Drivers don't want to hit cyclists, he says; rather, these incidents are often the result of sudden encounters that couldn't have been anticipated. "When we talk to drivers that are in these accident situations," he says, "they tell us one thing and one thing only: I didn't see the cyclist." (This is, in fact, exactly what a driver said to me three years ago after he drove into me while I was riding a bike in downtown Los Angeles, bouncing me off the hood of his sedan: Sorry, I didn't see you.)
That's where the ping comes in. It uses a system called C-V2X, or cellular vehicle-to-everything, which lets vehicles tap into a dedicated, industry-standard radio frequency to communicate with just about anything, from streetlights to rail crossings to bike computers, as long as the "everything" has a corresponding beacon installed. The team behind the project is well credentialed in this field: Qualcomm, which has already installed similar technology throughout China, is building the network; bicycle manufacturer BMC plans to incorporate it into its frames; and a bike-safety start-up called Spoke is developing the software platform plus a whole range of aftermarket accessories. C-V2X is designed to "help us with the scourge that we have in U.S. society today with these deaths," says Malhotra. With the widespread adoption of such systems, Audi believes cyclists will more confidently share the streets with cars. Peace on the road at last.
Like all traffic deaths, cyclist deaths spiked over the past two years, yet the rising number of fatalities isn't solely attributable to the pandemic's bike and car booms. About 1,000 cyclists are killed and 130,000 cyclists injured each year on U.S. roads, up 40 percent from a decade ago, numbers many experts say are due to the industrywide trend of making larger vehicles. Those statistics are personal for Spoke's chief operating officer, Reid Sigety, whose father-in-law was hit by a driver while biking and later died from his injuries. Even though he was riding in a roundabout — a piece of infrastructure designed to slow drivers down — it make no difference, Sigety says: The driver said she didn't see the cyclist. "It really woke me up," Sigety told me. "If you could just help people see each other, you could really do something different. And that's what we've done."
Audi's focus on communication can make these fatal crashes sound like a simple matter of misunderstanding. No reckless driving behaviors or bad street design is mentioned in most of what's said over the course of these presentations, just unhappy surprises on the road. But C-V2X acts more like a suggestion than an intervention: Unlike the pedestrian-detection systems standard on some vehicles, spotting a cyclist in the path of the car won't actually bring it to a stop. The feature also does nothing to reduce a driver's speed, the No. 1 factor in whether a collision will be fatal. And when the vehicle is turned off, C-V2X doesn't help at all with drivers opening their doors into bike lanes, which cyclists know is the most common way to come into unwelcome contact with a car. Audi says it may address some of these issues using existing driver-assist features. "At this point, it's just a warning. It still counts on the driver to make the right decision," says Malhotra. "The natural next step is that we already have the systems, like Pre-Sense, that react for you if you don't react." Starting in 2024, the cars the company sells to the European market will be required to have speed limiters that could automatically control how fast a car goes. There's no rollout date to make such a feature standard in the U.S., which you may guess, is very politically unpopular.
But the biggest issue with this kind of tech, according to Peter Norton, an associate professor in the engineering department at the University of Virginia and author of the book Autonorama: The Illusory Promise of High-Tech Driving, is that it treats cyclists as anomalies on the street rather than a standard part of a daily commute: "This is a technology that implicitly says streets are for cars and if you're not a car, we need to equip you for this car-world of the future." It's the latest example of a phenomenon Norton calls "risk compensation": Basically, the very features that are supposed to make driving safer — lane assist, backup cameras — also become an excuse for a driver to pay less attention.
Audi is not alone in this approach. Much of the innovation and investment in this corner of the industry, an often uneasy alliance between auto manufacturers and cyclists, puts the onus on riders to be seen rather than on the building of cars (and roads) that are less deadly. Volvo wanted to put sensors in a helmet, while Ford announced an app that uses Bluetooth to alert drivers to the presence of pedestrians and cyclists — provided, of course, that those pedestrians and cyclists have the corresponding app installed on their phones.
This is the other side of whatever new supposedly lifesaving car-based tech comes along: You need a new phone, or three new apps, or a new gadget for it to work. Audi, for its part, hopes that in addition to drivers who want to buy its latest models, cyclists will also get out there and buy a bike, a bike computer, or even a bike light that works with its technology; a basic beacon-enabled bike light that syncs with a phone may cost anywhere from $200 to $300.
According to Malhotra, by the time this feature is standard, which could happen on some Audi models by 2025, it will be able to communicate with 5 million vehicle-connected devices on U.S. roads and 60 million devices by the end of the decade, all broadcasting their whereabouts in an effort to avoid collisions. That's great. But getting to a point where these beacons are commonplace enough to potentially prevent crashes requires the broad adoption of C-V2X, meaning a critical mass of drivers are buying new cars and a critical mass of cyclists are buying new bikes (or at least bike accessories). Handing out free beacon-integrated bike lights to vulnerable road users like kids riding to school, as well as making the technology standard for bike-share systems, e-scooters, delivery bikes, and even mobility devices like wheelchairs, seem like low-hanging fruit. But this too would take years.
Even then, these systems would be only half-steps to road safety. The real way forward, Norton says, is to make investments where they can really count: namely, slowing vehicles way down and redesigning streetscapes to make walking and biking more safe and convenient. "If we do all these things at the same time, we reduce the need for any kind of alert to drivers who are not paying attention," he explains, "because in a well-designed urban or suburban environment, they know their attention is required."
This is what has happened in many European cities (and, closer to home, in Hoboken) that have virtually eradicated not just cyclist deaths but all traffic deaths by physically changing the streets in a way that makes vulnerable road users more visible — without using technological tools. When I raise the issue of road design with Spoke's Sigety — an automotive-industry veteran who worked for years on infotainment systems in addition to being an avid cyclist himself — he says he's not necessarily against bike infrastructure. "I'm all for separating bike lanes," he says. "I'm all for that. But how long does that take?"
There's nothing wrong with a "both-and" approach to street safety. It just seems like most of what's being offered right now, including C-V2X, operates on the assumption that cars rule the roads. Alerting individual drivers with a cheerful chime that they're on the brink of vehicular manslaughter is a narrow way to try to "fix" a problem as serious as the soaring number of traffic fatalities in the U.S. I thought about this as the demonstration wrapped up and I followed a few people riding their bikes down to the ocean. Surfers with boards tucked under their arms, moms pedaling toddlers in electric cargo bikes, and teens popping wheelies on BMX bikes rode in a continuous stream along the sand. No one had little computers on their handlebars. I couldn't hear any pings of alert chiming from the windows of passing cars. But it still felt safe: This beach path, a piece of infrastructure dedicated to bikes, not only provided a stress-free separate route, it acted as a different kind of beacon, luring in cyclists assured they would be visible simply owing to sheer numbers. I'd call it the future of bike safety — just not the kind Audi is designing for.
*Audi paid for my trip to the demonstration.