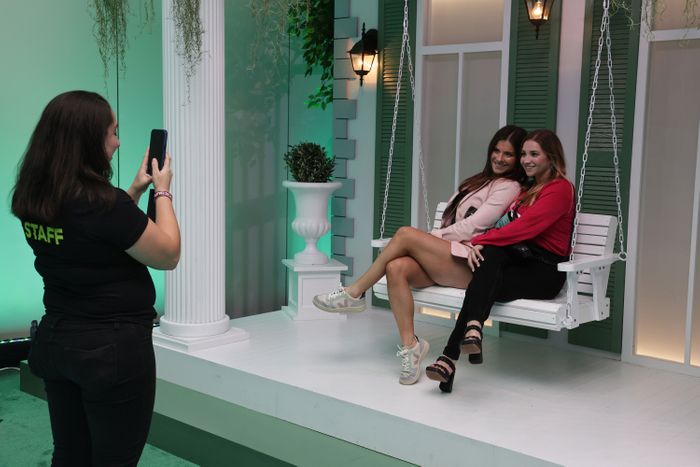 Photo: Todd Williamson/Bravo
The jewel-toned seating in the fake bar being built by a group of stressed-out-looking contractors was meant to emulate the living room of a Berkshires country home owned by one of the Real Housewives of New York. (The very house where she had once yelled that she tried to "make it nice" for her fellow cast members when they did not properly appreciate her Christmas decorations.) Workers in another room were hanging a swing on the porch of a scaled-down façade of a Charleston mansion draped with fake Spanish moss so that a person could pretend to be a cast member of Bravo's Southern Charm and sit there while making up after a fight at a dog wedding. Back near the fake bar, one of several being built inside the cavernous expanse of the Javits Center, a pair of union carpenters were hammering away at a fake hot tub, the kind that guests and yacht workers get very drunk in on Below Deck, a show about yachts. Did they know why they were building a hot tub, I asked? "No, we just know it's a hot tub," one responded.
On the eve of BravoCon, hundreds of workers had been assembled to obsessively re-create the sets of the network's pantheon of reality shows: deck chairs in front of the unmistakable clapboard of Summer House, a pair of outdoor bathtubs straight out of the Arizona spa where the Real Housewives of Salt Lake City fought and splashed each other in the face. That any of this — there were 30 such "experiences" in total — was taking place in New York City seemed almost incidental. Thousands of people had spent upward of $2,000 to spend the weekend inside their televisions, and BravoCon intended to deliver.
By morning, gone were the carpenters and electricians, and in their place were lines of some 12,000 people snaking outside the entrance on 11th Avenue. (A production staff member told me that they had streamed in on the escalators with tears running down their faces.) Attendees traveled between panels featuring the reality stars and photo-ops; a bazaar where you could buy stars' memoirs, silk eye masks, and immunity drops; and "immersive experiences" where you could carry a tray like a waitress from Vanderpump Rules. The lines were long; at one point, waiting to get into a panel of the Real Housewives of Beverly Hills, attendees rushed through security and filled the makeshift auditorium over capacity. Outraged special VIPs staged a sit-in in the front row. ("I paid for this ticket with inflation," I heard one woman say.)
A teacher named Melissa from Westchester had taken the day off to come to BravoCon. She was wearing fishnet stockings, a pink miniskirt, a pig nose and ears, and a pink T-shirt that said "Slut Pig," a reference to an insult delivered on The Real Housewives of Beverly Hills. She showed me photos on her phone of how she had made her own "glam room" inspired by Real Housewife of New York Dorinda Medley's, and a collection of magazine covers featuring Real Housewives in which she had added herself as a cutout figure. She didn't really like Manhattan. "I obviously drove here," she said. "The city has gotten kind of scary."
"I hate New York," Shep Rose, a cast member on Southern Charm, the show about young-ish people in Charleston having parties, gossiping, and dating, told me in one of the "SVIP" lounges where guests could eat a sandwich and mingle more closely with the Bravolebrities. "It brings out the worst version of me." (Shep is a known party guy and commitment-phobe.) His colleague on the show, Austen Kroll, said he actually loves New York and is in fact opening a restaurant in the West Village, which will serve "elevated peanut butter and jellies and tuna casserole."
All the reality stars were staying at the Gansevoort in the Meatpacking District, where I met Karen Huger, a Real Housewife of Potomac (Maryland), best known by her nickname, the "Grand Dame." She was getting ready for the night's big event at the Hammerstein Ballroom, where all 144 Bravo stars would be on one stage. Huger's event-planner-slash-assistant Porshea was flat ironing Huger's wig, Victoria. Huger, who has a candle and fragrance line, had brought approximately 900 candles, gift sets, and perfumes to BravoCon. "For me, this is all about my business," she said. Even Huger hadn't really been able to leave the Javits–to-Gansevoort pipeline during her trip, having eaten two dinners the night before (one sushi, one wagyu beef) in her hotel.
Outside the Gansevoort, a group of girls in a uniform of black leather jackets told me they had traveled from a tiny town in Ontario, Canada, to go to BravoCon. I asked them if they were planning on doing any other sightseeing in the city; they said they had started on the Highline before they heard that Housewives were at the Gansevoort and rushed over. "This is sightseeing," one of them exclaimed as another sprinter van of Bravo stars showed up. "What else is there to see?"