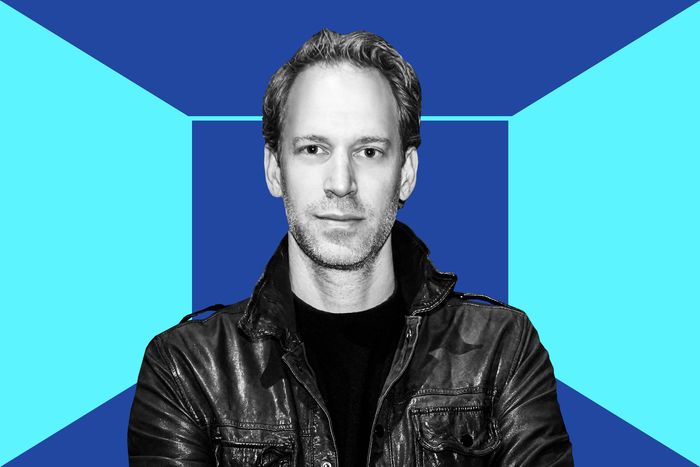 Photo-Illustration: Curbed; Photo: Drew Dockser
To David Korins — the Emmy Award–winning creative director of over 20 Broadway shows, including Hamilton and Dear Evan Hansen — a good set doesn't give too much away. "The performers and the script are going to tell the story, so instead, I speak to a subtler narrative," Korins says. The surreal haunted house in Korins's latest production, Beetlejuice, isn't exactly what you'd call subtle, but the set is filled with small Easter eggs that pay homage to Tim Burton, like a painting of the Vermont town where the 1988 film was shot. "Right from the very beginning, we make a visual pact with the audience that they are in good hands," Korins says. 
Name: David Korins
Age: 46
Neighborhood: Upper West Side
Occupation: Creative Director
What's hanging above your couch?
I'm just beginning to work on an oil painting that I plan to hang behind my couch, so right now, it's empty space.
What's the first job you had in New York? 
I was an associate designer and studio assistant working five days a week for different people — building models, drafting, and helping them put together shows. The first production I worked on was the Off–Off Broadway production of Fully Committed. I was in charge of painting the whole show.
What color are you always drawn to? 
High-gloss black is the sexiest, deepest, richest, most extraordinary color.
What work of art or artifact are you most surprised you own?
A 200-year-old original hand-drawn sketch-slash-plan Alexander Hamilton made, with a quill and ink, for the design of his personal garden. It's the only known sketch he ever did. I originally put it behind museum glass and bought a beautiful easel to display it. Then I learned more about historical documents and how moisture and sunlight can damage them, so I actually have it stored at the bottom of a closet where there is no moisture and no sunlight.
Which New Yorker would you want to hang out with?
My daughters, who are 13 and 17, are my favorite people and they're New Yorkers, so I'll go with them.
What's the last thing you made with your hands?
I'm making sculptures out of Swarovski crystals and was playing around with them last night on my dining-room table. Years ago, I worked on a big project that had a tremendous amount of crystals, so I acquired many, many, many crystals in all sorts of shapes and sizes.
Is there one thing you own multiple versions of?
I have around seven hourglasses and the coolest one is about three feet tall and from the 1950s. They're a pain in the butt to dust, but they're beautiful. I'm drawn to how the shape and the material determine the hourglass's duration. Like, the biggest ones don't take as long to count down as the smaller ones.
What New York City museum do you always go back to? 
MoMA. I had a really beautiful experience there with my daughter Stella when she was in preschool. We went to the Jackson Pollock room and saw three Japanese women who were all probably 80 years old just crying. Stella went up to them and asked, "Are you okay?" and a woman said, "We've been waiting our whole lives to come to this room." I thought, Oh, this is the reason why you raise kids in New York — so that in 12 minutes you can be in this room.
What do you always have next to your computer?
I never use my computer; I'm an iPad guy. But there tends to be a printer and a cup of coffee next to it.
Where is the best view of the city?
My living-room window. I can see Riverside Park, the Hudson River, and a whole lot of sky. It's not a true quote, unquote, city view, but it's lovely.
What building or object do you want to redesign every time you see it?
JFK. You want travel hubs to be aspirational, not things that reek of failure. Your first and last memory when you come into the country should be of a beautiful thing.
What's one thing you would change about your field? 
The lack of understanding about the process of creating something in collaboration. Too many people with large platforms and responsibilities in the industry don't realize what the act of active creation is, how long it takes, and the costs involved.
If you could live anywhere in New York City, where would it be?
I love my apartment right now. That said, I do covet those amazing apartments in the Greenwich Village and West Village areas. I'm definitely downtown curious.
What would you hoard if it stopped being produced?
Incandescent light bulbs.
What do you do to get out of a creative rut? 
I go on a run, take a shower, or take a trip.
Where was your first NYC apartment and how much was the rent? 
It was a Tenement-style fourth-floor walk-up on East 12th between Avenue A and B. I shared it with a roommate, and we each paid $800. This was in 1999, and I remember it being kind of dangerous in the area. In the ten years I lived in the East Village, it became a shopping mall.
Where in the city do you go to be alone?
Riverside Park. I love the proximity to my house and how it's a beautiful slice of green.
Worst piece of career advice you've ever gotten? 
"No one will see it. It doesn't matter." In making live events, we focus on the infinitesimal details. Not everyone will see everything, but there's always at least one person that notices everything — like the choice of a doorknob — and inevitably, you'll hear from them.
What have you given away to someone that you wish you could get back? 
My unwavering love and attention.
What's your favorite NYC restaurant and regular order? 
You can't really go wrong with the fries at Balthazar.
What descriptive phrase do you want on your obit headline?
Beloved father.