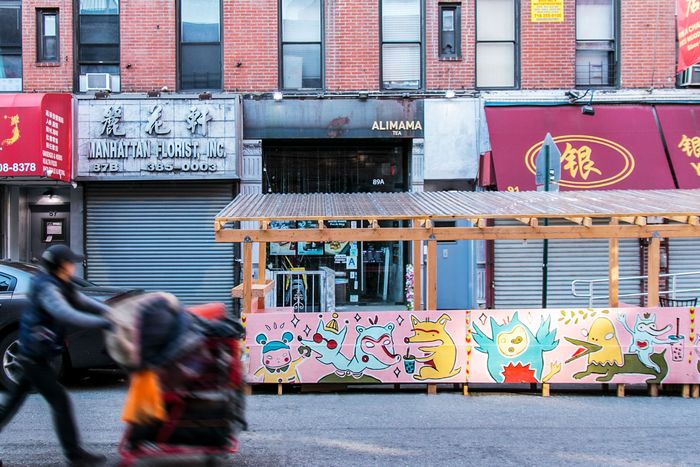 Photo: Trudy Giordano and A+A+A
They've been repainted, reinforced, moved around, and sliced in half. But through three summers and nearly three winters, the nine outdoor-dining structures built through Assembly for Chinatown — a pro bono collaboration between the nonprofit arts group Think!Chinatown and the design studio A+A+A — have (mostly) endured. Some have even become community fixtures. The butter-yellow structure painted with a koi pond shared between the tea and housewares store Grand Tea Imports and the restaurant Delight Wong has hosted wedding receptions, retail pop-ups, and art shows in the two years since it was installed. "It's been a very well-loved space," says Alice Liu, whose family owns Grand Tea Imports.
A lot of ire has been directed at outdoor-dining sheds — for their run-down appearance, for being a magnet for drunk bros, for becoming rat havens — but those constructed through Assembly for Chinatown have avoided some of these pitfalls. This is because the program's goal isn't just to get streeteries built or beautify them; it's to support the entire life cycle of each shed based on what local businesses need, even if it means helping to dismantle them. What began in July 2020 as a lifeline for Chinatown's small businesses amid the first COVID-19 wave and worsening anti-Asian sentiment has evolved into a hyperlocal example of how consistent support and resources can make the city's outdoor-dining program more responsible, more sustainable, and more of an amenity for an entire neighborhood.
While some restaurants had tens of thousands of dollars to spend on professional streeteries, most small businesses in the city, including those in Chinatown, didn't have that kind of cash to burn. "We saw higher-end restaurants really taking advantage of the program, and our neighborhood was struggling with it," says Yin Kong, the director and co-founder of Think!Chinatown. Those challenges, Kong explains, were not only financial but had to do with the physical characteristics of Chinatown — the narrow streets, the packed sidewalks, near-constant deliveries, ferocious fights over parking, and keeping the streets accessible for seniors trying to get around. On top of all that was how difficult it was for "the mom-and-pops that aren't even on social media" to navigate the evolving rules and regulations, Kong says.
In the summer of 2020, during the first wave of rapid-fire construction around the city, Think!Chinatown and A+A+A began asking restaurants in the neighborhood if they needed any support with outdoor dining. Janie Wang, the owner of the Bayard Street dessert shop Alimama Tea, had built her own streetery for $1,000 but wanted a sturdier and larger structure for diners since her 300-square-foot café had transitioned to takeout only. Since Alimama has a narrow storefront, Think!Chinatown negotiated with the neighboring rice-roll restaurant Yin Ji Chang Fen to put up a shared streetery. Sweet Moment, a dessert shop on Mott Street, asked for a mural to beautify its simple plywood enclosure, and the Assembly for Chinatown team recruited a local artist to deck it out with a mural of smiling cartoon dogs and cats done up in bright orange and purple paint. The first "season" of outdoor dining, as the Assembly team refers to that era, was more experimental. For 388 Deli Cafe, a takeout restaurant on Eldridge Street that pivoted to window service due to health concerns, the designers developed a compact three-seat counter that would sit flush with the storefront so it was easy for the owners to manage.
As the restaurants and designers saw how people actually used the dining sheds, A+A+A adapted the structures. Sweet House, another Bayard Street dessert café, originally wanted a movable structure that could be secured at night, so A+A+A incorporated casters. When it turned out that drivers and delivery workers moved the streetery around whenever they wanted to, the designers removed the wheels. Cars making a right turn from Mulberry onto Bayard kept hitting Alimama Tea's streetery, so the designers narrowed the structure and installed a jersey barrier on the end closest to the corner, which cut down on collisions.
When the first summer passed into the second, it was clear that most streeteries had not been built to withstand cold weather, let alone an accidental run-in with a snow plow. Think!Chinatown and A+A+A were again on deck for what they call "season two" of streeteries: winterizing and reinforcing the structures. "It started with 'How are we going to keep people warm?' But then it became looking at it more from the angle of 'Are businesses going to want to use these spaces in the winter?" says Ariana Deane, a designer for the collective. "We were at this phase where it's less addressing an emergency and more about longevity." They focused on improving the structures that they had already built instead of adding more to the neighborhood because it was, by then, so saturated with outdoor sheds. Instead of fully enclosing them, A+A+A added clear plastic pergolas that would let enough light into the structure while protecting diners from rain. They also tweaked the sheds to ensure they were following DOT guidelines, which were finally beginning to be enforced. When Alimama Tea received a warning for not having reflective tape on the street-facing side of its shed (which would have resulted in a $1,500 fine), A+A+A swiftly installed some.
Assembly for Chinatown's structures are now in "season three," which, in the twilight of the emergency program, has meant preparing the businesses for the permanent outdoor dining phase. DOT hasn't released any new rules yet since lawsuits, one of which was recently dismissed, have halted work on the program. But since none of the emergency-program structures will be grandfathered in, all restaurants will have to apply (and pay a fee) to participate. To that end, A+A+A has been compiling documentation to make sure Chinatown's business owners can file all the required paperwork when the time comes. For some, this chapter means the end of their streetery runs. The Assembly team works with them on this process as well, since disassembling and carting away construction waste is expensive and time-consuming (thus the blight of abandoned streeteries around the city). "It's meaningful for us to not leave people we've worked with holding the bag," Deane says. In August, Grand Tea Imports and Delight Wong decided to dismantle their streetery after the number of homeless people using it as a shelter increased from two or three to groups of ten who used it as a toilet. Assembly's contractors, Chaos Built, swiftly disassembled the streetery. It also helped Royal Seafood, a banquet hall, take down its shed. When Alimama Tea's neighbor no longer wanted to continue outdoor dining, A+A+A reduced the size of the shared streetery for the café to use solo. Alimama owner Janie Wang is happy to keep her side of the structure going and would like to apply for the permanent program as soon as she can. "It's a better atmosphere, when you have more people on the streets," she says.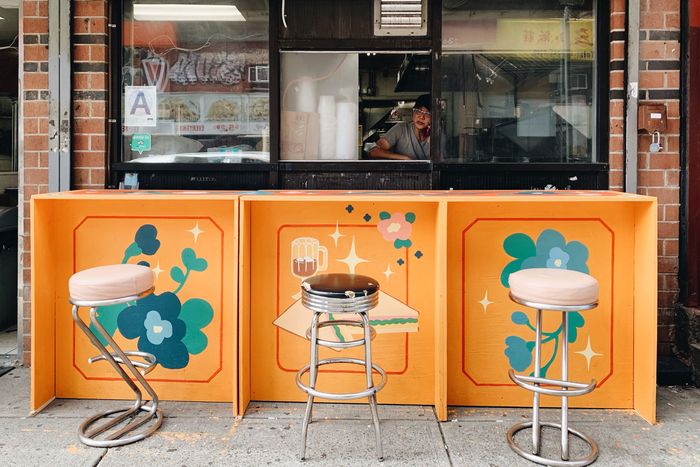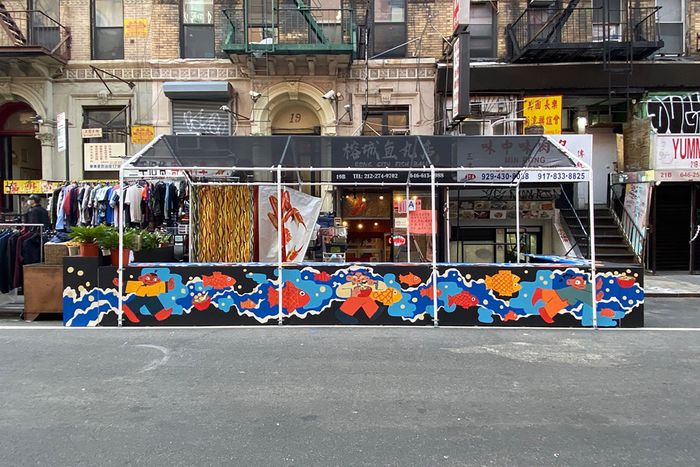 For some shopkeepers like Liu, the spirit of mutual aid that propelled these structures was as important as their contribution to her business doing well. While she started out as a recipient of a streetery from Assembly for Chinatown, she now leads community engagement for the program. This involves going storefront to storefront talking to local business owners about the support they need and figuring out how she can help. "We hear a bunch of other challenges — like marketing or finding another source of revenue — and what their dreams are for their business," she says. Liu relays this information to A+A+A, which has members who speak with DOT about what the permanent outdoor dining program ought to look like. Their advice? To work with local nonprofits or neighborhood groups that can help facilitate the program. This is their own takeaway from working on Assembly for Chinatown: that even in the same neighborhood, each site has specific needs and requires customized guidance. It's a big leap from their thinking in 2020, when the program had just begun and the designers thought they could create a guidebook that could be distributed to businesses. But as Ashley Kuo, a designer at A+A+A, says, "There isn't a blanket design solution, and so the rules can't be the same." Deane adds that this would help ensure the permanent program is more equitable and "not just going to benefit neighborhoods with really well-organized BIDs."