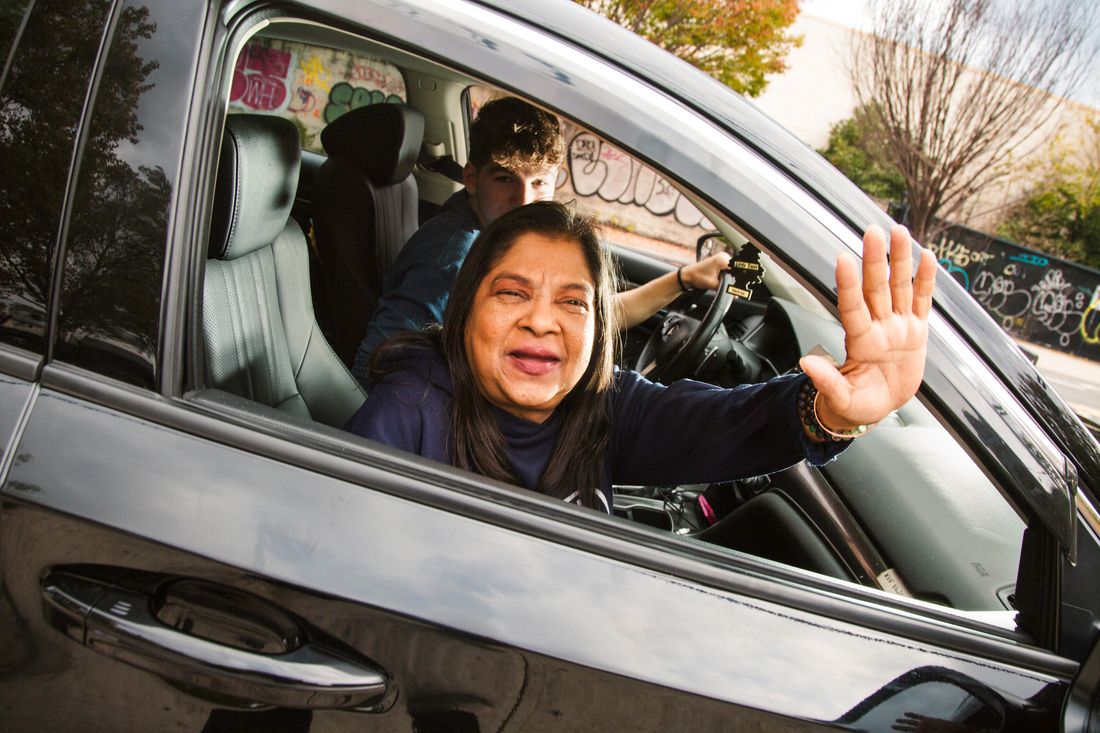 On a recent Thursday afternoon at the corner of 86th and Park, a 2021 Honda Accord is idling, kneepadded with bumper guards. Contained inside, barely, is a compact Guyanese woman of 60 with a hasty slash of pink lipstick wearing a Calvin Klein sweatshirt. This is Shanti Gooljar, and this is her fief. Shanti (she refers to herself by first name only, so I must too) has, over the past two decades, virtually cornered the market on driving instruction for the city's teen elite, commanding a privileged swath that stretches from Brearley and Spence on the East Side to Heschel and Columbia Prep on the West and north to Fieldston and Horace Mann. "I got them all locked down," Shanti says.
It's a truth often honked that Manhattan kids are the only ones in the nation who don't learn to drive by default. The subway goes everywhere, partner-hours parents are too busy, and instead of a nearby Walmart parking lot to practice in, there is parallel parking. But especially for teens raised by nannies and prodded into academic success by tutors, outsourcing is always an option. Shanti got to be the prep-school go-to by accident. She'd been teaching for a decade when around 2005 she happened to get a student from Trinity. "That girl gave the whole Trinity class my phone number," she says. "And my phone started blowing up." In the years since, Shanti's name has been passed from friend to friend. "Learning how to drive in New York City is a rite of passage," Serena Kerrigan, a Fieldston grad turned social-media personality, tells me. "But only if you use Shanti."
Shanti owns the Empire State Driving School, at which she employs a handful of other instructors, but she is the one many students demand. Sometimes their prominent parents make the call, sometimes the parents' assistants, and sometimes the nannies, but mostly the kids reach out themselves to set up two-hour lessons (Shanti does not believe in less) at $200 each. To hire her is to be in the know and to pay for the best, though her rates are not much higher than her competitors'. "I'm Shanti!" she tells me. "I could get $200 an hour. But I wouldn't do that. I don't want to be greedy." (A shrewd self-promoter, she insisted that ESDS's number appear in this article, and here it is: 212-706-1078.)
Shanti seems to know everyone who is anyone but can't yet drive, and she doesn't mind a little gossip. "Do you know Hamish Bowles?" she asks as soon as I slide into her driver's seat. "Do you know he wrote an article about me in Vogue magazine? I have the article." (It's in the trunk, and it's from 2013.)
But to really know Shanti, I had to learn from Shanti. I too grew up in Manhattan and could use the lesson. Once we're on the road, Shanti slips off her shoes and directs me to drive to a Dunkin' on 122nd Street for her afternoon coffee. She is eagle-eyed in her own rearview mirror, ready with her own brake, and unstinting with her salty wisdom. Yellow lights must be raced through when possible or you risk a rear-ending. Turns are to be rolled into gracefully — you never know who is crossing against the light, staring into their phone.
But a drive with Shanti is not only an education in the rules of the road; it is an immersion in the interconnected waterways of the elite. As she is happy to tell you, various offspring of the Chetrits and Ashkenazys (real-estate-development families), Katie Couric, Jerry Seinfeld, David Remnick, Lorne Michaels, and Rupert Murdoch and Wendi Deng have been through her car on the way to (and in some cases, when back from) Ivy and Ivy-adjacent colleges. Charley, niece of Kenneth Cole, is the one who got Shanti on TikTok (@shantiontheroad) and filmed her first video; Kerrigan commented, "The girls that get it, get it." Shanti's fleece jacket, a gift from a happy parent, is embroidered with the NBC News logo. "You know the Zuckers? He was CNN," she says. "His son, Andrew" — a Shanti alum — "went to Harvard. I got a lot of stuff from CNN …" She pauses dramatically. "Oh my God. As a matter of fact, I'm teaching one of the kids now. I forgot everything about him. I got an active Zucker right now!"
Shanti lives, as she has since immigrating to the U.S. at 11, in the Bronx. She graduated from (public) school there and met her husband, Vinny, there, and they raised two sons (who have since made their way to Connecticut and Florida). Her clients, meanwhile, disappear for the Bahamas over spring break and out of the country for Christmas. "Always to a different country," she says. "I know when is the right season and when is the wrong season, where they go and what they do. I'm used to it, you know."
We are tootling up Frederick Douglass, then over and around through Harlem, a route she often brings her students on. Some are astonished. "Shanti, where are we?" one asked recently, she reports. "I'm like, 'This is how the other half lives.' She'd never seen nothing like this. Isn't that something?" Stopped short at a light, she switches instantly from commentary to instruction. "Move up, baby. Move up, move up," she coaxes. "Stop. Clear? Turn. Turn again. Now gas." Then we are off and she is pleased. "That's my bitch!"
Her undiluted persona works for her students. "They think I'm a teenager like them," Shanti says. "That's why they love to be with me." She declines invitations to hang out or go to the Hamptons, but she does gossip with them, learning about romances and rivalries (Fieldston and Columbia Prep are apparently natural enemies). They tell her things they'd never tell their mothers. "If these walls could talk in this car, oh my God," she tells me. "You know who's getting high and who's not getting high and who's bisexual and who's not, who's paying money to get into Harvard, and shit like that." She has helped arrange setups and prom dates. She also just lends an ear: "The amount of times I have cried to this woman about things that had nothing to do with driving lol," someone commented on her TikTok.
But Shanti is not only a confidante and confessor; to hear her tell it, she offers a discreet competitive advantage, the sort of thing the wealthy love to buy. "All those driving schools, they can't put their foot in my shoes," she says. (She is not wearing shoes when she tells me this, for what it's worth.) "The people at the DMV in the Bronx love Shanti." I ask her to elaborate. "It's good when you know the examiners and they like you," she says. "And when they know the kind of clients that you bring. I get great respect from the examiner. I've been doing this for 30 years. And I've made such a name for myself that I don't advertise; my clients advertise me." She tells me that only two of her students this year have failed their road tests.
Recent days have been hard for Shanti. Vinny, her husband of 41 years, died suddenly in August; a laminated photo of him is tucked into the visor of the car. "My husband cherished the ground that I walked on," she says. "He loved me so much. He was gonna buy me a red Mustang and take me to Hawaii. And that motherfucker died on me." In the weeks since, Shanti has thrown herself into work; she averages five lessons a day for ten hours of driving. "There's nothing to go home and do," she says. "It's so sad when I go home." After all, it was Vinny who first taught her to drive 40 years ago. "But I didn't drive for a long time," she says, "until he bought me a fancy red Buick Skylark. Boy, did I fuck that car up." I express some surprise at this admission from a driving instructor, and Shanti fixes me with a stare: "Matt, you will get into an accident. You will hit your fucking car for no reason."
We have pulled back to 86th and Park; two hours is up. She leaps out of the car to fish from the trunk her dog-eared, decaying copy of Vogue with the Bowles article. "When it was all said and done, he never took his road test," she says. (Bowles confirms he remains unlicensed.) She doesn't say as much, but I suspect Shanti doesn't like this loose end. "Matt," she says, "when are we driving again?" Then she zips up Park, headed for Spence, where a student, whose financier father, a director emeritus of Lincoln Center and a trustee of NYU Langone, flipped Snapple for more than a billion dollars in the '90s, is waiting.