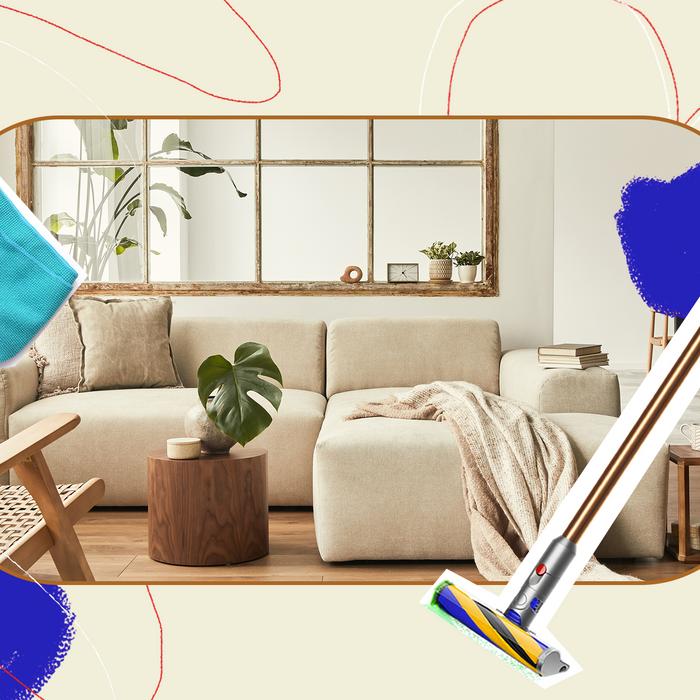 Sure, living in a big city like New York is the dream for many people. If you can make it there, you can make it anywhere, right? But when it comes to the reality of actually living in a city — meaning, the apartment of it all — there are some fun aspects you may not have thought about. Namely: grime.
If your city apartment seems to constantly be covered in a fine layer of dust, you're not alone. The combination of pollution in the air from traffic and the nearly constant debris from construction, along with old windows that may not fully seal makes it tough to ever have a space that's free of city grime, dust, and dirt.
However, there are some cleaning practices you can put into place to keep your small spaces as clean as possible, without having to move to the country any time soon.
Invest in a vacuum with advanced filtration
A good vacuum will be your best friend. Seriously. It's not just about vacuuming the floors and rugs, either — vacuums should be used on furniture and all those hard-to-reach spots around the house. It's important to find one that has an advanced filtration filter, like Dyson — Dyson vacuums feature whole machine filtration, including a post motor filter that is tested and proven to capture 99.97% of particles as small as 0.3 microns, expelling clean air. The Dyson V12 Detect Slim in particular is a standout for city dwellers because of the laser technology; the cleaner head projects a laser onto hard floors so you can see invisible dust. The hair-detangling Motorbar head picks up human and pet hair from all types of surfaces — think: couches, shag rugs, and pet beds. Plus, while sucking up 99.99% of fine dust, the vacuum expels cleaner air back out into your home.
Wash your bedding more than you think
Between sweat, skin cells, oils, and pet hair, your bed is more of a cesspool for grime than you might imagine. This can all provide a nice home for dust mites, cause skin irritation, or allergic reactions. At minimum, you should be washing your bedding once a week. If you live with a pet (and let them sleep on your bed), have sensitive skin, or sleep with a partner, washing your sheets every three to four days might be a better schedule for you. You can also use that handy Dyson vacuum to get into the crevices of your mattress. Plus, the V12 has an anti-tangle conical brush bar that picks up long hair and pet hair that may be sticking to your mattress.
Clean your baseboards and window sills
Baseboards and window sills are surfaces that love to collect dirt, especially if you leave your windows open often. Make it a habit to vacuum the baseboards and wipe down window sills on a weekly basis so this grime doesn't build up.
Use an air purifier
Alongside a vacuum like the Dyson V12 which expels clean air, an air purifier is a must for city dwellers. According to the United States Environmental Protection Agency (EPA), indoor air can be up to five times as polluted as outdoor air, and air purifiers with a HEPA filter (like those Dyson makes) can help filter out common pollutants like dust mites, pet dander, pollen, smoke, carbon monoxide, and nitrogen dioxide.
Dust your plants
Plants are great to have around the house for their natural ability to filter the air. However, their leaves can attract dust, which is both harmful to the plant (leaves are porous, after all) and can add dust to the air in your apartment. Dampen a soft washcloth and wipe down the leaves of all your plants every few days to make sure they're clean and happy.
Vacuum the corners of your ceilings
The corners of your ceilings may very well be hiding webs of hanging dust and lint that you wouldn't necessarily notice. Use your vacuum to suck up those webs and keep an eye out for when they start to build up again. The Dyson V12 weighs only 4.8 pounds, meaning it's easy to lift it up to get into those high corners. Most Dyson cordless vacuums can actually become a handheld by attaching a tool directly to the body. There's a crevice tool for air vents and corners, a combination tool for baseboards, and a soft dusting brush for plants and electronics.
Dust your ceiling fans regularly
The blades of ceiling fans are ripe for collecting dust, especially if you haven't turned on the fan for an entire season. Before flipping the switch and causing dust to come raining down on you, hop on a ladder and clean the blades and any nooks and crannies on the base.
Clean any air vents
If you have forced air or floor heating, you probably have a bunch of air ducts around the house. They likely haven't been cleaned in, um, a long time, meaning they could be collecting dust and lint underneath and then pushing it back out every time the air comes on. Take a moment to unscrew the vents and clean out any lingering junk.
Dust your electronics
Has the sun ever hit your TV screen at just the right angle, revealing a coating of dust? Electronics are one of those weird, unexpected things that collect a fine layer of dust on their surfaces — which you may not regularly notice. Make sure to wipe them down every few days with a disinfectant to make sure they're not secretly hanging on to grime.
This advertising content was produced in collaboration between Vox Creative and our sponsor, without involvement from Vox Media editorial staff.