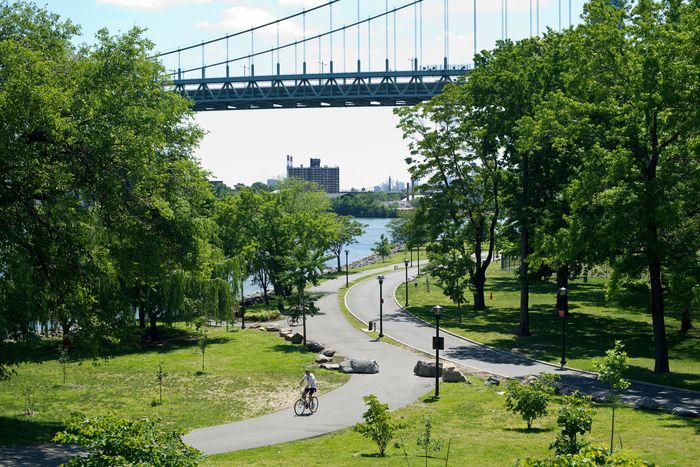 Photo: Frances Roberts/Alamy Stock Photo
Eric Adams scrapped his plan to house asylum seekers in tents on Orchard Beach, a spot in the Bronx that is virtually inaccessible via public transportation, after the parking lot flooded during the rains over the weekend. The mayor's new plan, he announced Monday, is to move the site to Randalls Island, another spot that is difficult to get to by public transportation and has sections that are at risk of flooding.
"This new location is less prone to flooding, is closer to public transportation, and will provide temporary respite to 500 asylum seekers," Adams said in a release, which noted that the new site is expected to open in a similar time frame. The Randalls Island site's capacity is half what it would have been in the Bronx — 500 people instead of 1,000.
At a City Council hearing last week, officials claimed that asylum seekers would only stay for up to 96 hours at the so-called Humanitarian Emergency Response and Relief Centers. Housing and immigration advocates have criticized the plan — for which the mayor used photos in a press release of rows of orange cots lined side by side under tents as an example of what the site could look like — as potentially violating New York's right-to-shelter law, which guarantees a shelter bed for anyone seeking one.
Critics of the plan have also pointed out that areas of Randalls Island are prone to flooding. (According to the city's flood-hazard mapper, sections of the island fall within the city's floodplain.) State Senator Julia Salazar tweeted, "Does anyone else remember that year at Governor's Ball on Randall's [sic] Island when a mere rainstorm completely flooded the island for days and destroyed the grounds?" (Attendees had to be evacuated from the festival in 2019 during a thunderstorm.)
While Randalls Island, a place that is mostly parkland and known for hosting music festivals, is more accessible by public transportation, it still takes a bus and a subway to get there. "On Randall's Island they'll be completely isolated and away from communities that can help them," State Senator Jessica Ramos tweeted on Monday. "This continues to be unacceptable. So much vacant commercial office space. Repurpose it for asylum seekers and our houseless families."