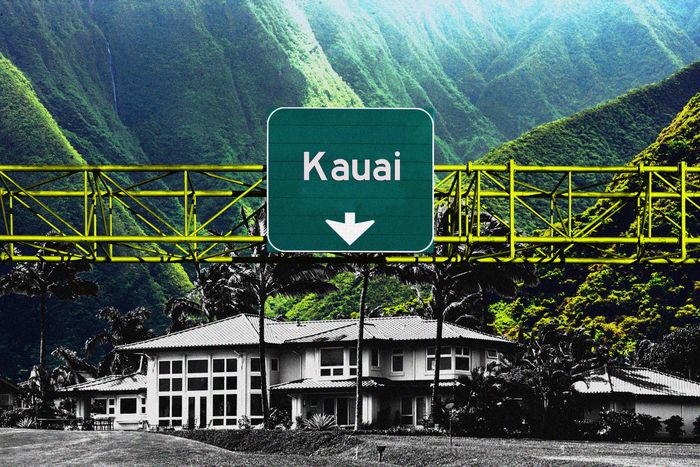 Photo-Illustration: Curbed; Photos: Getty Images
In this biweekly series, "Realtor Diaries," we hear from the people at the center of a wilder-than-ever market. Today, an hour-by-hour glimpse into the working world of a seasoned broker in Kauai, Hawaii.
9a.m. There's a six-hour time difference between Hawaii and New York. If you're a highly motivated realtor here, you get up early to work with East Coast clientele and then your California clientele. But then … there's me. I get up at nine, slowly drink coffee, and make my way to my home office. The best thing about real estate is that you're on your own clock. Things were absolutely crazy during COVID and now they're slow, but I always have at least six to 12 escrows at a time. People think realtors get paid a lot to do a little — and sometimes that's true. Other times it's like, Are you kidding me with all this work? 
10:30 a.m. All settled into my office at home. My house is pretty simple. It's situated on a one-mile street in the mountains, ten minutes from the beach, and the area is extremely hodgepodge. There's pastureland around, someone living in a bus, a family living in a yurt, a $3 million home on a hill, a couple horses on a field, and my very middle-class home, where I live with my wife. I am firmly entrenched in the middle class. I'm not a realtor to the stars, though I work with many of them. I sell multimillion-dollar homes to wealthy families and starter homes to locals, and everything in between. The common denominator for all of us who work here in real estate is the work ethic. I'm not beautiful. I don't have an amazing figure. I'm not charismatic. I'm not connected. But I go to work every day and I work hard. I moved here in the '80s with $200 in my pocket. My wife and I said we were going to stay until the money ran out. Then I got into real estate.
10:45a.m. I drink some of my gnarly home-brewed black tea (that no one else will drink but me because it's so caffeinated) and prepare a little for my closing. I represent the seller. She was challenging all the way. Pushback on just about everything. It was a bit frustrating, but today at the closing it all made sense to me. She finally said, "You know, this house was our family dream, and our life changed, and I'm just having a hard time letting that go." All I could do was say, "Of course you are." It's emotional. Hawaii is an emotional place.
12pm. Every day, noon sharp, I eat lunch. Today I get lunch from a Jamaican jerk truck and I eat it in my truck. That's my second office, my truck. It's honestly where everything happens.
One note about trucks. With all the tech money moving out here, the most notable thing that's changed are the vehicles you see in Kauai. They're much nicer now. It's all Teslas and huge pickup trucks. They all have California plates, maybe Texas. There must be a lot of overcompensating going on — because these are bigggg pickup trucks.
1p.m. I check the surf at my favorite beach, Intersections — it's tempting, but the tide is wrong, so pass. I always have my surfboard with me in my truck, so I can partake when the situation allows. I pivot and go buy a "Rolinda" and "Tamarind" fruit tree from a stand since I don't have those yet.
2p.m. Today I have to pay a neighbor off over a minor encroachment situation just to keep a deal on track and prevent anyone from getting upset. It's all legal, but it's also crazy. My boss always says, "We don't sell houses, we manage people's emotions." I've done everything under the sun to save a deal — bought refrigerators, built rock walls at the 11th hour — just to make sure everybody and everything is okay.
3 p.m. I'm happy to get an offer on one of my listings just now. At the moment, $5 million homes are selling, and $2 million homes are selling, but the $4 million properties are just sitting, and this is a $4 million home. There is no rhyme or reason as to why — real estate doesn't always make sense. Anyway, it's our first offer, so that's kind of cool. I'm not over-the-moon happy about it because it's not a slam dunk. But any offer is a good offer. This particular one just has some issues — it's contingent on them selling their house, and a few other things.
4 p.m. I show some locals a few "affordable properties," starting with a nondescript starter home with three bedrooms and one bath, and it needs a new roof — for $600,000. It's not on the beach but you're never far from a beach here.
The median price in Kauai is $2.3 million. It was $3.3 million for a while, but it's dropped post-COVID, I suspect. On the higher end, there are two homes for sale for $17.5 million right now — they'll likely go to techies. One is almost one acre oceanfront in sunny Poipu and is vacation rentable. The other is an 11,000-square-foot monster house on one-plus acre ocean bluff (it's been for sale for years). One is 5,000 square feet on eight acres and not even on the ocean, which means it's wildly overpriced. Then there's a $79 million parcel of land too, which is on 1,000 acres of wild, wooly headland and yet there's not one beach. I'd still buy it.
5 p.m. Get an interesting email regarding a closing I have in a couple weeks — I represent the buyers. It's up a valley in Hanapepe. One whole side is a rock cliff. It's the land that time forgot. You're, like, waiting for a dinosaur to come through the yard. The owner just sent over a few notes. Turns out, he has the most amazing collection of exotic, rare custard apple trees. Sweetsop, soursop — I mean, everything grows here, but this property has the most amazing fruit trees! I sold the house to a local family who dreamed of living here, on this particular property, for years and finally made it happen. It's a great feeling.
6 p.m. As I drive home from my showings, I think about the fact that Kauai is a true microcosm. We have homeless people and we have Mark Zuckerberg. And when it comes to Zuckerberg, there is definitely tension regarding all his purchases. You will constantly hear people saying that "it's not fair" or "my family is from here and we should be living there." And, sure, I get it. But, I also get that he's an easy target. My theory is, while I don't agree with a lot of what he represents, I would rather have him living there than a lot of other possibilities. At one point, his property was supposed to be a subdivision. Or, it could be another golf course. Or a gargantuan hotel. I'd rather he live there with his "intentions of doing good" than any of those options! He's also buying other large, amazing parcels to add to his portfolio, with the eye of conservation — I mean, that's what they all say, "conservation" — but maybe it's genuine. I mean, why would he poop in his own backyard? The compound he and his wife built is nice, but it's not crazy. It's not even on my favorite beach, personally. Larsen's. There's no surf. They've added lots of infrastructure. I think he wants to make it more like a meeting place for his crew — a nice place to cut loose, get inspired, and to strategize. Kauai is a very inspired and healing place. He just purchased another 962 acres, so … what can you do? If you don't like it, you still have to accept it. This is the reality.
There are always rumors about him. Someone recently told me she heard he was almost eaten by a shark. I'm not sure about that. I personally doubt his security detail would allow it. He has a crew of people on Jet Skis every time he goes out into the water, from what I've heard. He's not going out in the ocean to clear his mind alone.
6:30 p.m I'm having a call with a client from California from my truck. They want to know if people will like them here, if they'll make friends. I tell him: It's all about assimilation. You have to assimilate into the host's culture. You have to take time to get to know people. You have to give back. There's something called the Hawaii Foundation — they help wealthy people do their philanthropy. I suggest my client start talking to them.
7 p.m. I feed my horses. As I do, I laugh a little thinking about one wealthy client of mine. He and his wife don't have kids, and their cats were their lives. I sold him a property here, and when they moved, he chartered a jet to bring all his cats. I'm talking about a $70,000 private plane to move in with his cats. He also added on a cat room with its own surgical suite. And now they fly their favorite vet in to see the cats when there's a problem. But anyway, I remember they had the same strategy as I mentioned before to get accepted — when they moved here, they went straight to the humane society, and said, "What can we do to help? What's on your wishlist?"
8 p.m. My wife comes home from work. We ride our horses. We make dinner.
10 p.m. I'm a night owl and I like to work at night, so after dinner, I go back to my office to catch up on emails and work on my marketing. A work contact emails me and asks if I heard about a $45 million property that a technology billionaire was trying to buy up — she thinks he's from Uber. She said he was desperately trying to purchase the house, at any cost, but the seller wouldn't give it up. She's just curious if I know the scoop. I write back that I think she's talking about what was formerly called the Faye House that once belonged to Julia Roberts, but honestly I'm not sure. The homes and deals that go on in that realm are never officially on the market. It's very underground. It's not really my scene. I know I used to bass fish on the property of Jonathan Ive from Apple, and I once helped Pierce Brosnan buy a property without knowing who he was. I can find out anything I want on this island with one phone call, so I write, "Give me an hour!"