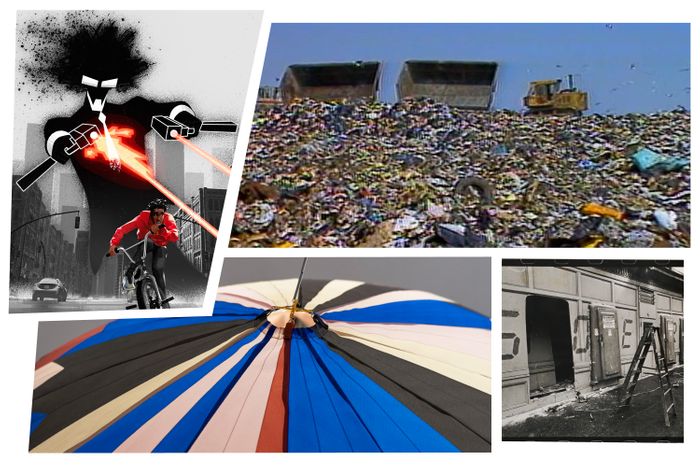 Photo: Netflix, Mierle Laderman Ukeles/Courtesy Ronald Feldman Gallery and the artist,, Andrea Molina Cuadro, Brooke Holm/Courtesy Emma Scully Gallery
The objects, designers, news, and events worth knowing about.
For 40 years, Storefront for Art and Architecture has asked New Yorkers to rethink what it means to build in, move through, and inhabit the city. Public Space in a Private Time, a new retrospective at Storefront's Kenmare Street gallery, looks back at ways that architects and artists working with the institution have tried to confront the city's infrastructure and public-space problems. As such, the exhibit includes photographs from a 1982 performance in which artist Teching Hseih lived outside for a full year and a 1992 installation that transformed the gallery's façade into five functional port-a-potties as a response to the dearth of public bathrooms — a still-urgent issue today. An illustration of an empty plinth on Liberty Island from Storefront's 1983 call for ideas to design a more resonant symbol of freedom and equality recalls recent images of vacant Confederate statue pedestals in Richmond, Virginia. The exhibition looks back on a cohort of activist artists and architects who resisted privatization, capitalism, and displacement; today, those very forces seem to define the neighborhood that Storefront has called home for decades, yet the institution has managed to hold on. Public Space in a Private Time, through December 17, shows us how to play the long game.
Designer Bec Brittain, known for her architectural pendants and LED light sculptures, recently became fascinated with NASA parachutes and their ability to withstand intense force in order to help astronauts safely descend to Earth. The parachutes are so delicate that you can see through the nylon fabric, yet they are capable of holding thousands of pounds. Her new collection Parachiphers, which opens on October 11 with a public reception at Emma Scully Gallery, riffs on the soft, pillowy form. Brittain stitched the colorful nylon shades together (on a sewing machine she's owned for over 20 years) in a geometric pattern that's actually semaphore code for a message about racial equity. Brittain hopes visitors to the show might try to translate it themselves.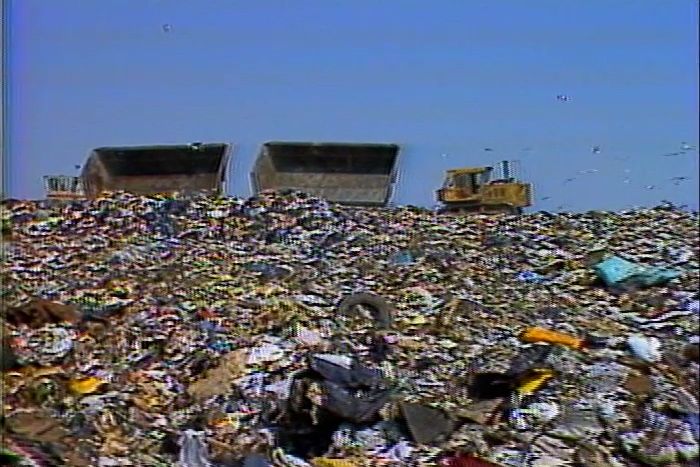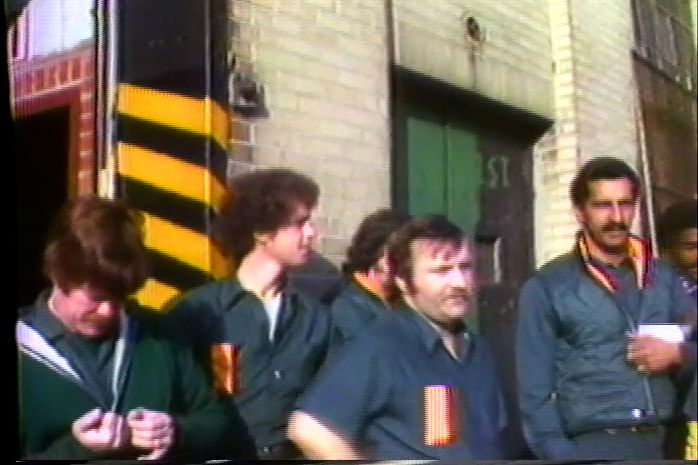 In 1969, Mierle Laderman Ukeles wrote in her manifesto that as an artist, anything she does is considered art; to her, nothing separated her work as an artist and the day-to-day tasks of cleaning, cooking, raising her daughter, and supporting her family. "My working will be the work," she said. She dedicated her life to spotlighting acts of maintenance and created performances like continually washing the steps to an art gallery and ballets of snowplows and garbage trucks in order to bring more respect and recognition to the unseen labor that keeps life going. Videos of these performances are now on view in Mierle Lademan Ukeles: Chasing the Humming of Life at NYU's Gallatin Galleries through October 13. Visitors can watch pieces like Touch Sanitation, a performance that stretched from 1970 to 1980 in which Ukeles tries to meet and shake hands with each of the 8,500 New York City Department of Sanitation workers from that time, making an unseen and complex system more visible than usual. As she says in the film, "Thank you for keeping New York City alive."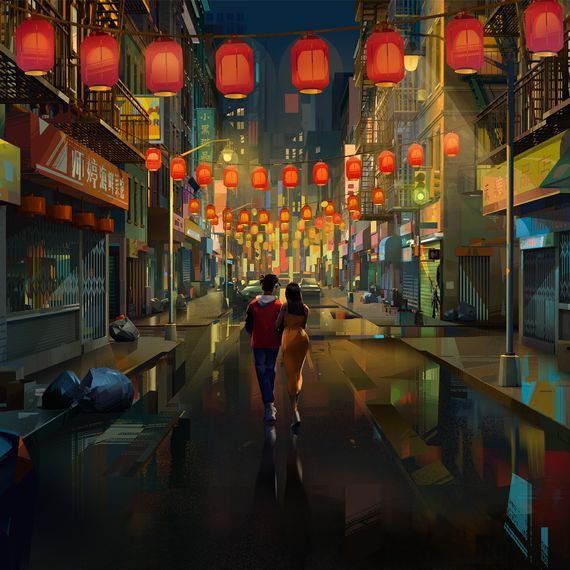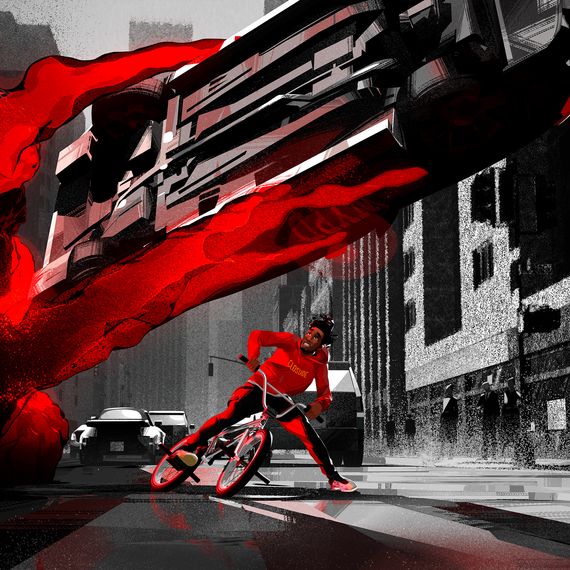 Netflix's special Entergalactic is essentially a Kid Cudi music video disguised as a romantic comedy. It's set in present-day New York and follows two artist neighbors as they slowly fall for each other. The artwork is absolutely stunning, done up like a graphic novel with rich, saturated colors. "Right from the start, Entergalactic had to look like a moving painting," says Fletcher Moules, the director and executive producer. "It was imperative that the film look and feel handmade, that you could literally see the artist's hand in every detail." The setting, mostly in lower Manhattan, is based on Kid Cudi's own time living in Tribeca, and it was important to the producers that the film feel real, so they incorporated actual locations like Hudson River Park, 56 Leonard, Las Lap, the Nomad Hotel's bar, and the restaurant Square Diner into the sets, though the places have different names onscreen. "It's a version of New York that just washes over you with a sense of warmth," Moules says.
Studio Paolo Ferrari and Hiroko Takeda's AME Chair at Colony
Paolo Ferrari, a Toronto-based interior designer known for minimalist weed shops and '70s-style furniture, has his first solo show in the U.S. opening next week at the Tribeca design co-op Colony. Among the pieces on view is a new all-black edition of his expressive AME chair, which is a collaboration with the New York-based textile artist Hiroko Takeda. Together, they interpreted upholstery as a tactile fiber sculpture with long fringe cascading from the back that's inspired by traditional Japanese raincoats made from straw. (It's like the Wolf Cut of furniture.) From October 13 through 30.