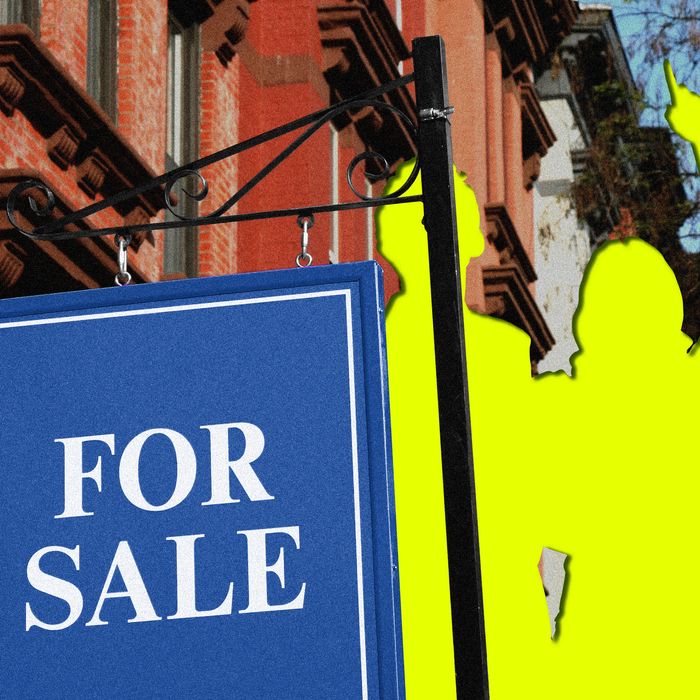 Photo-Illustration: Curbed; Photos: Getty
In August, Becki Danchik, a broker with Coldwell Banker Warburg, listed a $385,000 studio on the Upper West Side. Within ten days, it was in contract for over the asking price. The housing market was cooling at the time — the interest rate was in the 4 percent range in early August — but the apartment was in a sought-after line in a doorman building and New York doesn't have a lot of inventory in what passes for the starter-home category.
But in the brief window between when the contract was signed and the buyer applied for a mortgage, the mortgage rate had climbed to 5 percent — it would soon climb to around 7 percent — and that wouldn't lock until the co-op board green-lit the buyer (a process that at best takes about a month). Although the bank had preapproved the buyers, it decided that it wasn't comfortable issuing a mortgage at the higher interest rate, which would mean payments of hundreds more each month. "The buyers were self-employed, the difference was more than a few hundred each month, and if the bank feels that they can't make up the difference, they'll flag it," says Danchik. It was the first time, however, that she'd had a deal fall through because of a bank, rather than a board, turndown.
With the average interest rate on a 30-year mortgage now hovering in the high 6 percent range, brokers say that buyers, especially entry-level ones, are finding they can't afford apartments that were within reach just a few months ago. A two-bedroom, two-bathroom apartment in Prospect Park South, for example, asking $700,000, had monthly carrying costs of $2,809 in March when the interest rate averaged 4.4 percent on a fixed-rate 30-year mortgage. By October, when the interest rate had climbed to 6.6 percent, the monthly carrying costs would be $3,582, according to a calculation by StreetEasy. A buyer with a 20 percent down payment and good credit with a budget of $700,000 in March would need to cut it to $549,000 in October — $151,000 less — in order to keep the monthly costs the same. The drop in purchasing power for entry-level apartments, which StreetEasy defines as one- or two-bedrooms between $400,000 and $800,000, ranged from $90,000 to $170,000, according to StreetEasy economist Kenny Lee. In New York City, monthly maintenance fees in co-ops and condos make the difference in purchasing power even more pronounced since owners must come up with both the mortgage payments and monthly maintenance fees that typically exceed $1,000.
And for the most part, sellers aren't lowering prices to make up the difference, brokers say. "Inventory is still low, the labor market is strong, and sellers who scored low-interest rates have even fewer reasons to sell," says Lee. "During the spring, the market was really on a boil. Now it's come down to a simmer."
Victoria Vinokur, an agent with Brown Harris Stevens, says that she is advising her sellers not to push the market, which she defines as trying to get 10 or 15 percent more than nearby comps. But that's about it. "Can I say the market is down X percent? No, I cannot. Where you're seeing price reductions this fall are properties where the owner really wants to sell or that were overpriced to begin with."
The options for buyers are to wait for interest rates to come down or pay more now and hope to refinance later. Some are swallowing the higher rates, painful as it is. An Upper East Side buyer called Brown Harris Stevens broker Lauren Cangiano in a panic when she found out that her interest rate, which had been 5 percent early this summer when she signed a contract on a Madison Avenue one-bedroom, had gone up to 8.3 percent by the time the co-op board interview was scheduled this fall. "She said, 'I don't think I can afford this apartment.' The interest rate freaked her out. She was about two seconds from bailing." Cangiano told the woman that if she walked, she might lose her deposit and reminded her that even if her monthly payments were significantly higher, renting a one-bedroom in her daughter's school district would cost $4,500 to $5,000 a month.
"I told her she should move forward and refinance next year," says Cangiano. "She had a little panic attack but then thought, What are my alternatives? I can rent for a high number and it's not mine. Or I can move forward. And the price she got was very good, just under $700,000. But she was scared."
Cangiano adds that it's the buyers in this lower range who feel the interest-rate hike the most. "People in the higher price brackets are doing all cash, or at least more cash down, and it doesn't affect them as much. I have some listings that have been on the market for a while, in the just under $2 million range, which are also candidates for first-time buyers, and it's been challenging to sell them. There's always a little fluidity with interest rates, but this isn't 3.25 to 3.75 percent, this is a 100 percent increase from the beginning of the year."
Maria Daou, a broker at Coldwell Banker Warburg, said she's been baffled by the lack of interest in an Upper West Side three-bedroom she listed for $2 million recently — a competitive price. But that brought no buyers, so they just dropped it to $1.8 million, which has drawn uncharacteristically few calls. (Three-bedrooms under $2 million tend to be very popular and this one is renovated.) "I called colleagues at other firms and asked what was going on," says Daou. "They said it's been happening with their listings, too."
And sellers willing to come down in price to meet the realities of the new market are the exception, she adds: "Sellers are always the last to get the memo. And the market was so high in January, February, and March that everything on the Upper West Side sold with like seven offers over ask. Of course sellers want to get those numbers."
Daou is also working with buyers who've dropped their budgets — one was looking to spend up to $1.95 million for a three-bedroom in the neighborhood but has since brought it down to $1.7 million in light of the interest-rate hike. But that's a rarity, too: Few sellers are willing to reduce their budgets, especially since, at the bottom of the market, a $100,000 drop can mean settling for a one-bedroom when they were within range of a two this spring or taking a dark ground-floor apartment when they might have had a bright and airy one just a few months earlier.
"I personally have not had any buyers willing to drop their budget," says Vinokur, the Brown Harris Stevens agent. "The reality is, in New York, no one really likes what they can afford in the first place. Even someone spending $20 million is upset because they want a better view or can't put a pool on the roof."
And the price increases of the last few years have already meant compromising for buyers of entry-level homes. In August 2022, the median footprint of a New York City starter home (costing between $400,000 and $800,000) had fallen 9 percent — to 900 square feet — compared with three years earlier, according to a StreetEasy study. In Manhattan, it's 686 square feet. There were also fewer entry-level listings in 2022 than in 2019 — 4,500 citywide versus 5,300. Unsurprisingly, the number of sales is also falling.
There are still buyers, brokers say. But not necessarily the same ones as three months ago. Danchik, who relisted the Upper West Side studio after the deal with the first set of buyers dissolved, held an open house last week. The listing still drew a lot of interest, but it was a different crowd than the one in August. "It's an entry-level apartment, but these were not first-time buyers," she says. "These were people looking for a pied-à-terre."