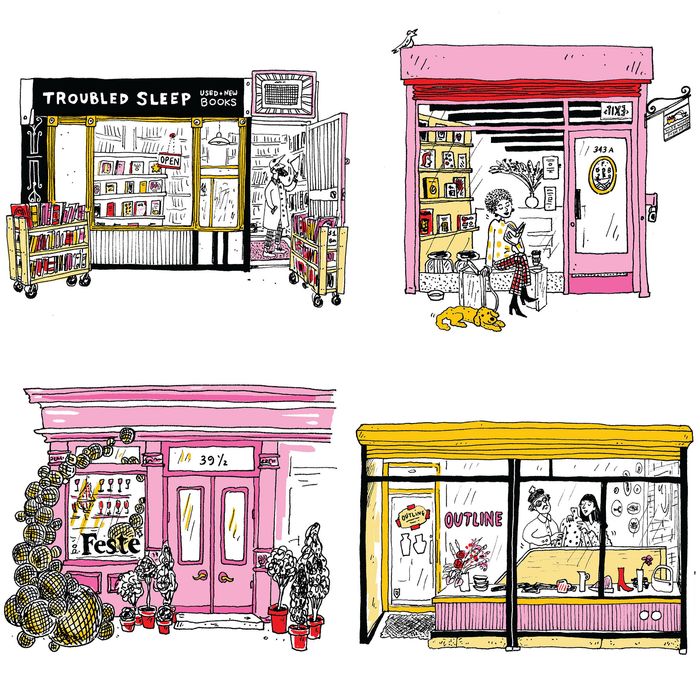 Illustration: Joana Avillez
365 Atlantic Ave., Downtown Brooklyn
Founded by former Totokaelo and Opening Ceremony buyer Margaret Austin (with Hannah Rieke, a onetime set designer, and Julia Edelman, a farm manager at Brooklyn Grange), this shop feels like an early-days Bird — there's a mix of lesser-known women's clothing brands like Connor McKnight and Helenamanzano and mainstays like Dries Van Noten and Lemaire. It also has a garden in the back planted with vines and sunflowers; bouquets are sold up front.
A current favorite: Hare Sweater by Gabriele Skucas, $717.
"No one can look at this sweater without sighing or gasping," Austin says.
360 Atlantic Ave., Downtown Brooklyn
Right across the street from Outline is Porta, founded by a pair of British Italian friends and filled with bright ceramics, glassware, linens, and flatware from manufacturers the two have met on their travels. Among their finds are "monstrous, big soaps" from Portugal's Claus Porto and hand-painted water glasses from Spain's Los Vasos de Agua Clara.
A current favorite: Palio Small Plate, $60.
"Each animal represents a different professional district in Siena," says co-founder Alice Russotti. "The panthers are chemists; the rams are tailors."
6050 Catalpa Ave., Ridgewood
Curator Eric Oglander, formerly of auction house Catalog Sale, recently opened this spare shop in Queens to sell the "anonymous objects" he collects from estate sales and antiques fairs (like a braille Playboy made by the Library of Congress and a finger-length tunable violin carved in 1927 in Monticello, New York). New finds are brought in every week by Oglander, who also uses the back half of the Tihngs space as his personal art studio.
A current favorite: Repaired Wood Bowl, $900.
"This late-18th- or early-19th-century burled-wood bowl was continually used for 100-plus years and is now heavily patched with metal repairs," Oglander says.
34 Orchard St.
The second location of this popular Tucson, Arizona, vintage-clothing shop is filled with rare and delicate pieces from the turn of the last century through the 1960s, like a Pauline Trigère silk column dress ($1,298) and an Edwardian lace collar ($298). Green River Project did the interiors, inspired by Louise Bourgeois's studio — there's a claw-foot bathtub filled with plants and a Bode-upholstered settee.
A current favorite: Mariano Fortuny Delphos Aqua Dress, $8,998.
"These are by an early-1900s Venetian designer," says co-owner Salima Boufelfel. "They're silk and micro-pleated, almost like Pleats Please."
343A Tompkins Ave., Bedford-Stuyvesant
While studying library science at Pratt, Anna Sergeeva decided to convert a Bed-Stuy real-estate office into a shop focusing on international magazines, Japanese stationery, used art, and philosophy and poetry books. There's also a "robust" erotica section and a marble counter, behind which Sergeeva serves buckwheat tea.
A current favorite: Black Art: An International Quarterly, Various Issues From the 1970s, $50 each.
"Samella Lewis, the first Black woman to get a Ph.D. in art history, co-founded this quarterly to showcase the diaspora of African artists," Sergeeva says.
75 E. Broadway, No. 216
On the second floor of Chinatown's East Broadway Mall — behind yellow plaid drapes — designer Sarah Burns has opened a "small ten-foot cube" of a space for what was already a popular Instagram business (its monthly drops of vintage rings, necklaces, and bracelets sell out in minutes). Now, shoppers can browse her own designs, like a pin based on a drawing of a dancing ribbon her partner drew on a napkin. (Burns also offers in-house resizing.)
A current favorite: The Double-Down Ring, $465.
"This two-in-one ring was inspired by a solid-silver vintage Gucci ring I owned," Burns says.
129 Sixth Ave., Park Slope
"It didn't make sense to us that there were no used bookstores in Park Slope," Alex Brooks says. So he and his partners, who are also behind Codex on the Bowery, opened one in the neighborhood last month. Plywood shelves on tiled floors are stacked with books spanning genres from history to philosophy to spirituality, and there's also a substantial fiction selection.
A current favorite: Gay Witchcraft, by Christopher Penczak, $18.
"I love this serious, enlightening history of queer mythology and healing culture," Brooks says.
180 Orchard St.
In an unlikely turn of events, Bradley Tusk (a venture capitalist and political fixer who has worked for Uber and recently advised Andrew Yang) decided to open a bookshop around the corner from where his grandfather Hymie used to own a knitwear shop. The store is huge and has a built-in amphitheater space for events (like a discussion with Andrew Kirtzman, author of Giuliani) as well as a café and a podcast studio that's free for anyone to record in.
A current favorite: Diary of a Void, by Emi Yagi, $23.
"A shrewdly humorous take on 'quiet quitting,'" says general manager Julie Wernersbach.
39½ Crosby St.
After nearly a decade of designing corporate events for clients like Anthropologie and LVMH, planner Brenna Gilbert decided to open a hosting-supplies shop. Feste, which has an enormous disco-ball display in the window, stocks unusually nice-looking supplies like scalloped wood-fiber plates and pom-pom garlands. It also has an event-planning arm.
A current favorite: Something Blue Floral Confetti, $7.
"This confetti is made of delphinium petals, all hand-dried on a family farm," Gilbert says.
22 Ludlow St.
Designer Mónica Santos Gil has been making slouchy handbags from (vegan, plastic-free) cactus leather for two years with increasing success; Industry actress Myha'la Herrold recently wore her best-selling Agave Triangular Tote in black. After continually extending her week-to-week pop-up lease in the former Beverly's space on Ludlow, she has just signed on for a half-year extension.
A current favorite: Dolores Square Tote in Red, $295.
"This is our most functional style. It's designed to fit both MacBook sizes or, alternatively, two bottles of wine and a baguette," Gil says.
254 Broome St.
After years of selling their rotating collection of "contemporary classicwear" — like Jil Sander, Yohji Yamamoto, Issey Miyake, and under-$500 Armani suits — at pop-ups across Paris, New York, and L.A., vintage expert Houman Farahmand and his husband, Arsène Barski, now have a permanent spot.
A current favorite: Pierre Cardin Burgundy Track Jacket With Bone Piping, $225.
"Bella Hadid got one of these jackets from us. She wore it off the shoulder," Farahmand says.