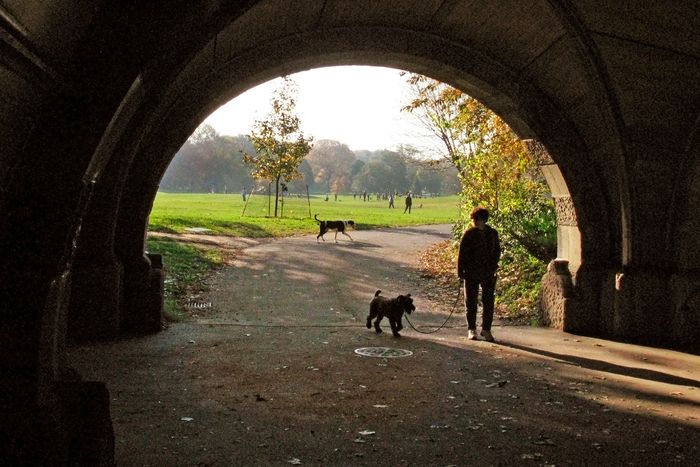 Photo: Randy Duchaine/Alamy Stock Photo/to
If you thought the Park Slope dog-murder situation couldn't possibly get more dramatic, you thought wrong. And if you haven't heard of the Park Slope dog-murder situation, here's a brief background.
In August, Jessica Chrustic and her golden retriever, Moose, were attacked by a man in Prospect Park while they were on a walk. The next weekend, Moose died from his injuries. Chrustic posted about the tragic situation on NextDoor, where things promptly devolved. Some residents saw Moose's death as part of a crime wave that was making the park unsafe; others criticized a mostly white neighborhood's push to lock a seemingly unhoused and unstable Black man up.
Then things took an even stranger turn. As Hell Gate reported, Park Slope resident Kristian Nammack, who works in sustainable finance and self-identifies as "left of Lenin," decided to organize a neighborhood-watch group, inadvisably named the Park Slope Panthers. The first meeting, which took place in September, counted Bari Weiss's sister Suzy Weiss and Curtis Sliwa's wife, Nancy Sliwa, among the attendees. ("I just wanted to say, I'm Nancy Sliwa," Nancy Sliwa said before walking off after attendees dragged her husband.) A group of young people who identified themselves as Snow, Sky, and Leaf interrupted to share their concerns about over-policing. This was the first and last meetup for the Panthers.
Somehow, the story did not end there. Last week, two people contacted Chrustic to tell her that they had spotted her attacker in the park. Because the police had previously told her that she'd need to be present for them to arrest him, she ran to the park to meet one of the women who had spotted him, while repeatedly calling 911 and the detectives and sergeant assigned to her case. Chrustic, who was carrying pepper spray, says that the police told her again on the phone to keep the man in her view. She spotted a cop car parked outside the park and tried to get them to lower their window, but they waved her away.
Chrustic caught up to the man and followed him from a distance. He turned around and maced her, at which point she fled. Chrustic says that the first person to eventually arrive was the sergeant who had driven from Staten Island — 40 minutes after she had first called — at which point the man had disappeared.
A few days later, at a virtual community council meeting, Chrustic confronted NYPD captain Frantz Souffrant for not responding in a timely manner. Souffrant said that after reviewing the case, he agreed that the NYPD had "dropped the ball." (The uselessness of the police seems to be the one thing everyone can agree on.) "The only thing I can say is I'm sorry," he said.
"I was just trying to fit all the criteria that the police set," Chrustic says. "But I was left high and dry."
This story has been updated to include comment from Jessica Chrustic.